Meatloaf can be a bit of a wild card. The only characteristics that define it are that it is made of ground meat and is shaped into a loaf. Although it is usually made with ground beef, it can also be made with ground lamb, pork, veal, venison, poultry, or seafood. There are a variety of vegan and vegetarian meatloaf options as well. In addition to meat, you can enhance the flavor by using other ingredients, like cheese or vegetables. These ingredients can also lock the meat's moisture in, as this dish tends to get dry. Wrapping the meat or covering it with sauce can also enhance the moisture.
History of Meatloaf
Meatloaf can be traced back to the 5th century when it was mentioned in the Roman cookery collection 'Apicius.' It is traditionally served in countries like Germany, Scandinavia, and Belgium and is a cousin of the Dutch meatball.
It may have come to America as scrapple, a mixture of ground pork and cornmeal served by German American immigrants in Pennsylvania since colonial times. However, meatloaf as we know it did not appear in American cookbooks until the late 19th century.
If you travel the world, you will find that several countries serve meatloaf, all of which use a choice of ingredients that are representative of their culture.
Tips for Making Easy Meatloaf
Of course, how you make meatloaf may vary according to how you want it prepared and the ingredients you want to use. However, the basic recipe includes ground beef, bread crumbs, and eggs. Additional sauces and seasonings like ketchup, Worcestershire sauce, pepper, garlic, and thyme leaves may be used. Vegetables may or may not be added, but an onion is typically included for taste.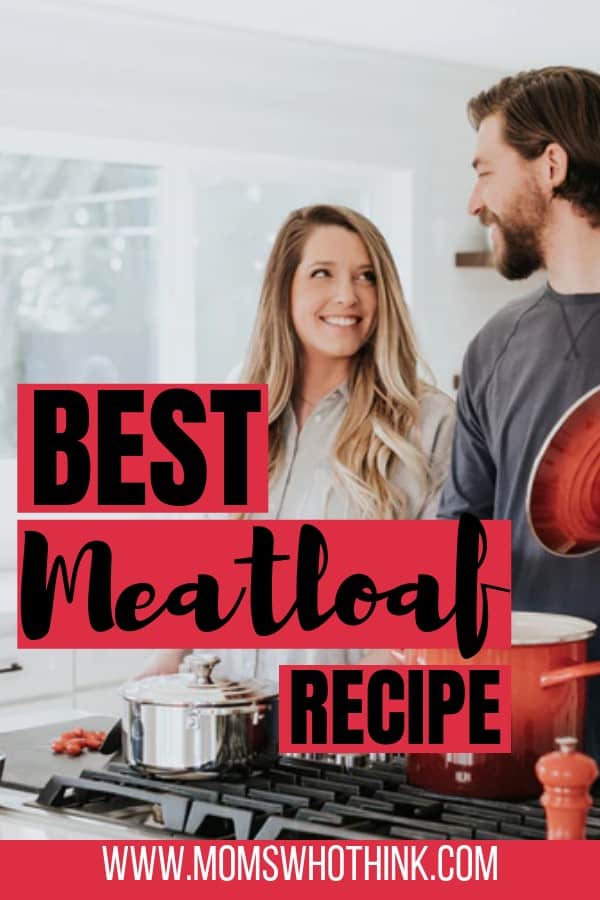 Preparation involves mixing all the ingredients together and shaping them into a loaf. Then put it in the oven to bake.
Here are some additional tips to ensure your recipe is a success:
Use High-Fat Meat: We know most of us are watching our waistlines, but higher-fat meat will remain juicier. If you use leaner beef or turkey, consider adding ground pork or veal to keep the meat moist. Ingredients like eggs, ketchup, tomato paste, and Worcestershire sauce will also help keep the meat juicy, so be sure not to skimp on any of these.
Add Sautéed Veggies: Sautéed veggies will not only give your meatloaf a health boost, but they will also add flavor, texture, and moisture. Try a combination of carrots, celery, and onion for best results. Cook them, let them cool, and chop them into the mixture.
Avoid Overmixing: When mixing the ingredients, keep it light and loose. It might not seem compact enough, but it will firm up in the oven.
How to Serve Meatloaf
Meatloaf is known as comfort food. That's part of the reason it makes for a great dinner after a long day of work.
But it also has several health benefits. Meat is a great source of protein, iron, and vitamin B12. Although it can also have a high-fat content, it can be avoided by using leaner meats or substituting them with other meats like turkey. When veggies are added to the meat, it enhances the health benefits even more.
Meatloaf can be served with a wide variety of sides. Here are some options you may want to consider:
Salads: A salad makes for a cool and healthy side. Think of serving a spinach salad with grape tomatoes and croutons. Make it more appealing to kids by topping it with ranch dressing. Other great alternatives are coleslaw and potato salads.
Starches: Meatloaf is commonly served with mashed potatoes. For a slightly unique taste, you can also use red potatoes. If potatoes aren't your thing, other starches like pasta or rice can work well too.
Vegetables: Veggies are another great and healthy side. Ears of corn, carrots, peas, and asparagus are ideal choices. To encourage children to eat their veggies, serve them raw with a ranch dip so they can make their meal fun.
The meatloaf recipe we have provided is pretty basic. But according to friends and family that have eaten it (and requested it often), it is the best they have ever tasted. It has the perfect blend of spices and isn't hard to make.
Serve with mashed potatoes and corn for mixing with every bite! Your family is sure to love it!
If you enjoyed this recipe, make sure to check out our Chicken Potato Delight Recipe and our Coca Cola Pork Chops Recipe.
Print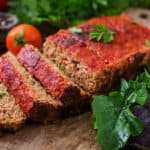 Best Meatloaf Recipe
---
Author:

Total Time:

1 hour 15 minutes
Description
This is the best meatloaf recipe according to friends and family that have eaten it (and asked for it often). It has the perfect blend of spices and isn't hard to make.
---
1/2 cup

bread crumbs

1 1/2

pounds lean ground beef

1 cup

milk

1

large egg

1/4 cup

chopped onion

1/2 teaspoon

dry mustard

1 teaspoon

salt

1/4 teaspoon

pepper

1/4 teaspoon

ground sage

1/8 teaspoon

garlic powder

1 cup

barbecue sauce 

1 Tablespoon

Worcestershire sauce
---
Instructions
Preheat oven to 350 degrees F.

Mix all the ingredients except the barbecue sauce together, then spread the meatloaf mixture into an ungreased loaf pan.

Spoon barbecue sauce on the top of the meatloaf and bake, uncovered, for 1 hour.
Prep Time:

15 Minutes

Cook Time:

1 Hour

Category:

Main Course

Method:

Baking

Cuisine:

American
Keywords: how to make meatloaf, meatloaf dinner