If you're on the dairy alternative train, coconut products may be a staple in your current diet. However, you may be wondering about the differences between coconut cream versus coconut milk. Both can be used in cooking, and both come from the milky, fleshy insides of the coconut fruit, but they have three major differences that set them apart as non-dairy products. Coconut cream has a different consistency than coconut milk, they have a difference in fat content, and while coconut cream gets used in baking, you're better off using coconut milk as a soup base. Keep on reading as we discuss the differences between the products coconut cream versus coconut milk, in depth.
In this post you'll learn some of the history of the coconut fruit, and how these byproducts of coconut are made. We'll talk about the differences in their health profiles, as well as how they are commonly used. By the end of this, you'll have a firm grasp on the differences between coconut cream versus coconut milk. When it comes time to cook, you'll know exactly which product to reach for.
Coconut Cream versus Coconut Milk: How Are They Different?
The three major differences between coconut cream versus coconut milk come down to the texture differences, the common uses for each, and the fat content. Both products come from the coconut, which is actually considered a "drupe." This classification applies to fruits with soft insides, that are encased in a hard shell. Other "drupe" varieties include peaches, walnuts, pears, and almonds. While coconuts do fall from trees, and have the word "nut" in their name, they contain a seed, and their flesh can be eaten similarly to other fruits (via Healthline). The liquid and fruit taken from the center of the coconut get mixed to form the coconut cream and coconut milk byproducts.
History And Origin: The Coconut
First things first, let's talk about the coconut, which we've established is a "drupe" variety of fruit. The coconut comes from the palm tree family (Arecaceae) and is a booming crop in tropical areas of the world. They are eaten raw, cooked, dried, and processed in a variety of ways. Palm trees can grow as many as 100 coconuts throughout the year, and they typically fall once the fruit has ripened fully. The insides are fully edible, and the liquid in the coconut is ready to drink. For a long time too, people have been using the husk (the outsides of the coconut) to create sturdy ropes, create baskets, and make other household items with the dried material (via Brittanica).
As for the history of the fruit, there is evidence of two different routes for coconut production, trade, and cultivation. According to Kenneth M. Olsen, a Ph.D. in plant evolutionary biology at Washington University in St. Louis, there are two "differentiated populations" of the coconut. One grouping comes from the Pacific basin, and another from the Indian Ocean basin. The coconut was a staple of historical trade routes and likely spread throughout the world once the Americas were colonized and imperialism brought in a higher demand for tropical fruits and spices.
What Exactly Is Coconut Cream?
Coconut cream comes from the process of blending the fleshy fruit from inside the coconut with water to form a thickened creamy version. Using a fresh coconut, or a canned variety, blend a mixture of coconut milk, coconut meat, and water.
The texture should come out creamy and thick, think whipped cream consistency (via The Food Network). Freshly made coconut cream should be used within a few days of mixing. Certain store-bought varieties will last longer due to added preservatives.
Popular brands of coconut cream include Thai Kitchen, Organics, Goya, and Thrive Market.
Popular Uses
Coconut cream can be used as a substitute for whipped cream in a number of desserts. It also has a starring role in numerous desserts, baked goods, and savory sauces. Food And Wine Magazine recommends coconut cream in everything from coconut cream pie, coconut creamed Swiss chard, coconut cream parfaits, coconut custard, and coconut ice cream flavors. It's an easy way to thicken up soups or give your sauces a creamier texture. Check out some of the many ways you can use the coconut in some of these recipes from our website:
What Is Coconut Milk?
Coconut milk is a more diluted version of coconut cream. It combines the meat from the coconut, with the liquid in the coconut, and water. The ratio of liquid to meat will be higher, to create a milk form of the fruit. It is not supposed to be as thick as coconut cream. Often the meat will be grated before being blended and strained to form the milky white goodness of coconut milk. The Food Network recommends using another kind of milk in your mixture, but if you want to keep the mixture vegan, you can stick to water. Be sure to strain your mixture and then refrigerate the final product. Fresh coconut milk should be consumed within a few days if there are no added preservatives.
History and Origin Of Coconut Milk
The history of the coconut suggests that coconut milk has been made for thousands of years. It is a popular addition to many traditional dishes in areas of Southeast Asia, the Caribbean, Northern South America, and India. Coconut milk has been used in ceremonial offerings of food and blended drinks, as well as in baking, and cooking practices (via Viva.org).
Popular Uses
As mentioned above, coconut milk is a staple ingredient for many worldly cuisines. You'll find coconut milk as an added flavor in soups, curries, and stews. It can be used to cook rice and add a creamy quality to drinks, alcoholic, or otherwise (via Food and Wine Magazine). Swap out the dairy milk in many desserts, and other dishes with full-fat coconut milk. Know that this may change the flavor/consistency because of different enzymes and vitamins in dairy milk that may not be present in coconut milk.
Nutritional Value
Refer to this handy chart that details the differences between coconut cream and coconut milk. As you can see, the major difference is in the fat content. Cream generally has a higher fat content than diluted milk. However, there are ways to process full-fat vs. low-fat coconut milk that may change the health profile comparisons. Overall, coconut-based products have lots of vitamins, and according to Healthline, there are theories that suggest they can promote healthy weight loss and increase one's metabolism.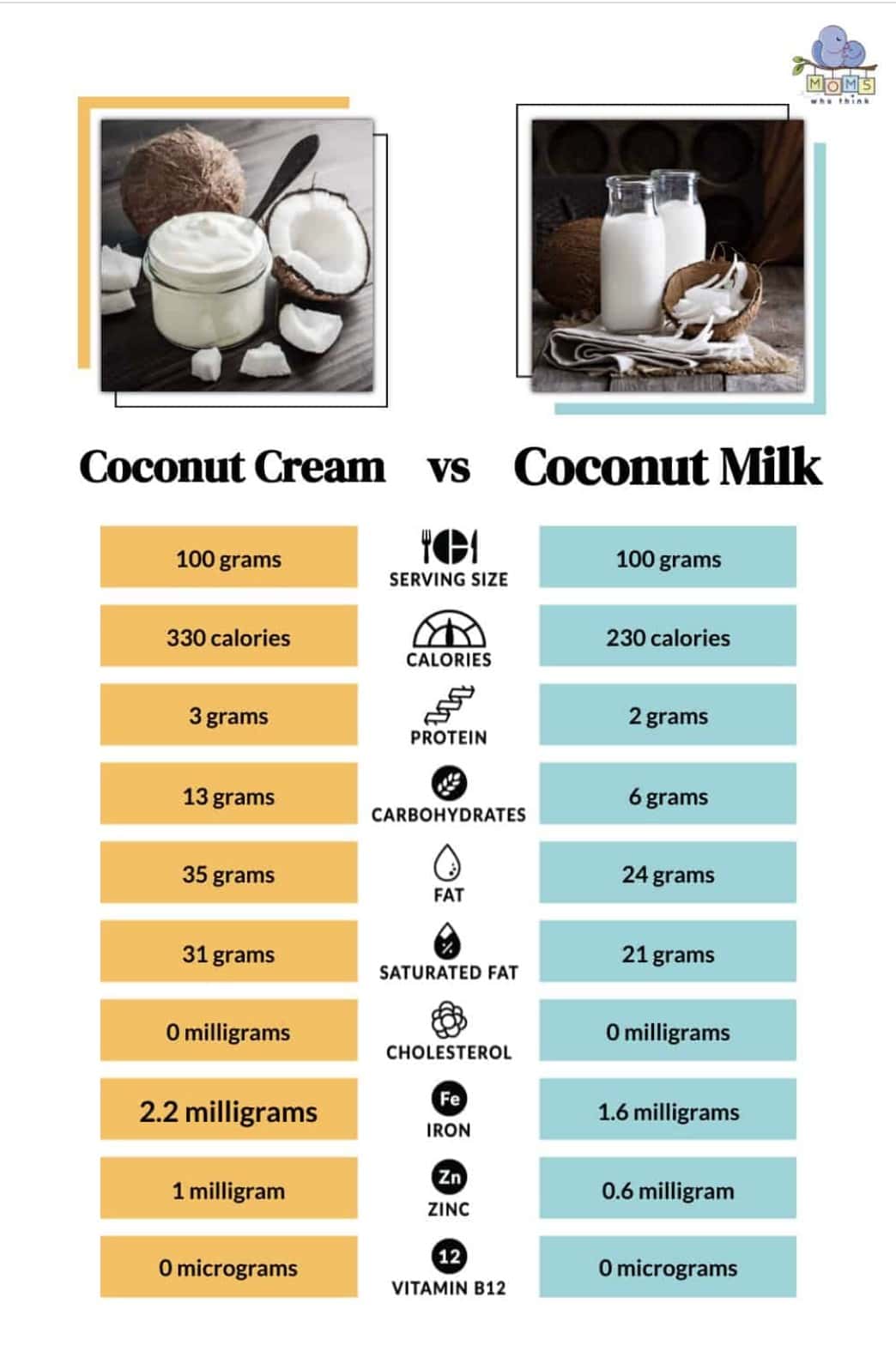 Coconut Cream versus Coconut Milk: Are They The Same Thing?
When comparing coconut cream versus coconut milk, it is clear they are closely related but not the same thing. They both come from the coconut, a "drupe" fruit that can be used in all kinds of ways. While coconut cream is thicker and often used in desserts and baking, coconut milk is a more diluted form. Coconut milk pairs nicely in broths and can be used to cook rice. The health profiles of coconut cream versus coconut milk also have some major differences in regards to their fat content.
Possible Alternatives To Coconut Cream And/Or Coconut Milk
Coconut cream and coconut milk are both dairy alternatives, so if you don't like coconut you can try out the dairy versions instead. Other plant-based kinds of milk include almond milk, cashew milk, oat milk, soy milk, rice milk, and hemp milk. Some of these can be whipped into a similar cream texture, others will behave quite differently due to their makeup and consistency.
Coconut Cream vs. Coconut Milk: Final Thoughts
Coconut cream and coconut milk are great alternatives to milk products for baking and cooking. Both are made from the milky, fleshy insides of coconuts. Even though they are similar, they have some important differences.
Coconut cream is thicker and creamier.
Coconut milk is a thinner liquid.
Coconut cream has a higher fat content than coconut milk.
Coconut cream is mainly used in baking, and coconut milk is often used in soups, curries, and stews.
Print
Coconut Cream Pie
---
5 Tablespoons

flour

1/2

cup

sugar

1/8 teaspoon

salt

1 1/2

cups

scalded milk

1/4

cup

cold milk

3

egg yolks

1

cup

shredded coconut

1 teaspoon

vanilla extract

9

-inch baked pie shell
Meringue Recipe:
3

egg whites

6

level Tablespoons of sugar
---
Instructions
Blend flour, sugar, and salt with the cold milk. Gradually add the scalded milk, stirring constantly.
Cook on low heat until thickened, then add beaten egg yolks and cook for an additional two minutes.
Remove from heat. Add vanilla extract and shredded coconut.
Cool filling, then pour into baked pie shell. Top with meringue (recipe below).
Meringue Directions:
Beat egg whites until stiff. Very gradually, add the sugar. Cover the pie with meringue.
The image featured at the top of this post is ©mama_mia/Shutterstock.com.