Considering a healthy diet option? This simple keto diet chart makes it easy to eat well. The keto (ketogenic) diet focuses on a low-carb, high-fat consumption of foods. It is named after a metabolic state known as ketosis. This is where your body learns how to process fat for fuel instead of the regular method, through burning carbohydrates (via Healthline).
To undergo this changeover, you need to reduce the amount of carbohydrates in your diet by a lot. As you can see from the chart below, carbohydrates should only make up about 5% of any meal intake, while about 20% of the diet includes protein—the star of the show, the remaining 75% of the whole features healthy fat foods. Keep in mind that healthy fat is different from fattening foods.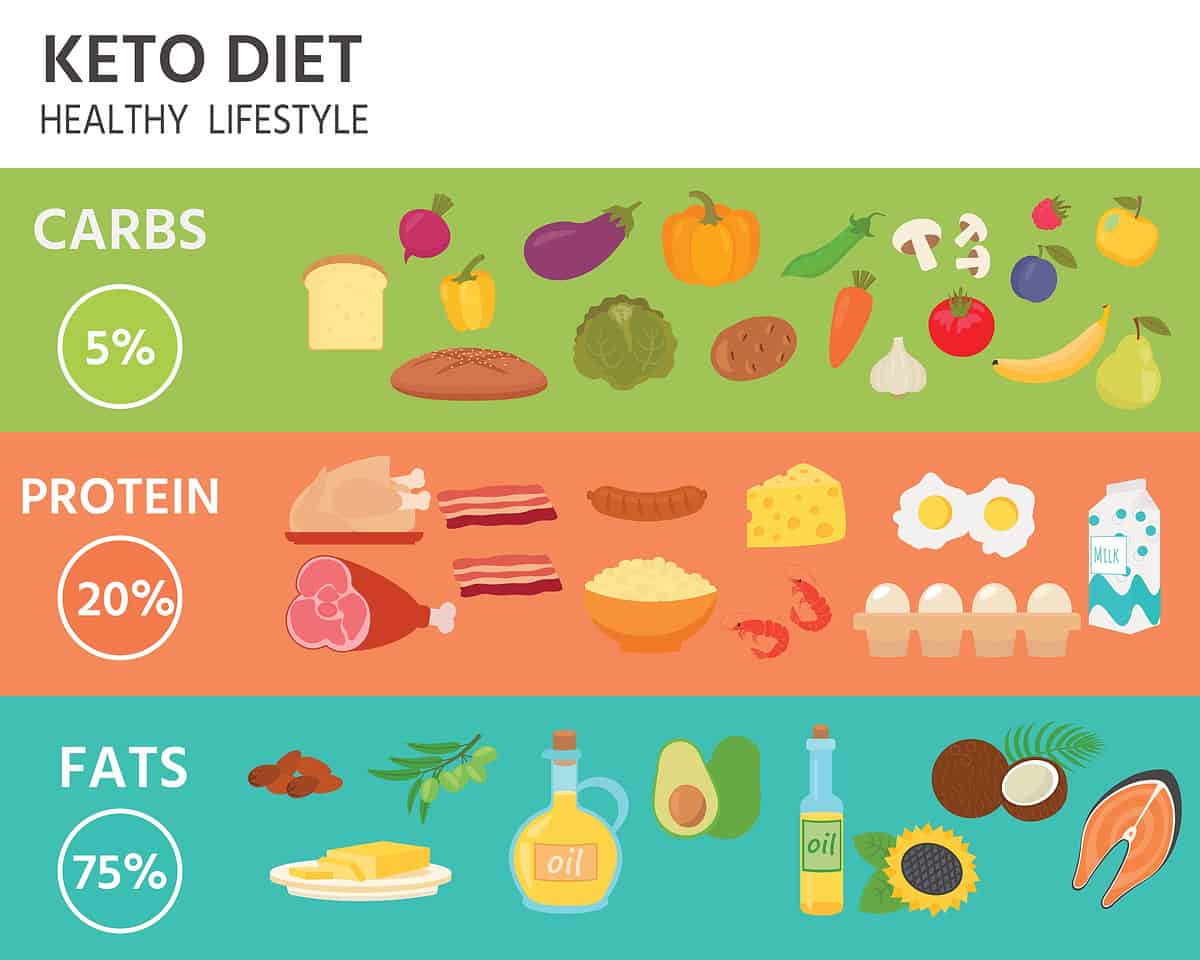 Read on to learn about the roles of carbohydrates, proteins, and fat in the overall health of this diet. We'll discuss what happens in the body when someone's on the keto diet. We'll talk about what foods fit within each category, and you'll get some recipe ideas to boot. Lastly, we'll cover some important things to know about partaking in a diet of this kind because your health is truly the most important thing. Here we go, and happy reading!
Where Did The Keto Diet Come From?
The keto diet has actually been around for quite a while. In the early 1900s, a version of fasting was used as a treatment for epilepsy. In 1921, the term "keto diet" was coined by a Mayo Clinic M.D. by the name of Russell Wilder. Keto was a way to trick the body into believing it was fasting and thus reduce the symptoms of epileptic seizures. From here, the diet went on to be used by lots of treatment centers and hospitals to help individuals with epilepsy (via Johns Hopkins Medical). From here, it continued to be studied for its benefits, including weight loss. So, it became adopted as a general diet, with several variations on the standard.
There are variations on the keto diet. The standard one is shown in the chart above. There's also the cyclical keto diet, which swaps between five days of keto and two days of high-carb intake; the targeted keto diet allows carbohydrate intake in moderation around workouts. And lastly, the high protein keto diet, which just involves more protein. This is to say, there are ways to modify the diet to fit your needs best. Lifestyle plays an important role in the effectiveness of dieting.
What Happens In The Keto Diet?
The ketogenic diet is a variation of fasting, with the intention of encouraging your body to convert fat instead of carbohydrates into the fuel it needs to function. This metabolic process is known as "ketosis." When fat is properly metabolized, it becomes what's known as ketone bodies. Once this diet begins, it can take several days for the body to effectively start metabolizing fat into ketones (via UNM). Once this switchover has begun, the benefits of keto include healthy weight loss, lower risk for disease, as well as lower blood pressure and triglyceride levels. Unlike low-carb diets, the keto diet is quite filling and may be just as effective in terms of overall weight loss. According to Healthline, studies have found that the ketogenic diet is better in the long term for effective weight loss than low-fat diets as well.
Aspects Of The Keto Diet
Refer to the chart above for an idea of how much to emphasize these elements of keto. Check out some examples of carbohydrates, proteins, and fats that can be included in the ketogenic diet.
Carbohydrates
Starting off with carbohydrates, which are the lowest ingredient intake in the keto diet. Remember, the goal is to restrict your carbohydrate intake to get your body to switch to metabolizing fat. Carbohydrates include both starches and sugars. Here are some examples of carbohydrates to include in your keto diet. Leafy greens, herbs, asparagus, avocados, eggplant, squash, mushrooms, Brussels sprouts, and okra. Berries are also a good high-fiber, low-carb option (try raspberries!), and you can add a handful of pumpkin seeds or macadamia nuts to get to that 5%.
Proteins
Next up, proteins. On a keto diet, protein moderation is key. This is because protein can be turned into glucose, which is what carbohydrates are also broken down into. An overload of protein while trying to start this diet will offset the metabolic state of ketosis and impact the creation of ketones on the keto diet. Examples of proteins that are friendly for the keto diet include red meat, poultry, eggs, and fish. Cottage cheese, greek yogurt, nuts, and tofu are keto-friendly options for moderate protein consumption. Many of the meats in this section are also a good source of fat. Read on to learn more.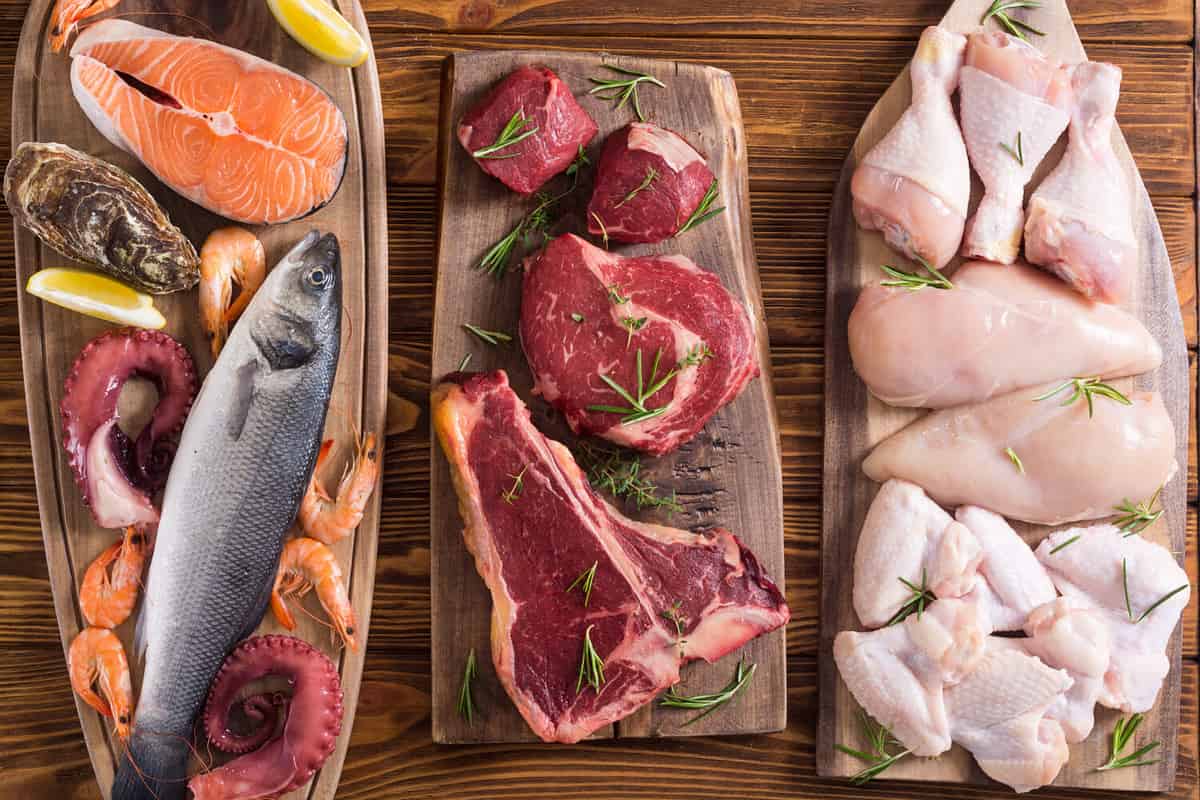 Fats
And lastly, the pillar of the ketogenic diet is the fat content. Fats make up 75% of the standard keto diet, and these options include healthy-fat vegetables, fatty fish, meat, and dairy. There are lots of cheeses that provide a high-fat content. Try blue cheese, brie, cheddar, feta, goat cheese, halloumi, or manchego. There's mozzarella, provolone, string cheese, swiss, havarti, and chevre. Include heavy cream in your coffee, grass-fed butter in your meal prep, and use lots of healthy cooking oils. Keep in mind that it may take 3-5 days for your body to start properly metabolizing fats instead of carbs, thus producing ketones. It may take a few weeks to see any results. Your body is learning a new way of metabolizing food for fuel.
Foods To Avoid
We've talked a lot about the foods to include; what about the foods to avoid? Lots of vegetables are slightly too high in carbohydrates to fit the bill. The same goes for certain fruits. You'll want to avoid processed oils, sweeteners, alcohol, starchy foods, refined carbs, and wheat-based foods. When in doubt, refer to the internet to find fat, carbohydrate, and protein content. Other examples include:
cereal
pasta
soda
candy
condiments
carrots
baked goods
Recipe Ideas
There is so much material out there to support you in your ketogenic diet adventures. To start you off, check out these recipe ideas:
Things To Know
As with any diet, it's important to keep in mind the risks and get some tips from the experts. The main risks of the keto diet include the risk of kidney stones, nutrient and protein deficiencies, and an increase of fat being regulated through your liver. Moderation of the diet and supplementation can mitigate these effects. Healthline recommends starting a low-carb diet to ease your body into burning fat over carbohydrates. Adding in salt and drinking lots of water is also important in starting this diet. Practice identifying the fat, carbohydrate, and protein content on food labels, which will help you grocery shop and know what you're looking for. Meal planning can help you stay on track, and while you're eating out, ask for vegetables as a replacement for high-carbohydrate foods and focus on dishes with a meat, fish, or poultry component. The keto diet is a great option; just customize it for you.
Keto and Sausage and Sage Stuffing
Now that you know the ins and outs of the Keto diet, try a delicious recipe out. Enjoy!
Print
Keto-Friendly Sausage and Sage Stuffing
---
1

pound

ground sausage (pork or turkey)

2

cups

almond flour or almond meal

2 tablespoons

butter

1/2

cup

chopped celery

1/2

cup

chopped onion

2

cloves garlic, minced

1 tablespoon

fresh sage, chopped

1

cup

chicken broth
Salt and pepper to taste
---
Instructions
In a large skillet, brown the sausage, breaking it into crumbles as it cooks. Remove and set aside.

In the same skillet, melt the butter and sauté the celery, onion, garlic, and sage until softened.
Stir in the almond flour and gradually add the chicken broth, mixing until it reaches a stuffing-like consistency.
Season with salt and pepper, then fold in the cooked sausage. Serve as a keto stuffing alternative.
The image featured at the top of this post is ©Prostock-studio/Shutterstock.com.