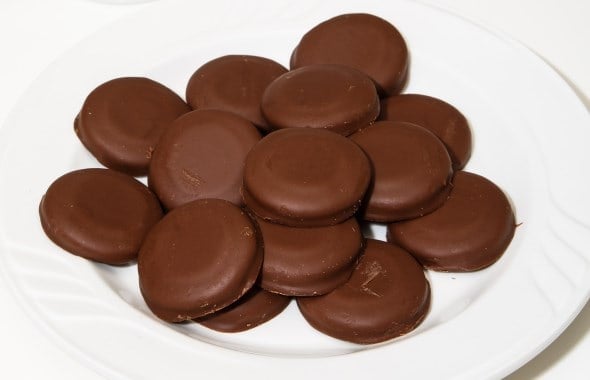 Girl Scout Thin Mint Cookie Recipe
Let's Get Ready for Baby!
Sign up for our monthly pregnancy email series, and you'll get regular updates on your baby's development, helpful timelines to get ready for their arrival, must-have baby needs and so much more! PLUS, you'll get instant access to the MomsWhoThink "Ultimate Guide to Baby Naming in 2022."
CLICK HERE
to get started!
This is the best girl scout cookie recipe ever, it's for all the months in between girl scout cookie selling season…when you still need your thin mints!
Thin Mint Girl Scout Cookie Recipe
Ingredients:
8 ounces butter, softened
1 cup powdered sugar
1 teaspoon vanilla extract
1 cup cocoa powder
3/4 teaspoon salt
1 1/2 cups flour
Chocolate Peppermint Coating Ingredients:
1 pound semi-sweet chocolate, chopped
1/4 teaspoon plus a couple drops of natural peppermint extract
Directions:
1. Preheat oven to 350 degrees F.
2. Cream the butter and powdered sugar until light and fluffy. Stir in the vanilla extract, salt and cocoa powder. Mix well.
3. Add the flour and mix well, but do not overmix.
4. Turn the dough out onto a counter, form a smooth ball.
5. Place the ball of dough into a large plastic bag and flatten to 3/4-inch thick. Place in the freezer for 20 minutes to chill.
6. Rollout dough out thin, about 1/8-inch. Cut out circles with a cookie cutter.
7. Place cookies on a parchment-lined baking sheet and bake for 10 minutes. Allow cookies to cool completely.
Peppermint Coating Directions:
1. Slowly melt the chocolate, stirring occasionally until smooth. Stir in the peppermint extract.
2. Dip each cookie into the chocolate until fully coated with a thin even coating of chocolate, drain excess chocolate when removing cookie from chocolate.
3. Place on the parchment lined baking sheet, and repeat for the rest of the cookies. Place the cookies in the refrigerator to set.