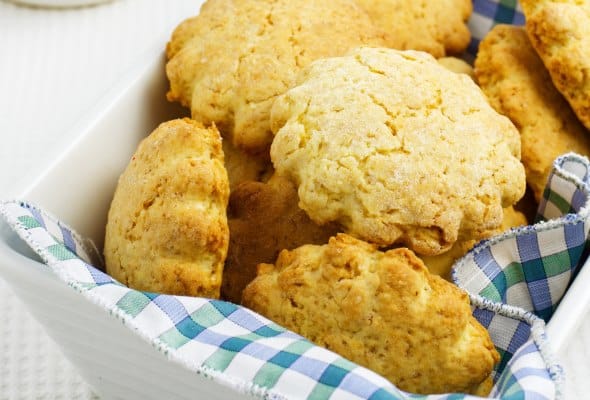 Low Fat Butter Cookie Recipe
Let's Get Ready for Baby!
Sign up for our monthly pregnancy email series, and you'll get regular updates on your baby's development, helpful timelines to get ready for their arrival, must-have baby needs and so much more! PLUS, you'll get instant access to the MomsWhoThink "Ultimate Guide to Baby Naming in 2022."
CLICK HERE
to get started!
You can indulge your sweet tooth with this low fat cookie recipe, and you won't feel cheated. It's packed with taste!
Low Fat Vanilla Butter Cookies
Ingredients:
1 cup all-purpose flour
1/4 teaspoon baking soda
1/8 teaspoon salt
1/4 cup butter, softened
2/3 cup sugar
1 egg white
1 teaspoon vanilla
Directions:
1. Combine flour, baking soda and salt in a small bowl.
2. In a large bowl, beat sugar and butter with an electric mixer until well blended. Add egg white and vanilla, mix well.
3. Gradually stir in flour mixture. Form dough into a  ball, place on wax paper and form into a 6-inch log. Wrap the dough and freeze for 3 hours.
4. Preheat oven to 350 degrees F. Cover the bottom of a cookie sheet with parchment paper. Slice cookie dough into 1/4-inch rounds.  Place 1 inch apart on cookie sheet.
5. Bake for 8-10 minutes.