Most people hold up chickpeas as the standard for one of the most nutritious foods. This superfood is used to make hummus, falafel, and many other healthy meals. If you've ever seen hominy listed in a recipe, you might have noticed it shares some qualities in common with chickpeas and wondered about the difference between them.
The main difference between hominy and chickpeas is that chickpeas are a type of legume, whereas hominy is made from dried corn kernels. Dried chickpeas are cooked in boiling water, and hominy is cooked with a process known as nixtamalization. These two foods have different flavors and textures as well.
Both hominy and chickpeas can be a part of a nutritious and healthy diet. Keep reading to find out about the differences between hominy and chickpeas as well as what they're best used for.
Hominy vs. Chickpeas: What Is the Difference?
When you're looking for a way to add healthy ingredients to your meals, you might consider the difference between hominy and chickpeas. While they both have nutritional benefits, there are many differences between them.
Hominy and chickpeas both tend to have an earthy flavor, but they often serve different purposes in the kitchen and have different nutritional values. Unlike chickpeas, hominy is derived from corn, but it's not like eating corn kernels right off the cob. Hominy is made from dried corn kernels that are cooked through an ancient process called nixtamalization.
On the other hand, chickpeas are a type of legume and fall within the same category as lentils and peanuts. Chickpeas are considered a superfood because of their many nutritional benefits. Other than their classification, the main difference between hominy and chickpeas is their texture and nutritional values.
While hominy can be a healthy addition to many meals, chickpeas far outweigh the nutrients in hominy. Hominy is also much higher in sodium by almost 50%. You can buy chickpeas dried or canned, and after cooking, they're easy to freeze. Hominy is generally served fresh, but it can be frozen if necessary.
Nutritional Value of Hominy vs. Chickpeas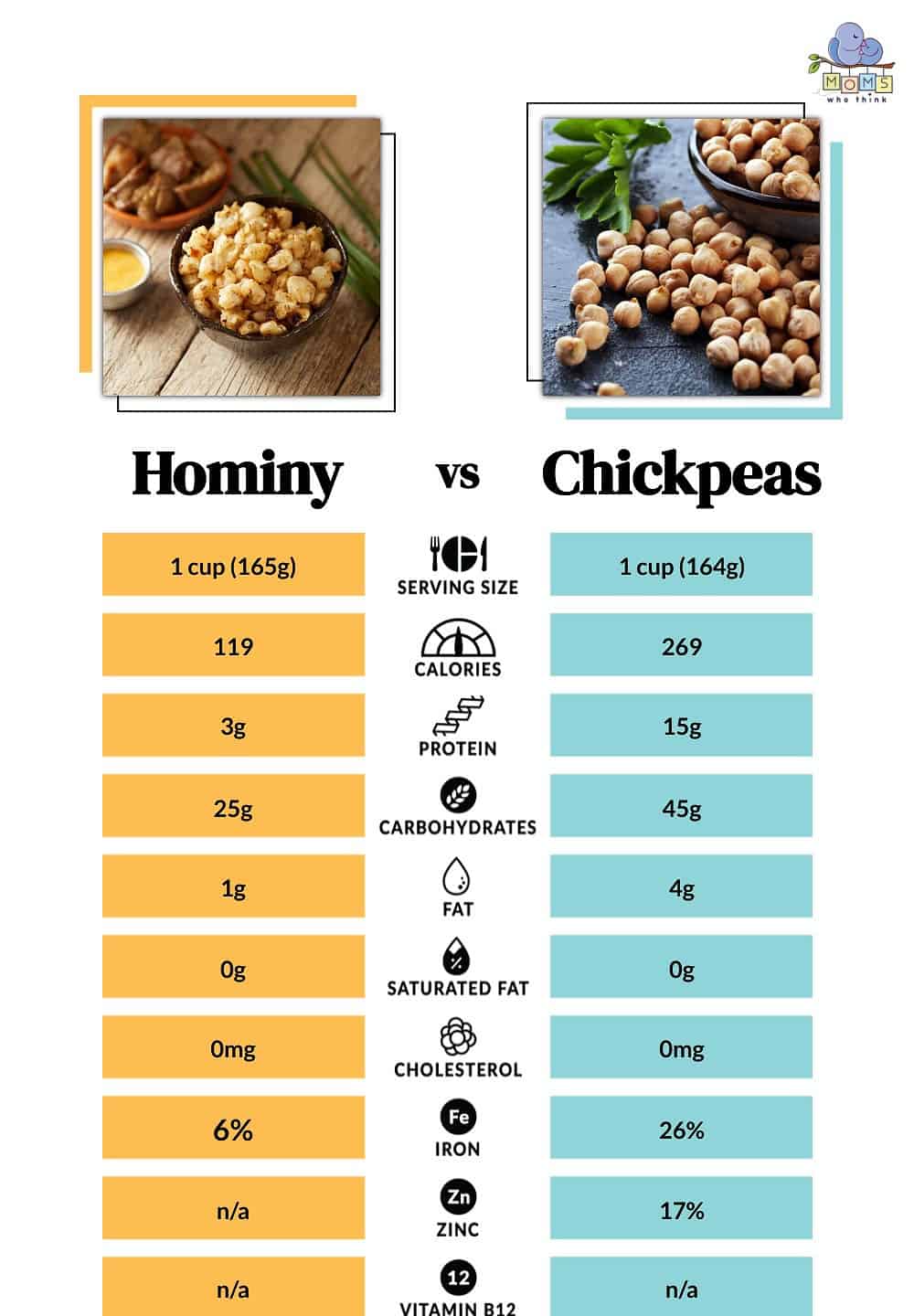 What Is Hominy?
Hominy is a type of maize, a term for certain types of corn. However, hominy isn't like the sweet corn you purchase on the cob or canned. Instead, it's specifically dried corn that's cooked through a process called nixtamalization.
This ancient process includes soaking the dried kernels and cooking them in an alkaline solution. The process of cooking hominy makes the dried kernels soft and allows the hull and germ to be removed. Like chickpeas, you can purchase hominy canned, but it will have a different flavor than making dried hominy yourself.
Dried hominy has already been cooked in the alkaline solution, but it needs to be rehydrated before consumption. This process is simple and involves rinsing, soaking, and then cooking the hominy. You can typically soak it in water overnight before letting the hominy cook with the rest of your ingredients if you're using it in a soup or stew.
Even though hominy has been around for a long time, it's still a staple in most Mexican cuisine. The process used to make hominy has also been used to make tamales and tortillas.
How Do You Use Hominy?
If you haven't tried hominy before, you might wonder what it's generally used for. Many of the uses for hominy are similar to that of chickpeas like when you use hominy in soups or stews. Additionally, hominy is used to make pozole, a Mexican soup from hominy, and a protein like pork or chicken.
There are many other healthy ways to use hominy, including:
Casseroles
Salads
Hash
Corn patties
Cornbread
You can also mix hominy with your eggs, use them to make quiche or include them in various other types of meals. Hominy is even ground up to make hominy grits, a breakfast staple in the South.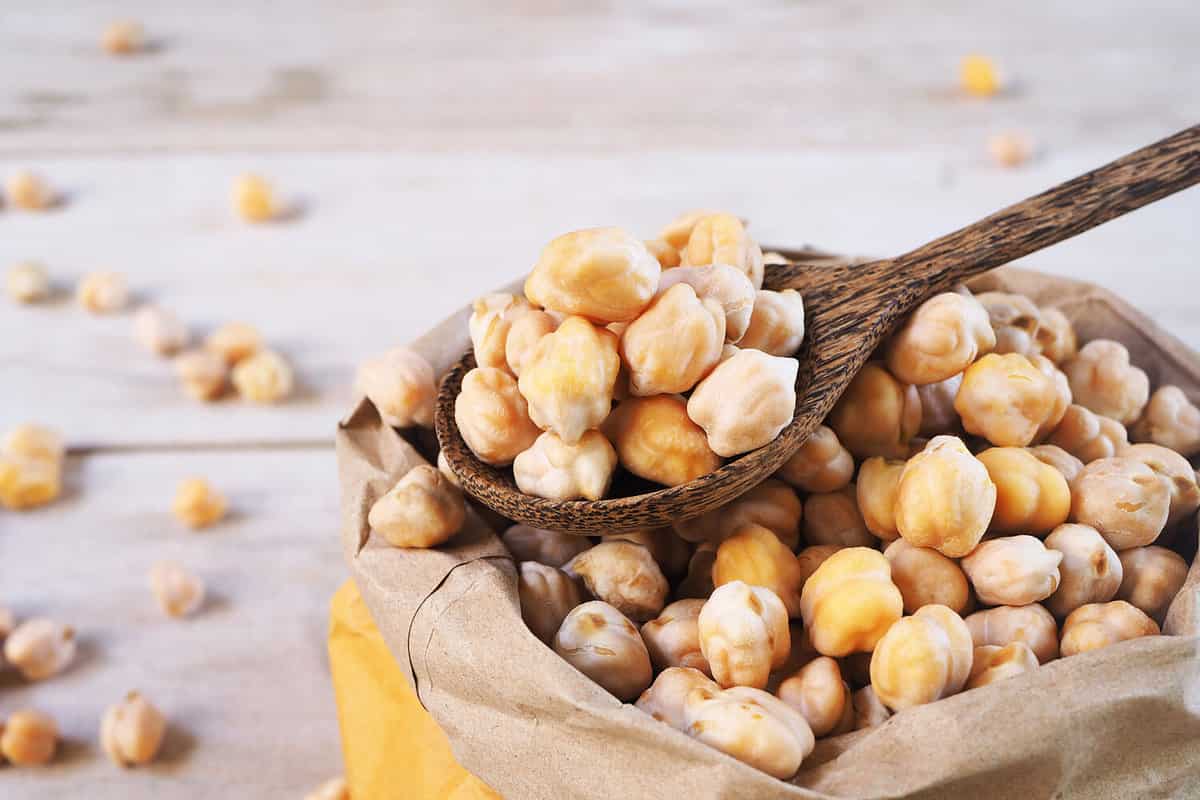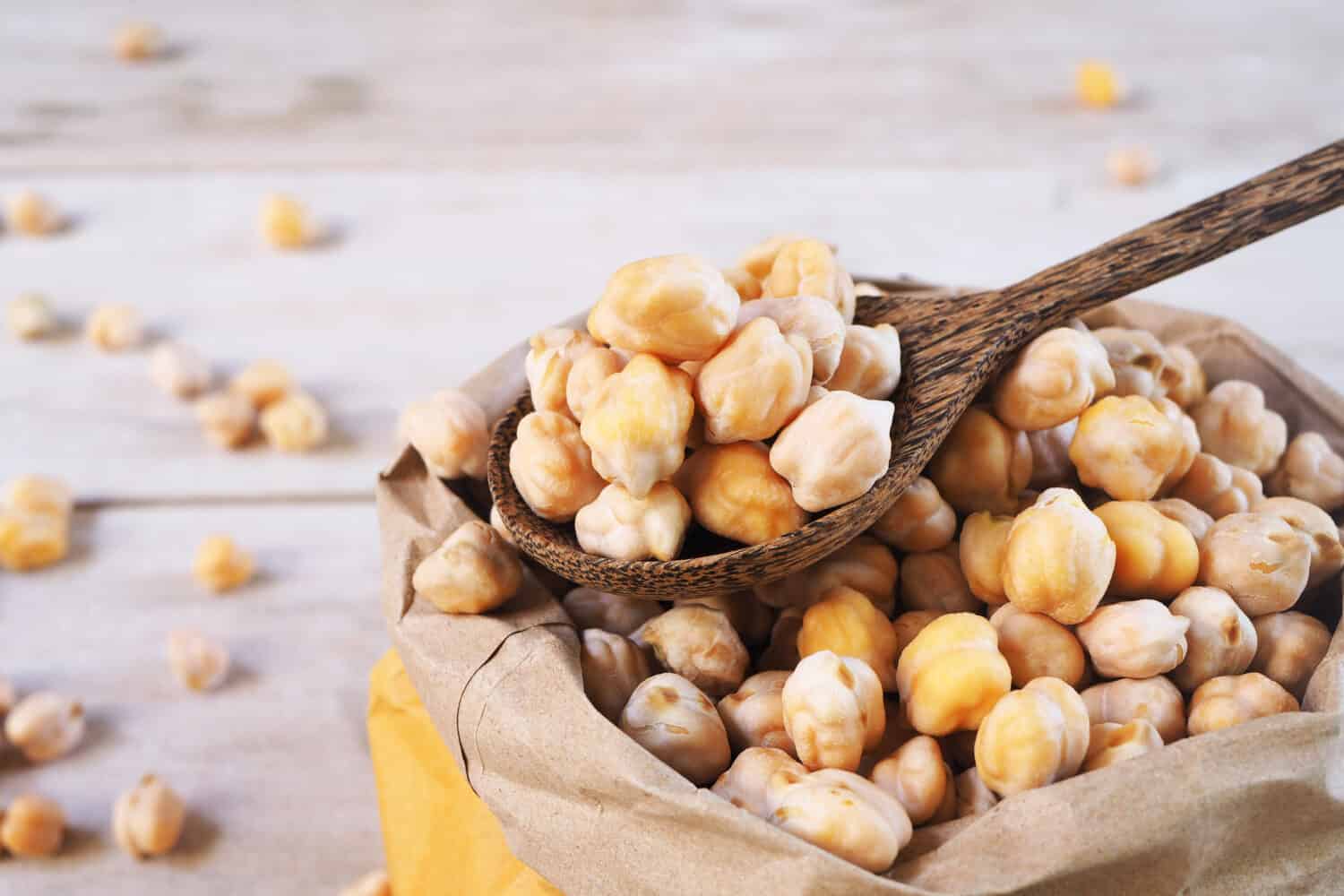 What Is a Chickpea?
A chickpea is a type of legume in the same family as lentils, peanuts, and beans. Another common name for chickpeas is a garbanzo bean, although garbanzo bean is only the Spanish name for chickpea and there's no difference between them.
Chickpeas are a type of superfood because of their many health benefits. They're packed full of protein, fiber, and other nutrients. They're also grain-free and gluten-free. This superfood can even help manage your blood sugar levels.
No matter what type of diet you eat, chickpeas are a great way to add more protein and other nutrients to your diet without adding a lot of sodium and other ingredients. While chickpeas can be purchased already cooked, you can also buy them dried and cook them yourself.
How Do You Use Chickpeas?
Chickpeas come in dried form or canned, in which case they're already cooked. This superfood is great to use in numerous ways in the kitchen. Whether you choose to throw it in a salad or make something out of pureed chickpeas, there are many benefits to your health to use chickpeas.
Chickpeas can be used in a variety of recipes, including:
There are many ways to include chickpeas in soups and stews as well. Additionally, roasted chickpeas have become a popular snack. You can buy them premade from certain brands, but they're also simple. Roasted chickpeas can be sweet or savory, depending on your preferences.
Can You Substitute Hominy for Chickpeas?
When you start to look into the differences between chickpeas and hominy, you'll notice they're more different than you may have realized.
However, you can substitute one for the other in certain recipes. One of the most popular recipes for hominy is pozole. Chickpeas can be used as a substitute for hominy in a recipe like this.
Although chickpeas aren't as chewy as hominy, they do bring a similar flavor since both have a slightly earthy flavor taste. Whether you're making pozole, soup, or stew, you can often use these two interchangeably.
If you substitute one for the other, use the same amount of hominy as you would chickpeas, or vice versa. It's more important to consider whether the recipe calls for dry or canned hominy or chickpeas. If it calls for dry chickpeas, use dry hominy.
Which Is Healthier: Chickpeas or Hominy?
If you're trying to decide whether you want to include chickpeas or hominy in your next meal, you're likely wondering which one is healthier. While both hominy and chickpeas have many nutrients, some aspects of their nutritional values should be considered.
Although they both have nutritional benefits, chickpeas are healthier in many ways. They're significantly higher in most nutrients, including zinc, fiber, magnesium, calcium, and phosphorus. The difference between the nutrients isn't small either. A serving of chickpeas has over seven times as much phosphorus as hominy.
Chickpeas also have significantly less sodium than hominy. There's really only one area where hominy beats chickpeas, which is the sugar content. About 100 grams of chickpeas has 10.7 grams of sugar, while hominy has 1.82 grams. However, 10 grams of sugar is still a pretty low amount for 100 grams of chickpeas.
While hominy and chickpeas can both be a healthy and delicious part of many meals, chickpeas are clearly more nutrient-dense and have more health benefits than hominy.
Choosing Between Hominy and Chickpeas
Even though there are many differences between hominy and chickpeas, they're often compared because they both have earthy flavors and are similar in size. Both hominy and chickpeas are often used in recipes such as soups, stews, and salads.
They have a lot in common, but the biggest difference is their nutritional values. Chickpeas are a superfood and are much more nutrient-dense than hominy. If you're looking for a healthy ingredient to add to your meal, consider throwing in chickpeas or even try roasted chickpeas for a healthy snack.
Print
Easy Chickpea Curry
---
Author:

Total Time:

40 mins
1

can of Chickpeas

1

can of Coconut Milk

2 tbsp

of Curry Powder

2

cloves of Garlic

1

of Onion

1

of Tomato

1

bunch of Cilantro
---
Instructions
In a large pot, sauté the onion and garlic until soft.
Add the curry powder and stir until fragrant.
Add the chickpeas, coconut milk, and diced tomato to the pot and bring to a boil.
Reduce heat and let simmer for 20 minutes.
Serve with fresh cilantro.
Prep Time:

10 mins

Cook Time:

30 mins

Category:

Main Course

Method:

Boiling

Cuisine:

Indian