Pronouns are the stunt doubles of the English language. They keep communication going with or without the nouns. Pronouns come in to keep nouns from getting repetitive or when nouns are not clearly known. They do more work than you think, so read on to learn about them. By refreshing yourself on pronouns, you can help your child succeed in school.
To go straight to the pronouns, scroll to the middle of the page for the "big pronoun list".
Subject and object pronouns are used in everyday language. However, it can be tricky to remember which is which. The subject always takes action. The object is part of the activity, but it does not do any acting. Here is an example:
Shelby likes talking to Marvin.
Shelby is the subject; she is liking and talking. Marvin is the object; all the liking and talking is done to Marvin but not by Marvin.
Subject and object pronouns function in the same way.
Subject pronouns include I, you, he, she, it, they, we.
Object pronouns include me, you, him, her, it, us, them. See the following examples:
Subject
I might see you later.
You have to come now.
She lives in Nebraska.
He makes me angry
It just might work.
They caught the last train.
We can't see the end.
Object
Sarah hit me on the arm.
I need to tell you something.
Larry took him aside.
The message wasn't for her.
Take it to the store.
Summer is fun for us.
Margaret took them downstairs.
Possessive pronouns show who owns something described in a sentence. They include mine, his, hers, its, ours, yours, their, and theirs. Possessive adjectives are similar to possessive pronouns. However, the possessive adjective comes before the object of the sentence; the possessive pronoun is the object of the sentence. See the difference here:
That is my dog. (possessive adjective, before the object "dog")
The dog is mine. (possessive pronoun, which is the object)
Intensive pronouns and reflexive pronouns look the same. However, they act differently in a sentence. Intensive pronouns put an emphasis on other pronouns or nouns. Reflexive pronouns rename the subject in a sentence. Look at the following examples:
Intensive pronoun – She herself will go to the bank. (herself emphasizes the pronoun she)
Reflexive pronoun – She cut herself on the arm. (herself renames the pronoun she)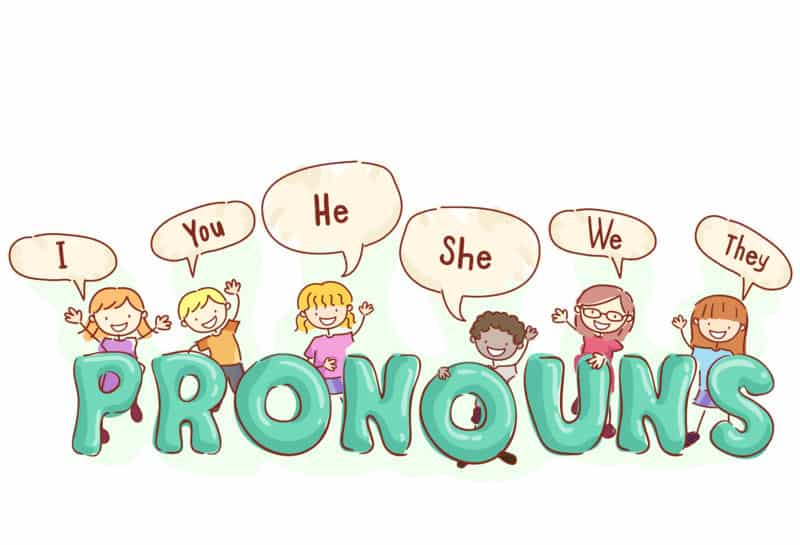 Intensive and reflexive pronouns include:
myself, yourself, himself, herself, itself, ourselves, yourselves, and themselves.
Demonstrative pronouns refer to things in relation to distance.
This and these refer to things that are close by. That and those refer to things farther away.
This is your shirt.
That is my house on the corner.
These good friends are sitting next to me.
Those roads in the next town are bumpy.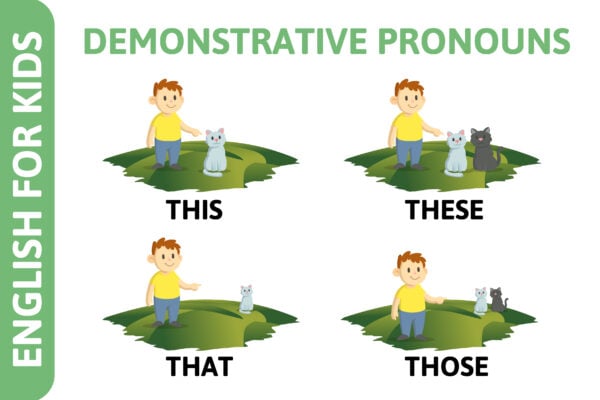 Indefinite pronouns replace nouns that are not specified. They include the following: all, another, any, anybody, anyone, anything, both, each, either, everybody, everyone, everything, few, many, neither, nobody, none, no one, nothing, one, several, some, somebody, someone, and something. Read the example sentences for a better understanding.
We gave everything to the homeless shelter
All were sad to see the children go.
Give a present to each as they come in.
Interrogative pronouns are used to ask a question. They include who, whom, what, which, whose, whoever, whomever, whatever, and whichever. Consider the example sentences below:
Which of these do you like best?
Who was just in this room?
Whatever happens next, I am prepared.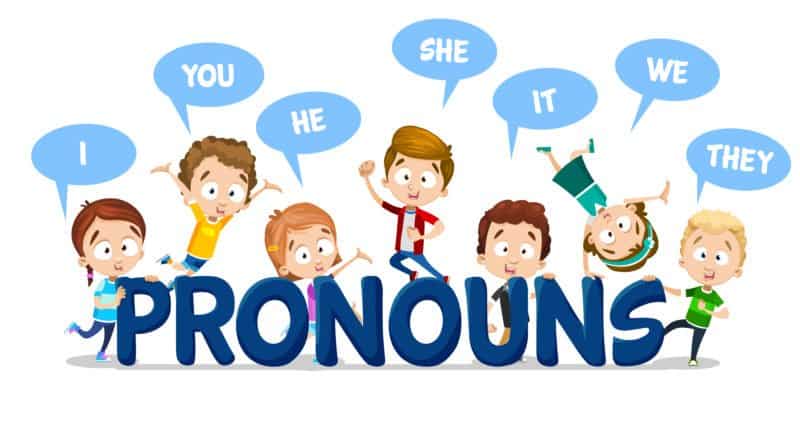 Relative pronouns connect (relate) noun or pronoun clauses with other parts of a sentence. They include who, whom, what, which, whose, whoever, whomever, whatever, whichever, and that. See how these are used in the sentences below.
The paper that she just wrote is due tomorrow.
Learning is easier for people who have a good teacher.
Whoever leaves the room needs to turn off the light.
Pronouns do a lot in the English language, don't they? They are the no-name workhorses, jumping in for the superstar nouns when they get exhausted. Hey, someone's got to do something about the work nobody wants to do!
List of Pronouns
Pronouns that start with A
all
another
any
anybody
anyone
anything
Pronouns that start with B
Pronouns that start with E
each
each other
either
everybody
everyone
everything
Pronouns that start with F
Pronouns that start with H
he
her
hers
herself
him
himself
his
Pronouns that start with I
Pronouns that start with L
Pronouns that start with M
many
me
mine
more
most
much
my
myself
Pronouns that start with N
neither
no one
nobody
none
nothing
Pronouns that start with O
one
one another
other
others
our
ours
ourselves
Pronouns that start with S
several
she
some
somebody
someone
something
Pronouns that start with T
that
their
theirs
them
themselves
these
they
this
those
Pronouns that start with U
Pronouns that start with W
we
what
whatever
which
whichever
who
whoever
whom
whomever
whose
Pronouns that start with Y
you
your
yours
yourself
yourselves
What if My Child is Struggling to Learn Pronouns?
A lot of children will get pronouns down pat pretty easily, but some may struggle. If your child is struggling to grasp pronouns, it's important to get them help as soon as you can. The sooner you help your child through this academic problem, the better off they'll be.
Remember that some children may take longer than others to learn pronouns. If your child is a little slow at learning them, that isn't a reason to immediately be alarmed. If you notice, however, that your child is falling significantly far behind their peers with this subject, it's time to intervene. This is usually marked by failing tests on that particular subject.
Getting your child a tutor is generally the best way to proceed. There are both in-person and online options for tutoring, depending on your financial situation and your child's needs. A tutor can help your child learn pronouns, while building their confidence along the way. Ask your child's teacher for recommendations if you're unsure where to start.
Sometimes, difficulty learning pronouns can be due to a learning disorder. If your child is struggling with pronouns, consider whether their difficulty may be due to this type of issue. If you suspect a learning disorder to be the reason for your child's struggles, take them to a pediatrician for a proper assessment. Your child's school will also have resources for diagnosing learning disorders. These issues are not anything to be ashamed of. A learning disorder is not automatically correlated with a lower intelligence level. Many people with learning disorders go on to become highly successful, with the right help.