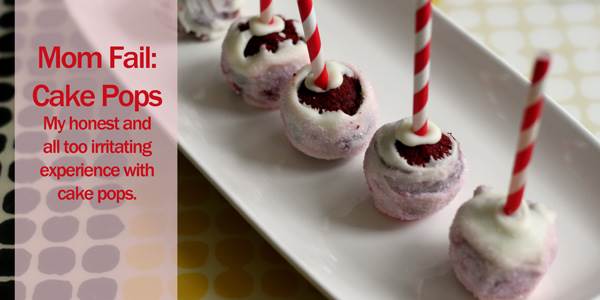 Let's Get Ready for Baby!
Sign up for our monthly pregnancy email series, and you'll get regular updates on your baby's development, helpful timelines to get ready for their arrival, must-have baby needs and so much more! PLUS, you'll get instant access to the MomsWhoThink "Ultimate Guide to Baby Naming in 2022."
CLICK HERE
to get started!
Mom Fail: Cake Pops
Not to toot my own horn, but I'm a pretty decent cook. I can follow just about any recipe and end up with a tasty meal. I can even make adjustments or make things from scratch with a pretty decent end result. I can also bake. Everything might not turn out gorgeous but it all tastes good and looks passable. But one of the things I cannot make well is cake pops.
It started a year ago. My first crack at cake pops was for my son's birthday party. It was monster-themed and I wanted some cake pop eyeballs to go on top of my cake and for extra dessert. My first mistake was making them the day before the party for the very first time. Those little jerks were falling apart, the chocolate wasn't melting right, the sticks weren't staying in, they were just down-right hideous. I got a few to look okay enough to use and most of them went into the trash after I stayed up late trying to form them into cutesy little monster eyeballs.
Now fast forward one year (almost to the day). I had a box of cardboard straws leftover from Christmas in bright red and green from Target. I also had come across a cute red basket in their dollar section. Then I found a container of pink sugar crystals in the cabinet I'd bought on a whim and had yet to use. Let's make cake pops I thought, Valentine's themed cake pops. They'll be cute I thought. I picked up a box of red velvet cake mix and cream cheese icing. Make it easy, bake from the box I thought. Ha!
First off, my son used my basket as a step stool and broke out the bottom. Ok, no one will see the bottom anyways, it's just a prop, it'll be ok. Next, I'd heard that using a meat-baller would help shape the cake balls so you get uniform sized balls. Nope. That thing was useless. Next, I'd run out of time and had to go pick up my daughter from preschool, so I threw the pan of balls into the freezer to harden up for the next step, twirling them in melted candies. Ran out of said-melted candies about two-thirds of the way through. So all in all, the cake pops came out ugly as can be, as usual. They tasted good though. But I was too bitter to enjoy them. Damn all those pins of adorable, perfectly round cake balls with teeny-tiny decorations made out of all edible yummies. I'll stick to buying one from Starbucks now and then to satisfy my craving. Jerks!