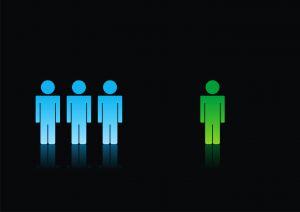 What Your Child Should Know About Respecting Differences
Let's Get Ready for Baby!
Sign up for our monthly pregnancy email series, and you'll get regular updates on your baby's development, helpful timelines to get ready for their arrival, must-have baby needs and so much more! PLUS, you'll get instant access to the MomsWhoThink "Ultimate Guide to Baby Naming in 2022."
CLICK HERE
to get started!
We live in a society that grants us the freedom to be ourselves—to be different from others. It is one of our country's founding ideal and one that we strive to be true to as a group, even to this day. It makes sense, then that we should want to teach our children to uphold these ideals, to see the beauty in everyone they encounter, and to learn to love and not hate others.
It may seem like a challenging message to convey at first, simply because we also live in a society of free speech, which sends messages we cannot control into the world for our children to interpret how they choose. As a parent, it is your job to intercept these messages and model the appropriate response. It is your job to teach your child to respect and appreciate the differences that make us who we are.
Modeling Respect
The first place that your child will learn about issues like difference and tolerance is from you. It is important to know that you are sending them the correct messages. You want your child to hear messages of respect and openness from you in order to encourage their natural tendencies of acceptance. Take the time to review your conversation and behavior and make sure that you are not inadvertently sending negative messages about a particular person or group.
If you are teaching your child about respect, they may come to you and ask questions about your behavior. Be prepared to own up to any unconscious oopsies and promise to amend your behavior if necessary. Otherwise you will end up teaching your child the wrong message entirely. Do what you can to expose your child to other people and ideas both in and outside of your home. This will help you to teach your child about differences in a practical manner. The more differences that you can expose your child to, the more prepared they will be to encounter others with tolerance and respect.
Teaching Tolerance
Your child should know to respect everyone equally, regardless of their differences. This is something that you can teach a variety of different ways, but it is another lesson that will need to be reinforced and repeated over time until your child internalizes it. You can begin, as stated above, by setting a good example for your child. You can bolster the messages that you are sending by choosing books, toys, games, and movies for your child that send positive messages about difference and diversity.
In some cases that message might simply be the inclusion of difference, in others, it might extend to a focus on how to treat difference with respect and tolerance. Even the negative messages that your child receives can be turned into teachable moments for your family's position on differences. Use those messages you disagree with to teach your child to analyze and interpret negative approaches to difference. This will teach them how to protect themselves against such messages in the future.