It's springtime, and that means all kinds of wonderful outdoor products are hitting Costco! We've reviewed all the new items in Costco stores and picked out five our favorites. From delicious new foods to gifts that are perfect for Mother's Day, here are our favorite new Costco items in May!
1. Starbucks Egg Bites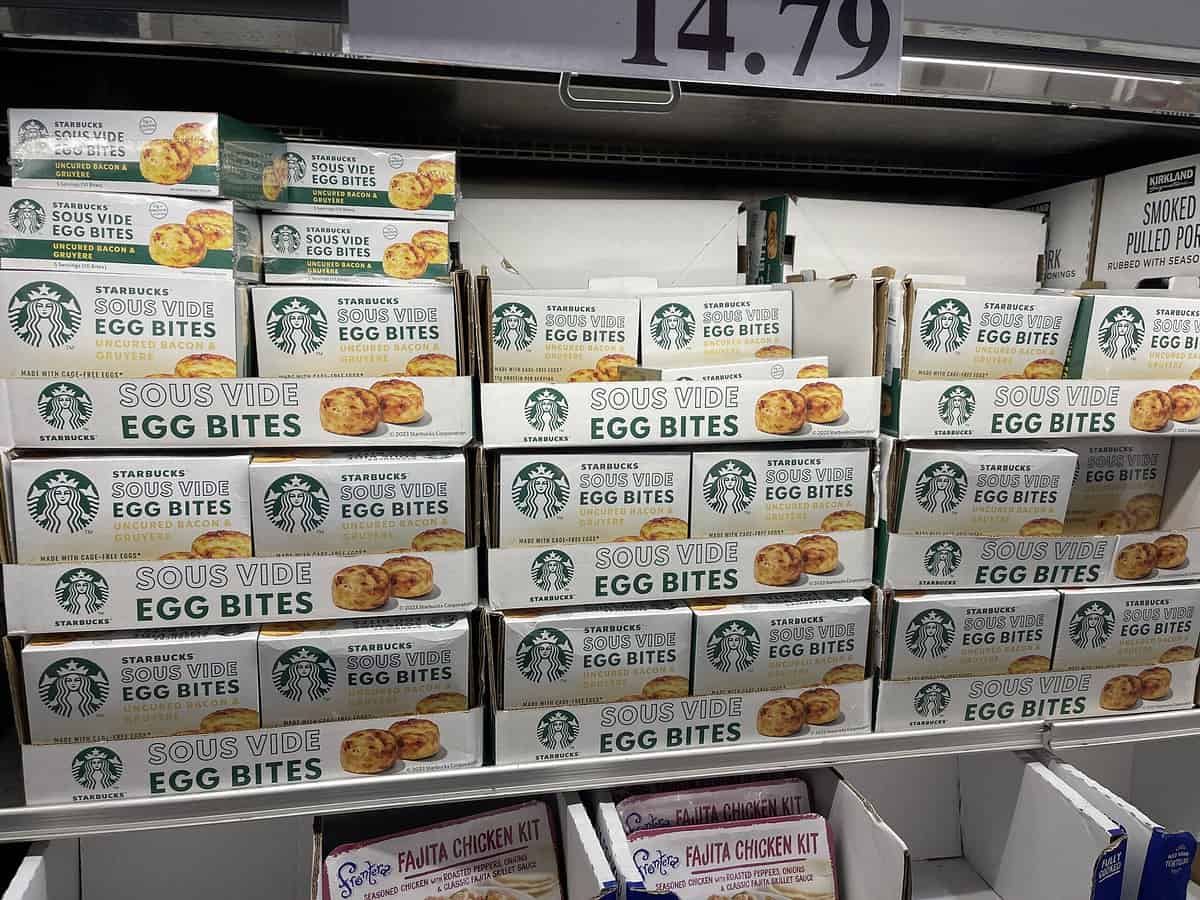 One of the most popular menu items at Starbucks is their lineup of egg bites. In the past, Costco has sold knock-off versions of the egg bites that were produced by a company named Three Bridges. However, the company has started selling egg bites directly from Starbucks themselves!
The egg bites are named Sous Vide Egg Bites and are the same as the Bacon & Gruyère Egg Bites found at Starbucks retail locations. Each box of Sous Vide Egg Bites contains 5 packages with two egg bites each and costs $14.79. That means buy these egg bites at Costco is about 40% cheaper than buying them at your nearest Starbucks!
We tried the egg bites and thought they were outstanding when cooked in an air fryer. If you're a fan of this popular breakfast item, you'll want to see if your local Costco is carrying these!
2. Thermoflask Water Bottles
Insulated water bottles rock. Let's face it, we all struggle to drink enough water, and insulated water bottles keep water cold (without "sweating" moisture on the outside) for hours on end. Once you start drinking from an insulated water bottle they're hard to turn back from, and are an excellent addition whether packed for a hike or just sitting on a desk while working.
Amazon sells two 24-ounce ThermoFlask insulated water bottles for $34 right now. Which isn't a bad deal at all. However, this goes to show what an incredible deal you'll find at Costco right now. They're selling two 40-ounce ThermoFlask insulated water bottles for just $20 in stores. The deal online is still good at $27 for two water bottles, but not quite as good. It appears this deal is good until supplies last or May 7th.
3. Tommy Bahama Outdoor Sets
Springtime means outdoor furniture is in stock. So if your wife (or husband) has been angling for some new furniture, a perfect Mother's or Father's Day gift could be an upgrade to outdoor seating.
Right now at Costco, there are a variety of options, but one new entry that caught our eye is the 5-piece seating set from Tommy Bahama. The "Montego Bay 5-Piece Seating Set" includes an 87″ sofa, two club chairs, a cocktail ottoman, and a side aluminum table. In addition, each seat (and the ottoman) come with all-weather pillows.
It's a fantastic-looking set. If you generally like the look of Tommy Bahamas's outdoor furniture you'll want to give this a review. At $3,999 for a complete outdoor seating area, its's far more affordable than other comparable sets from Tommy Bahama.
The image featured at the top of this post is ©Ground Picture/Shutterstock.com.