I've had the pleasure of living in Vienna for more than a decade. With its retail along Maple Avenue and many trails that encourage biking and walking, the town's center is always vibrant on pleasant days. And of course, if you're visiting Vienna or just popping by off the O&D Trail passing through town, odds are you could use a break and some refreshments.
Here are six of the best coffee shops in Vienna that not only have great coffee but also pastries and delicious food. Many of the stores are newer, so even if you're a local you might find something new in this list!
The 6 Best Coffee Shops in Vienna, Virginia
Many of the shops on this list roast their own coffee beans. However, if you're not a fan of coffee and are more interested in just relaxing and having a bite, you'll also find excellent food options on this list as well.
Caffe Amouri
29th Parallel Coffee
Frame Coffee Roasters
Tango Pastry Cafe
Simply Social
Lily's Chocolate & Coffee
Starbucks
1. Caffe Amouri
Caffe Amouri has long been a staple of the Vienna community. The shop sits on historic Church Avenue, within sight of the O&D Trail where thousands of bikers pass by each weekend during during the spring, summer, and fall.
The first thing you'll see when walking into Cafe Amouri is their roaster, which sits near the door. Their coffee page has a collection of all the options available at the store. Whether looking for a blend, single origin cup from across the world, or a large collection of teas, Caffe Amouri has you covered. There are also pastries and sandwiches available if you're stopping by to eat.
It's worth noting that Caffe Amouri has no Wi-Fi on weekends and can get quite busy in its interior space, so if you're looking to work you may want to select another option on this list.
2. 29th Parallel Coffee
Located next to Plaka Grill (one of the best gyro shops in the DMV), 29th Parallel is a more recent addition to Vienna. As you can see from the menu above, the offerings at 29th Parallel aren't expansive. There is a selection of about a dozen daily pastries as well as a few warmed items like lox, egg & cheese bagels, and avocado toast.
However, 29th Parallel is a very relaxing space. There are ample tables if you're looking for a space to do work. In addition, it has a clean and minimalistic feel that's inviting if you're meeting someone to grab a coffee and chat.
3. Frame Coffee Roasters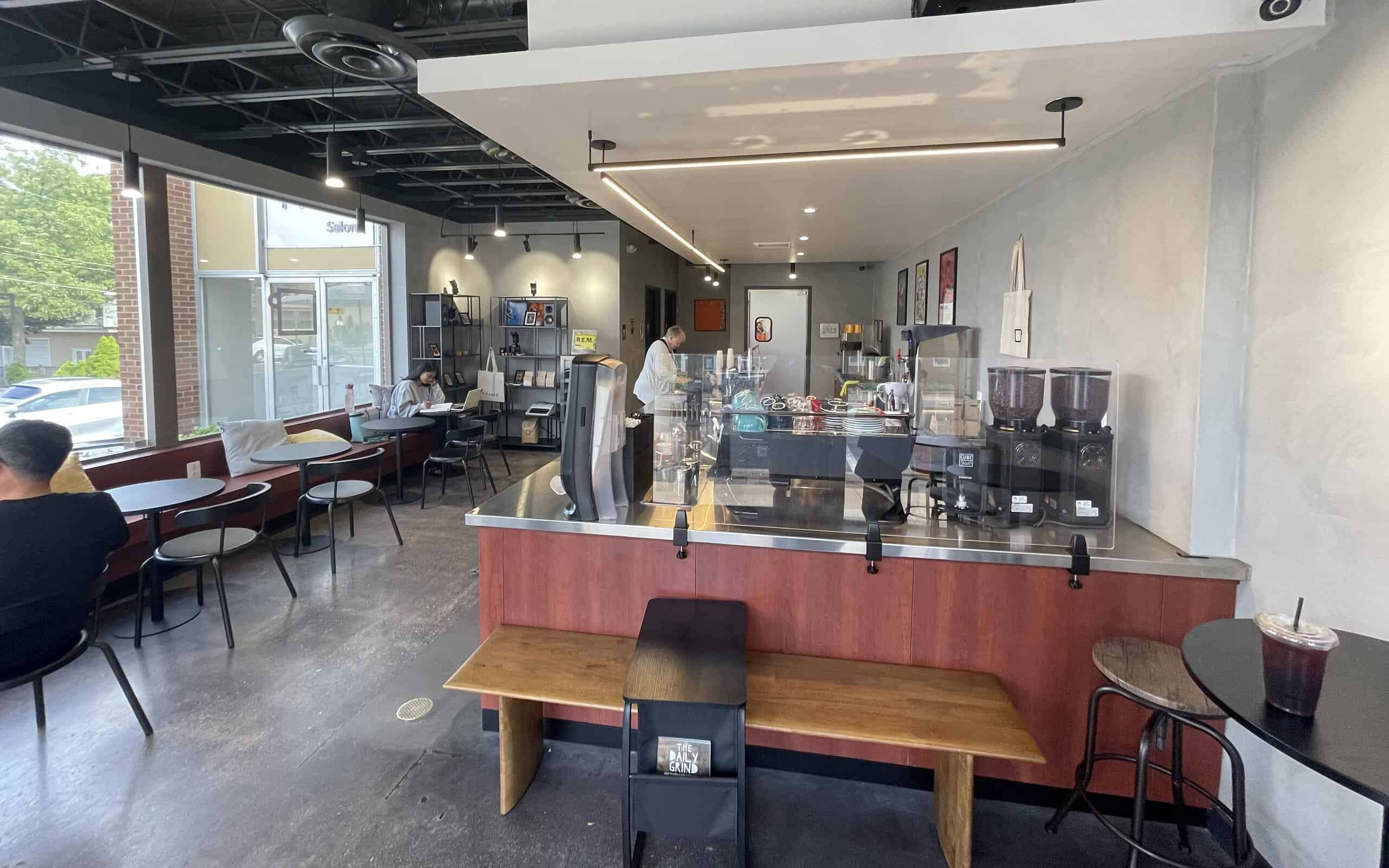 Frame opened in 2023 and is located on 302 Maple Avenue. Like Caffe Amouri, it features a coffee roaster right by its front door. The space inside is clean and inviting, but there is some outdoor seating as well if DC is in its Goldilocks zone between summer and winter.
One local tip I'll give is to try their signature beverages. Whether it is trying a pistachio latte or something sweeter like their honey cinnamon version, the signature drinks have been excellent in my experience. Frame also has a good selection of pastries and a limited menu of sandwiches if you're staying for a bit and want something hearty.
4. Tango Pastry Cafe
Tango Pastry Cafe is one of the best additions to the Vienna food scene in recent years. The cafe is Argentinian, with pastries like medialunas, pasterleras, and membrillos. If you're looking for more savory options, there's also a selection of empanadas and sandwiches. On my last visit, I enjoyed ham and cheese on a medialuna (an Argentinian croissant), and it was excellent.
If you're meeting someone for a morning coffee or afternoon snack, Tango Pastry Cafe should be at the top of your list of local options. The space is at the bottom of a large retirement community building and is extremely inviting. All tables outside are in the shade, so it's a wonderful place to stop if you'd like to sit outside but DC's weather is a bit too hot to sit in direct sunlight.
5. Simply Social
As you can see from the picture of its menu above, Simply Social has plenty of food options to go long with coffee. They have one of the best breakfast sandwiches you'll find in Vienna and at lunch time there are plenty of options. My personal favorite is the chipotle chicken sandwich, but the steak & cheese is also excellent. Of course, in addition to all this food there are all the usual coffee drinks you'd expect in addition to other options like fruit smoothies.
Here are a couple of things to note about Simply Social. First, they have a drive-through. So if you're in a hurry and near its location on Cedar Lane, you can simply swing through the drive-through. Second, it has a nice interior that includes spaces by a fireplace that's especially comfy on winter days.
6. Lily's Chocolate & Coffee
Lily's Chocolate & Coffee was founded by two Iraqi immigrants who bought "Lokma" to the area. Lokma is a fried pastry that's covered with a variety of toppings. The star of the show at Lily's is their chocolate dips, which you can have Lokmas or other ingredients like fruits dipped in.
One local tip I need to pass along is their tea service. If you call ahead (at least 24 hours in advance) you can reserve a space to enjoy tea parties with an assortment of goods that include not only lokmas but also tea sandwiches and other pastries. I took my two daughters to it and they absolutely loved it.
The image featured at the top of this post is ©A-Z-Animals.com/Eric Bleeker .