Are you headed to St. Petersburg, Florida anytime soon? If you're a baseball fan, and happen to find yourself in this beautiful city, head to a Tampa Bay Rays Game. And, we'll give you some tips on the best food and drink at Tropicana Field. From gyros to donuts, this list will provide a sampling of some of the best savory, and sweet, treats you can get as you watch the American pastime. Whether you're craving classic hotdogs or a decked-out gyro, there are so many great food options to choose from. Try a brisket Bahn Mi from a new addition to Tropicana Field, or a maple bacon donut from Donut Daddies, a St. Pete's original treat shop. Check out the full listing of concession vendors on the MLB Tampa Rays website.
There's truly something for every kind of baseball fan, or tourist, to enjoy while watching the Tampa Rays play. Keep on reading as we do a deep dive into the newer additions to Tropicana Field. We'll talk about the classics, a few of their signature options, and where to find all these places when you're there in person. Never again will you be stumped about what food to get at this great baseball stadium. Just follow this list, for some great, and tasty snack planning on your next trip to Florida!
New Additions To Tropicana Field
In March of 2023, Tropicana Field revealed a new menu. Not only would they be resurrecting some fan favorites, but also be bringing brand-new items into the stadium. Check out some of the newbie options for the best food and drink at Tropicana Field.
Little Greek Fresh Grill
Starting off with a fan-favorite, the Little Greek Fresh Grill located in Third Base Food Hall introduced vegetarian falafel with broad beans, lettuce, tomato, tzatziki, and pita. This new item is served alongside other Greek menu items like lamb or beef gyros, grape leaf and rice dolmades, spinach spanakopita, and pita wraps. Their Tropicana Field location offers a selection of their main menu, and, if they have it, don't forget to try the sweet, and nutty baklava.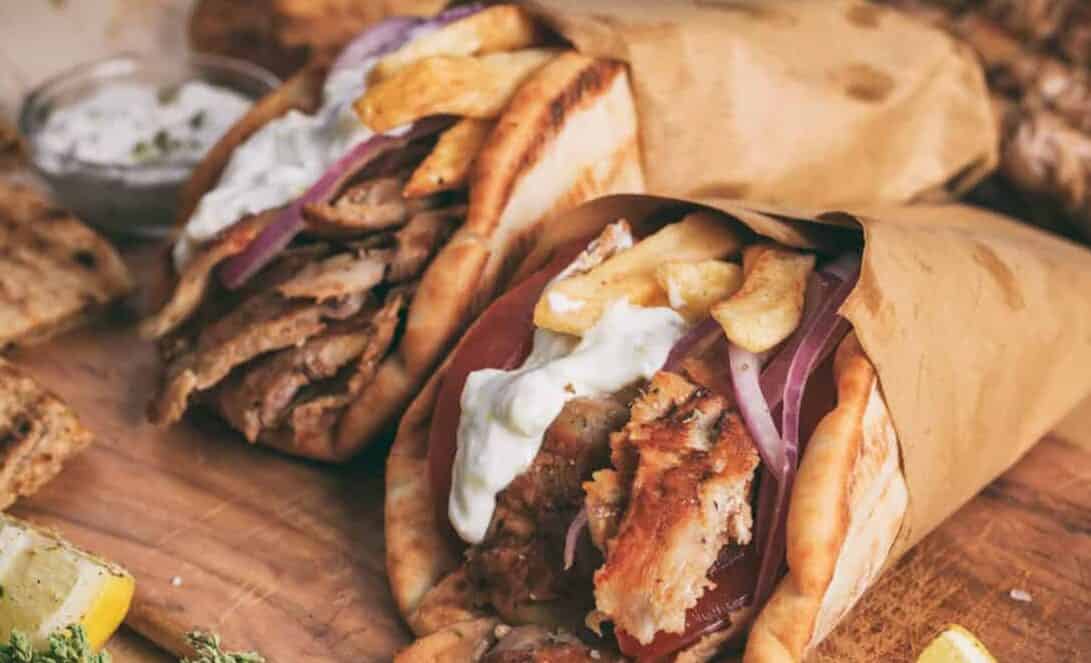 Beach Drive BBQ
Located in the First Base Food Hall, you'll find Beach Drive BBQ which offers a unique Bahn Mi with beef brisket. Other flavors include a pickled slaw and BBQ sauce. You'll have to go in person to check out their new menu of savory treats, but according to Tampa's own WTSP News, it includes amazing pulled pork in nachos and slider form. This is a must-try on your visit to Tropicana Field.
Pig + Potato
This year, Pig + Potato introduced a hand-rolled, foot-long Pretzel Dog to its extensive, and delicious menu. There are only 98 pretzel dogs available per game, and stadium-goers can watch the ticker as the number goes down (via MLB news). Better get one fast! Pig + Potato also serves items like beer-battered fries, a foot-long tater tot, classic pig and potato combinations, and more.
The Stinger Dog
This year, Tropicana Field brought back a fan favorite known as the "Stinger Dog," From the time when the Tampa Rays were known as the "Devil Rays," this hotdog features Nathan's hot dogs served with spicy chili and creamy cheese sauce. This iconic concession snack is available at all the Whoa Doggy locations around Tropicana Field (First Base Food Hall, Third Base Food Hall, and section 142, to start!)
Vegan-Style MingsBings™
For a unique addition to Tropicana Field, look no further than the vegan-style MingsBings. Started by Iron Chef icon Ming Tsai, these plant-based goodies can be found in the Grand Slam in the Right Field Concourse on the ground floor of Tropicana Field. Mingbings are a Chinese-inspired flatbread, and they come in flavors like cheeseburger, and Fiesta Taco. They are also available for purchase at Beach Drive BBQ which was featured a few items up! What a cool addition to the food scene at Tropicana Field.
Beans & Barlor
At Beans & Barlor, your *alcoholic dessert cravings are covered. This St. Petersburg gem offers everything from boozy pints, and boozy cakes (at their brick-and-mortar location). Try the newly introduced boozy milkshakes sold in the Third Base Food Hall and Budweiser Porch. There are also regular milkshakes and other fun desserts. What better way to enjoy baseball than with a milkshake from this list of some of the best food and drink at Tropicana Field?
Daddies Donuts
Who doesn't love a good donut? Then you'll love the amazing selection at Daddies Donuts in sections 125 and 142 of Tropicana Field. This gourmet donut shop was recently featured on Good Morning America for their segment on some of the best baseball stadium food (via That's So Tampa). The delectable donuts served at Tropicana Field feature options like classic glazed, filled, or chocolate. And there are even more unique donut options to try. Try something covered in Oreo cookies or M&M's!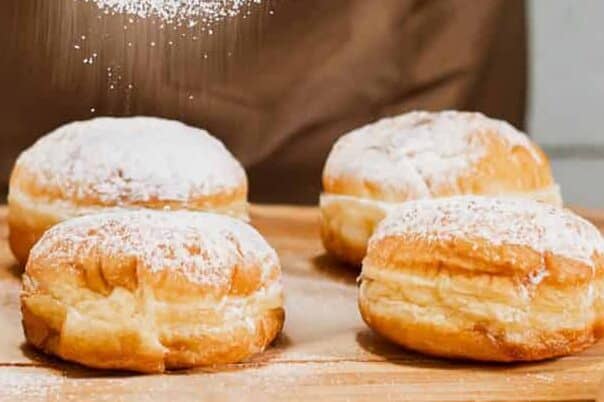 Classic Options
These eateries and drink spots are not new to Tropicana Field, but they've stuck around, and that says something! Get your fix of good coffee, sizzlin' pizza, a cold glass of beer, or a classic sub.
Kahwa Coffee
Located in sections 101 and 150 of Tropicana Field, you'll find Kahwa Coffee. This coffee spot was also featured alongside Daddies Donuts on the Good Morning America segment. Owned by Raphael and Sara Perrier, you can find the signature Kahwa roast right in Tropicana Field. Kahwa is the largest independent coffee roaster in Florida and a staple of the Tampa coffee-lovers scene.
Papa John's
And, you don't have to look too hard before you'll find Tropicana's resident Papa John's. If you're looking for something easy and classic, Papa John's is the place to count on a great and steaming hot slice of Pizza. You can get their classic cheese or pepperoni in section 150 as well as the First and Third Base Food Halls. Grab some napkins, and chow down as you watch your favorite players hit those home runs!
For tasty club sandwiches, head to the Cavery in the Third Base Foodhall, and if you're craving some fresh poke, head to the Pacific Counter at the Budweiser Porch. Here you'll also find items like seaweed salad, spam misubi, edamame, and a Hawaiin hot dog! Voted Tampa Bay's "best sushi restaurant," it's so great this place can represent in Tropicana field as well.
There's Crabby's Beachside Bites which offers classic pub fare with some fun, fishy twists (crab mac & cheese, anyone?) and you can always enjoy a tasty cheesesteak at Sizzle in section 126. For buffalo-sauce-soaked wingless chicken dishes try out Modern Bird, also located at the Budweiser Porch. Enjoy a cold brew with whatever you choose, at Coppertail Brewing in sections 117, and 120. Also available from grab & go locations, taste the craft brews from this local Tampa brewery while you watch the Rays play!
Signature Items
And finally, read on to learn about a few signature items we couldn't go without mentioning, as recommended by the Tampa Rays MLB website. Your trip to the stadium may not be complete without these options from the best food and drink at Tropicana Field.
At Melted you'll find the short-rib grilled cheese which has won quite a few mentions over the years. Imagine perfectly grilled Texas toast with beer-braised short rib, three kinds of cheese, horseradish, and caramelized, sweet onions. This sandwich got "best Item" at the MLB Food Fest and won the Tampa Bay Food Fight in 2019. Check sections 142, and 144 of Budweiser Porch.
Next up, the BBQ Pulled Pork Nachos. This dish features blue corn tortilla chips, smoked pork, cheesy sauce, sour cream, and pickled jalapeños. Find this delicacy at Southern Fried, the Grand Slam Grill, Bird + Batter, the Budweiser Smoke & Pour, and Ybor Station. Lastly, taste the TB Cuban Sandwich. It comes with juicy roast pork, Black Forest Ham, two kinds of cheese, and a pickle spear. Head to Cubanos, and Ybor Station to taste this signature dish at Tropicana Field.
The image featured at the top of this post is ©Maridav/Shutterstock.com.