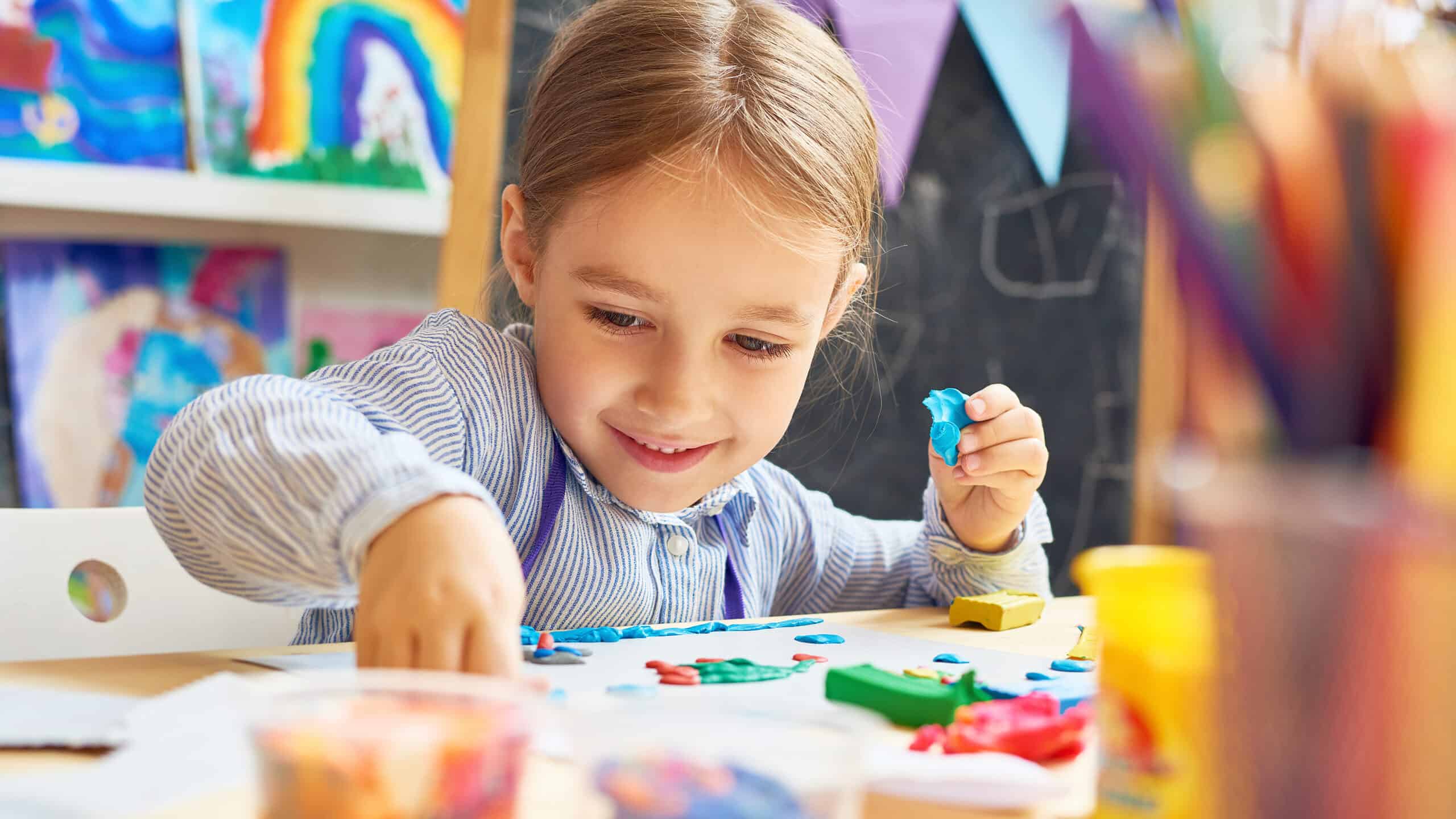 Key Points
We scoured the web and checked hundreds of products to find the best sensory toys for autism.
Our list includes a mix of sensory toys that help kids with sight, sound, and other senses. Plus, we looked at fidget toys that can keep your child's hands occupied, so they don't become stressed.
Autistic kids often need sensory toys because they help them to relax, calm down, and focus on a specific event or scenario. According to Autism Speaks, sensory toys also stimulate their senses, provide feedback to their sensory systems, and regulate their sensory needs. 
Kids with autism are happy and healthy. They just see life through a different lens. Because of this, they sometimes need slightly altered parenting, slight tweaks to their environment, and toys that capture their attention. 
Sensory toys are a big part of their life. In addition to being fun, sensory toys are meant to stimulate the senses of touch, sounds, light, and sometimes particular textures. When you incorporate sensory toys into their daily lives, they have a better chance of exploring the world around them in ways that they can't always do as naturally as kids that are not on the spectrum.
The more their interaction with the world improves, the more comfortable they will be. Many toys also stimulate body awareness, balance, and other essential skills. Kids can also learn gross and fine motor skills by playing with sensory objects. Most importantly, the toys stimulate the brain by making neurological pathways that improve their neural processing systems. They can help your child relax, focus, and learn in a safe way.
There are many different categories of sensory toys. They include toys that promote textures, toys for fidgeting, sound makers, chew toys, and more. In our review, we found several toys from these different important categories.
Top Pics: The Best Sensory Toys for Autism
After reviewing many different toys on the market, we found the six best sensory toys for autism. The toys listed below are fun toys that provide extra stimulation for kids that need it.
#1 Best Overall: PP PHIMOTA 56-Piece Sensory Toys Pack
This 56-piece set is chock full of amazing sensory toys, including puzzle balls, fidget objects, foam balls, and more, all for a great price.
Children with autism often require a variety of options when it comes to sensory toys that capture their imagination while also putting them at ease. This 56-piece set will surely include at least one toy that will do all that and more. The set includes spiky balls, mochi squishies, pop tubes, and various fidget toys.
All of the toys meet the US toy standards, and they are safety test approved and made of superior quality. This is a great set for children and adults, including anyone who experiences stress, anxiety, ADHD, autism, and more. Best of all, the set comes with a carrying case so everything can stay in one place.
These toys are helpful for sensory needs. The fidget toys help to keep kid's hands busy and occupied. The balls and squishy toys help your kids to develop their fine motor skills. The included puzzles promote visual stimulation and help the children to develop problem-solving skills.
All in all, this is a great set that is highly reviewed, and it comes at a great price point. Even if your kids end up playing with only one or two of the toys, it is still worth the cost.
Pros and Cons of the PP PHIMOTA Sensory Toys Set 56 Pack
| Pros | Cons |
| --- | --- |
| The kit includes 56 toys in one box. | There are many pieces, which means some of them can get lost. |
| Small toys fit all hands. | Check the box to ensure that you received all of the pieces. |
| The toys help kids to keep their hands busy. | |
2. Best Sensory Toy for Kids Who Love Textures: Boao 8-piece Sensory Mini Mats
Both interactive and calming, these mini sensory mats offer a variety of options that can put your child at ease while helping them to learn about new textures.
Each of the 7.9-inch mats in this collection offers a different texture that will keep your kid engaged for hours. They range from sequin, plush, and snakeskin to carpet, corduroy, sandpaper, stain, and cashmere. Each tile is distinct and colorful and will give your child a new experience to enjoy.
The mats are also safe, offering a non-slip pad underneath to ensure that your child doesn't slip and fall while playing. Each pad also has an edging design, which makes it sturdy enough to be gripped. These are fun tiles to use at home, in a classroom, or on the go.
Sensory mats are great for children with autism because they help to keep the kids calm and relaxed and encourage tactical exploration with their hands and feet, which is a multi-sensory experience. Walking on the sensory mats also helps kids build a neural connection in the brain so they can explore their senses, including body coordination, tactile responses, and general balance. 
The mats come in either square or octagon shapes, and they come at a great price point.
Pros and Cons of the Boao 8-piece Sensory Mini Mats
| Pros | Cons |
| --- | --- |
| Kit includes eight mats at a great price. | Although they have a non-slip backing, they can move a bit. |
| The mats are proven to help with sensory issues. | The mats can be a bit small depending on the size of your child. |
| There are many fun textures. | |
3. Best Oral Motor Therapy Toy: LeeYean Chew Necklace
This set of oral therapy chew necklaces can keep your kids entertained while keeping them from chewing on hands and dangerous objects.
LeeYean has created a set of five different chew necklaces that come in a variety of fun shapes and sizes. You can buy this pink set or a set that includes blue and black necklaces. Your kids can take these great chew necklaces anywhere, from home to school, and they are ideal for kids with autism or special needs. 
The chew necklaces are made out of 100% food-grade silicon, so they are safe to chew on for hours. They are made with a textured surface that creates a better textile experience. They have a soft and flexible material that will also be safe for your child's teeth and gums. The necklaces also have a breakaway clasp, so they are safe if there is an accident.
Chew toys are meant to develop chewing and biking skills and provide sensory stimulation. This set will do that and more. In addition to improving oral motor skills, the necklaces also prevent your kids from chewing on their hands and fingers or objects like pencils and crayons.
The necklaces are also great for kids or adults who deal with stress at school at work. Chewing on them can soothe and calm the user and help with focus. The necklaces also come at a great price point.
Pros and Cons of the LeeYean Chew Necklace
| Pros | Cons |
| --- | --- |
| Great set of chew toys that offer a variety of textures. | The necklaces can be a choking hazard for kids under 4 years old. |
| They are small necklaces that fit small child hands.  | Some reviewers complained that the toys were too hard or that they fell apart. |
| Inexpensive toy for reducing stress. | |
4. Best Sensory Desk Toy: 3D Pin Art Board Toy 
This colorful pin art board by the folks at Xsltkby is a great item for kids and adults with sensory issues or general entertainment.
You have likely seen these around since you were young. It's a 6in x 8in pin art board toy that is suitable for 12 months and up. Inside the sturdy transparent frame is a bunch of plastic pins. When you push your hand in, it takes the same form and it can provide hours of entertainment.
This can be for personal use, or it works great as a unique gift, and it can be a conversation starter, or it can be used when you or your kids are feeling fidgety. In addition to being fun, it is also incredibly well made, and it comes with a 100% satisfaction guarantee.
As far as sensory toys for autism, the pin toy can be very helpful. Pin arts can help to build your child's imagination. Plus, the unique feeling of touching the pin artboard makes it a no-mess sensory toy for teens, toddlers, or adults with autism. 
The toy is available in multiple colors, including rainbow, gray, and light and dark red. It's well made at a great price.
Pros and Cons of the 3D Pin Art Board Toy 
| Pros | Cons |
| --- | --- |
| An inexpensive toy that also makes a great conversation starter. | The pins can break over time. |
| It has a cool rainbow color. | Some reviewers claimed that they received the package damaged. |
| The toy is ideal for kids, teens, and adults with autism.  | |
5. Best Fidget Spinner: Rainbow Anti-Anxiety Fidget Spinner
The ultimate fidget toy, this spinner is colorful and addictive. It also spins for three to five minutes, making it one of the best anxiety toys on the market.
This incredibly attractive fidget spinner can entertain kids and adults all day while helping to melt stress and anxiety. This is an incredibly fast spinner. With one spin, the spinner can resolve for 3-5 minutes without stopping. The rainbow color makes the spinning even more engaging, and it is a beautiful display.
You get exactly what you expect with this spinner. It looks exactly like the picture, and it is durable and built to last. It also comes with a 100% satisfaction guarantee. This is extra special when you see the incredible price point.
The fidget spinner is great for sensory issues and those with autism because it helps to keep the user engaged. Plus, it helps with stress, anxiety, ADD, and ADHD. Fidget spinners, in general, are great because they keep your hands occupied. The smooth and fast rotation can put our minds at ease. 
The spinner can also be a game of sorts. It is fun to get with friends to see how long each person can spin without it stopping. Anyone who has stress, anxiety, or sensory issues should have one in their collection.
Pros and Cons of the Rainbow Anti-Anxiety Fidget Spinner
| Pros | Cons |
| --- | --- |
| A unique fidget spinner with a rainbow finish. | The middle of the spinner can unscrew over time. |
| It has an incredible 3-5 minute spin time. | Some reviewers said the spinning wasn't too smooth. |
| An inexpensive toy that can help with anxiety. | |
6. Best Rainmaker Sensory Toy: Edushape Rainmaker 8 Inch Rainstick
This high-quality 8-inch rainstick from Edushape is a highly-rated toy ideal for toddlers and young children that need help crawling or require extra stimulation.
Rainmaker toys have been notoriously great for kids with autism because they can help the children relax while playing and listening to the soothing sounds of "rain." Rainsticks are also typically made with colorful beads which capture your youngsters' vision. So, you are triggering more than one sense at a time.
The rainstick from Edushape is no different. It is a high-rated rainmaker that is manufactured by a company that started as a professional musical instrument company, so they know how to make the perfect acoustics. More than just a toy, this rainstick provides high-quality sounds just like it is raining.
This toy also helps with cognitive development. It sparks creativity, helps to develop hand-eye coordination, improves your child's sense of rhythm, and helps their auditory skills. 
The stick is also very safe. It's made out of BPA & Phthalate free plastic, and it is recommended for children 6 months and older.
Pros and Cons of the Edushape Rainmaker 8 Inch Rainstick
| Pros | Cons |
| --- | --- |
| It's a colorful and authentic-sounding rainstick. | Some users said the beads can get stuck during use. |
| It supports cognitive development.  | This model is smaller than others on the market. |
| The toy is also great for helping toddlers learn to crawl. | |
Criteria: How To Choose The Best Sensory Toys for Autism
While there are many toys from which to choose, there are certain factors that you will want to keep an out for so you can ensure that you get a quality sensory product for your child.
Here are the considerations to make when choosing a toy:
Price/Reviews
Sensory Benefits
Price/Reviews
The good news about buying sensory toys is that there are many from which to choose, and they are generally inexpensive. That is because they are meant to create a reaction, and they aren't necessarily complex toys. With that said, even if a toy is inexpensive, it doesn't mean that parents need to waste their hard-earned money. That said, before buying sensory toys for kids, take time to read the reviews. 
When it comes to our children, parents will almost always tell the truth. They also want what is best for their kids, so they will be very honest about what works with a toy and what isn't so great. That is why it is important to read the reviews before you make any purchases. Make sure that you are getting the best value for your money and that the product delivers the sensory benefits your child requires. 
Also, while reading the reviews, look at the product pictures and compare them with the reviews so you are getting what is advertised.
Sensory Benefits
The true purpose of choosing these toys over other options is their sensory benefits, so make sure you are getting what you need. The products we chose for this list cover several of the categories of sensory toys. Other toys can also offer sensory benefits, such as blocks, puzzles, balls, books, and cars. Every child is different, so a toy doesn't necessarily need to be known for its sensory benefits as long as your kid enjoys it. However, read the reviews to see what fellow parents of autistic children have to say. 
FAQs
Below are some commonly asked questions that parents wonder when shopping for sensory toys for autism.
Q. Are there any toys that I should avoid?
A. The point of the sensory toys is to ease your child into learning about a texture, sound, or other parts of life without it being too jarring or upsetting. For that reason, don't buy toys that are too abrasive. To that point, avoid toys that make a lot of noise, have flashing lights, or otherwise assault the senses. Also, it is wise to avoid sticky toys like slime that could upset or confuse your child. Markers and certain plastics that emit a unique odor should also typically be avoided.
Q. What type of activities do autistic kids enjoy?
A. In addition to the toys mentioned on our list, there are other activities that kids with ASD typically enjoy. Among them are finger and foot painting, making their own slime, painting with food, and making their own musical instruments. Kids may also enjoy sports with basic moves like water play and games they can do as individuals, like track and field. Consider those options when buying toys.