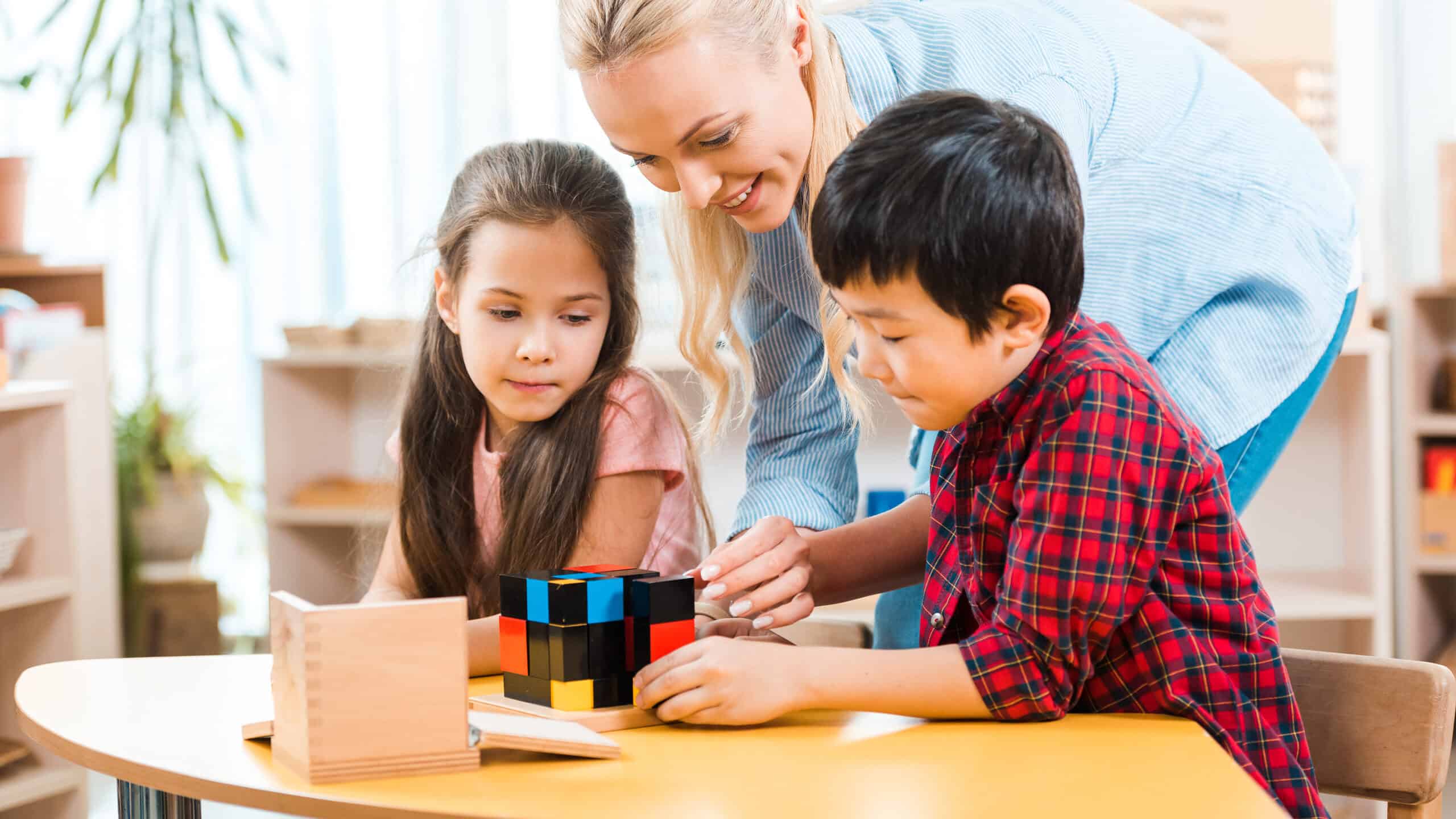 Key Points
We reviewed six of the best building toys currently on the market.

The building toys on this list include general sets that allow kids to create anything their imagination can conjure. We also included specialized sets for building rockets, planes, etc.
In addition to being a lot of fun to play with, the building toys on this list also teach your kids many important skills. Among them are the ability to use their problem-solving, creativity, math, and self-expression skills. The many benefits of building toys make these great choices for birthdays and holiday gifts.
One thing that young kids of all genders love is building, blocks, and playing with construction sets. There is just something to the idea of seeing a smattering of pieces and turning them into something fun and interesting. The obsession with building starts with children as young as one-year-old when they start piling blocks on top of each other just to see how high they can build their tower.
At first, building toys may seem like a way to keep your kids entertained in their free time. However, in addition to being fun, there are also many educational benefits to playing with these toys. Perhaps most important is that building sets help kids to be creative and use their imagination to build new things. This creativity will be paramount as your children grow and start to become interested in their professional development.
Building toys can also be essential for building your child's self-esteem. When your kid can turn a pile of pieces into their own creation, they will be amazed at their accomplishment, and they can feel like they can take on the world. Many children also like to play with building toys with their friends or siblings, and doing so helps their social and economic growth.
Needless to say, it is a wise choice for parents to buy their kids a building set. There are many sets to consider, and they can all teach your children valuable lessons.
Top Pics: The Best Building Toys Today
After reviewing many different building toys on the market, we have found that the options listed below are the best for education, fun, and overall entertainment.
#1 Best Overall: STEM Master Building Toy Set
In our review, the overall best building toy we found is the STEM Master Building Toy Set.
Great for kids who love to build and learn, the STEM Master Building Toy Set is a must-have for boys and girls. This set comes with over 175 pieces for endless fun. Included are connectors, balls, wheels, and more. With this many pieces, the vehicles and structures kids can make are only limited by their imagination.
The set also comes with a large book that provides ideas and steps to build 42 different structures. There are designs for beginner, intermediate, and advanced builders. This is also a great toy for kids that want to work as a team. There are plenty of parts to go around!
What also makes this one of the best building toys is the fact that it is great for teaching kids different STEM skills. Among them is the ability to exercise their creativity and imagination to build their own creations. These are skills that they can use in their occupation as they grow into adults. The many pieces also help them to boost their problem-solving skills. All in all, it is a great toy for kids 4 years old and up.
Pros and Cons of the STEM Master Building Toy Set
| Pros | Cons |
| --- | --- |
| Teaches STEM skills that they can bring with them into adulthood. | Small pieces can get lost if you are not careful. |
| The additional design book provides a lot of fun ideas. | The pieces can break if pushed to the limit. |
| The pieces are easy to store when the play is done. | |
2. Best Building Toy for New Builders: Picasso Bristle Lock Tiles
Perfect for young kids with small hands, the Picasso Bristle Lock Tiles allow your children to create an unlimited number of structures, animals, and awesome 3D forms.  
Parents of a certain age will likely remember the bristle lock tiles that are large, fun, and easy to connect. Today, your kids can enjoy the same great toys. Perfect for ages 3+, these building blocks allow your children to create an almost unlimited number of objects, from small houses to trains and helicopters.
This set is great for young builders because the pieces are large and easy to fit together, which is great because it is never too early to start developing your children's creativity. By playing with these toys, your kids can acquire a strong sense of structures, colors, and geometric shapes. 
Just like many of the other sets on this list, the Picasso tiles allow children to boost their STEM abilities. Kids can use their imagination and creativity to create endless structures, and they can play out scenes with the items they make. Your children will also learn the basics of engineering while having the time of their lives.
Pros and Cons of the Picasso Bristle Lock Tiles
| Pros | Cons |
| --- | --- |
| The blocks are easy to grasp for young children. | Pisces can get lost if parents aren't careful.  |
| The set includes 120 fun pieces. | Some users said the bricks don't stick as well as they should. |
| Fun set at a great price point. | |
3. Best Building Toy for Kids That Love Space: Space Exploration Builder Set
Mix your child's love of outer space with their enjoyment of building and engineering with this fun space exploration set.
This builder set from Aero Space gives your kids all of the pieces they need to build a huge transport rocket and launcher that they can play with and show their friends. Ideal for ages 6+, this robust set includes 566 pieces that come together into an incredible rocket that looks like it was made by the geniuses at NASA.
The set comes with the pieces necessary to build the rocket, the launcher, the base, the elevator, and more. Plus, it comes with 12 different vehicles that are used by the folks at NASA, including a satellite, rockets, cars, trucks, and more. While they build, they can learn about space travel.
Your kids will not be alone on their mission. The set comes with a detailed manual with step-by-step instructions that show where every piece goes. The blocks are high-quality, and they have soft edges, so they are safe for kids and parents alike.
Pros and Cons of the Space Exploration Builder Set
| Pros | Cons |
| --- | --- |
| A comprehensive set creates an incredible rocket. | The set is only for kids that are ready for an advanced project. |
| The project gives kids a goal to work toward. | The rocket is smaller than it appears in the photo. |
| It is a fun team-building exercise for siblings. | |
4. Best Building Toy for Plane Fanatics: Model Airplane Set
This model airplane set from Garbo Star is a different kind of building project that will allow your older children to build with real tools.
By using a screwdriver and an Allen wrench, your kids can build this 285-piece set and end up with a gorgeous airplane that will look good on any shelf. Keep in mind that this is not a project you finish in an hour. Instead, this set takes dedication and an eye for detail, so it is great for children with an expanding imagination.
This is a very high-quality building set. Each piece is made of rust-proof materials, so it will stand the test of time. Once the pieces are in place, they will never fall off unless you take it apart on purpose. The set also comes complete with wheels and a working propeller. Best of all, you get a comprehensive guide that provides step-by-step instructions along the way.
Perfect for kids age 8+, this is also a great STEM project that will teach your kids how to use tools and a bit of imagination to make something with their own hands. It is also a great team-building project for siblings. Once complete, the plane sits at 4 inches high and 14 inches in length.
Pros and Cons of the Model Airplane Set
| Pros | Cons |
| --- | --- |
| A great STEM project for evolving minds. | This is not a toy for young children. |
| It teaches kids how to use simple tools. | It has small pieces that can get lost if you aren't careful. |
| The finished project looks like a work of art. | |
5. Best Building Toy for Advanced Builders: K'NEX Model Building Set
Kids can use their imagination to create hundreds of different structures with this 480-piece set from K'NEX.
Imagine getting a building set for a birthday and learning that you can use it to build just about anything, and you are only limited by your imagination. That is exactly what you get with this set from K'NEX. It includes many different pieces and figures that you can easily snap together to make works of art.
K'NEX is a unique brand because the pieces that they supply actually move. This interactivity allows kids to make mobile models of trucks, airplanes, helicopters, and more. Kids can also use the pieces for more lofty goals, like building amusement park rides, bridges, and more. This Amazon-exclusive set comes with a detailed booklet that shows how to make 35 unique models.
Although kids of any age can put the pieces together, this set is really intended for children at least 7 years old due to the complexity of some of the models. Still, they are only limited by their imagination. This is a great STEM toy that will teach your kids about the basics of engineering.
Pros and Cons of the K'NEX Model Building Set
| Pros | Cons |
| --- | --- |
| A comprehensive set that allows your kids to make unlimited figures. | With 480 pieces, it is easy to lose a few if you are not careful. |
| Moving parts make it more interactive than other sets. | The pieces are smaller than they appear in the photos. |
| A STEM toy that will teach your kids great lessons. | |
6. Best Building Toys For Cabin Builders: Lincoln Logs Building Set
This iconic Lincoln Logs building set is fun for children and adults alike as you build log cabins and other fun structures.
Parents who have been around the block a few times will likely remember the Lincoln Log set that they had as children. This iconic toy is still around today, and you can give your kids the special 100th anniversary tin that features 111 pieces that can capture your imagination yet again.
This set includes pieces that are large enough for kids of all ages to enjoy safely. Included is a manual that will teach children how to make several structures, including a tall tower, small houses with a bonfire, and a large log cabin. You can also add fun accents like a chimney, roof, fences, a porch, and more.
The pieces in this set are made with love and care. Each piece is stained a gorgeous brown, and there is amazing attention to detail applied throughout the set. Plus, the tin/carrying case creates a great bit of nostalgia, and it keeps all of the pieces in one place.
Pros and Cons of the Lincoln Logs Building Set
| Pros | Cons |
| --- | --- |
| A sturdy building set that kids will love. | Kids may want a more modern building set. |
| Great toy for preschoolers. | The options for building are more limited than with other sets. |
| High-quality pieces will last for years to come. | |
Criteria: How To Choose The Best Building Toys for Boys
While every building toy will be a bit different, there are factors that you will want to keep an eye out for so you can ensure that you get a quality product.
Here are the considerations to make when choosing a building toy:
Price/Reviews
Educational Factors
Price/Reviews
One of the most important factors to consider when buying a building toy for your child is the customer reviews. When you are perusing Amazon, you may find sets that look attractive because of the pictures that they show. However, a picture can be deceiving. Instead, make it a point to click on the product and read the bullet points and the customer reviews. 
The reason you do this is because the product manufacturer is likely to make claims, so you will buy the toy. However, the customer reviews will be brutally honest, and they will tell you if the set is smaller than it appears, if the pieces are flimsy, and anything else that you should know. Take a few minutes to read the reviews and ensure that you get a product that is worth your money.
Educational Factors
Keep in mind not every building set needs to be educational. However, if it does teach your kids a few things, then it may be worth the money. Many of these sets are considered STEM toys, which means that they teach your kids about science, technology, engineering, and math. By building towers, putting together models, and working with friends and siblings, your kids can learn many valuable lessons that they can take with them as they get older.
FAQs
Below are some of the commonly asked questions that parents wonder when shopping for building toys for their kids.
Q. Are Toy Blocks Considered Building Toys?
A. Yes, blocks are a form of building toy that is typically best for young children. Any child can take advantage of the benefits of building toys. There are many other terms for building toys, including toy blocks, erector sets, STEM toys, and major brands like LEGO and DUPLO building blocks. The point is that your kids are able to build something from nothing, as that can be very rewarding for children.
Q. How Old Do My Kids Need to be to Play With Best Building Toys?
A. The age restriction for building blocks depends on the type of set you buy. The biggest consideration is to ensure that you don't buy a set with small pieces that young kids can put in their mouths. For children ages 3 and under, a block set with large blocks or the Lincoln log set can be safe and fun. The other consideration is how complicated the building set can be, especially if your kids are expected to put a model together. If your children are so young that they don't understand the project, then they won't have much fun.