Thousand Island vs. Russian Dressing: What's the difference? They are often used for different salads. They are used for dipping sauces or sandwiches. But what makes these dressings unique?
When it comes to history, Thousand Island dressing comes from Thousand Islands. As legend goes, a man and his wife forgot salad dressing while on a boat overseas. The man decided to make a dressing with his ingredients on his ship, which became Thousand Island dressing. Another story involves a local inn that served Thousand Island dressing on sandwiches to fishermen. The recipe for this dressing was eventually shared with more and more people and became popularized.
Russian dressing has a different history. The Mayonisse-based dressing is found as early as 1914. Ironically, the dressing is not from Russia but became known as Russian since it had caviar.
This guide explores the history of Thousand Island dressing and Russian dressing. We learn what makes them unique when it comes to taste and nutrition.
Thousand Island vs. Russian Dressing: Uncovering the Key Differences
Russian dressing is only a little over a hundred years old. At the same time, Thousand Island dressing is as old as the late 1800s. Looking at the history and how they developed can offer some insight into how they developed into what they are today, specifically looking at how they became popular in grocery stores and for specific recipes.
The History of Thousand Island vs. Russian Dressing:
Thousand Island dressing has different theories on how it was created. As the name implies, Thousand Island dressing comes from Thousand Islands, Ontario, Canada. However, there are many ways to make Thousand Island dressing, especially in Ontario. While most people make it with a mayonnaise base, some will put tomato sauce, and anything outside of that goes. Some make it spicy or extra sweet.
Here's the original recipe for Thousand Island dressing.
1/2 cup ketchup
1 teaspoon apple cider vinegar
1 1/2 tablespoons finely minced or grated onion
3 to 4 tablespoons sweet pickle relish
1 teaspoon salt
1/2 teaspoon chili powder or freshly ground black pepper
1 large hard-boiled egg, peeled
1 teaspoon minced pimientos or roasted red pepper, optional
1 teaspoon minced fresh chives, optional
Few drops of any Louisiana hot sauce, to taste, optional
You may think Russian dressing comes from Russia, but that's a myth. The truth is that it comes from Nashua, New Hampshire, by James E. Colburn. He invented the dressing in the 1970s after he opened a grocery store. He created an assembly of ingredients that became known as Russian dressing. One of the reasons that people believe Russian dressing is called "Russian" is because of the caviar that was once a part of the ingredients.
The ingredients for the original Russian dressing are as follows:
½ cup mayonnaise
I tablespoon chili sauce or tomato ketchup
1 teaspoon finely grated or chopped onion
½ teaspoon horseradish
¼ teaspoon Worcestershire sauce
1 tablespoon finely chopped parsley
1 tablespoon black or red caviar, optional.
Taste Differences
The commonality between Thousand Island dressing and Russian dressing is that they both have a ketchup- and mayonnaise-base. Apart from that, there are a lot of unique differences between these dressings. One difference is how spicy Russian dressing is compared to Thousand Island dressing. For example, Russian dressing has horseradish and chili pepper, which gives it a spicier kick. Thousand Island dressing tends to be sweeter because it has pickle relish. Additionally, Thousand Island dressing is thicker because of the chopped-up hard-boiled egg.
The taste stands out more when you use these foods for different purposes. Here are the different ways to use Russian or Thousand Island dressing for recipes.
French Fry Dipping
Sandwich Spread
Salad Dressing
Burger Spread
Dipping Sauce for Fried Food
Health Differences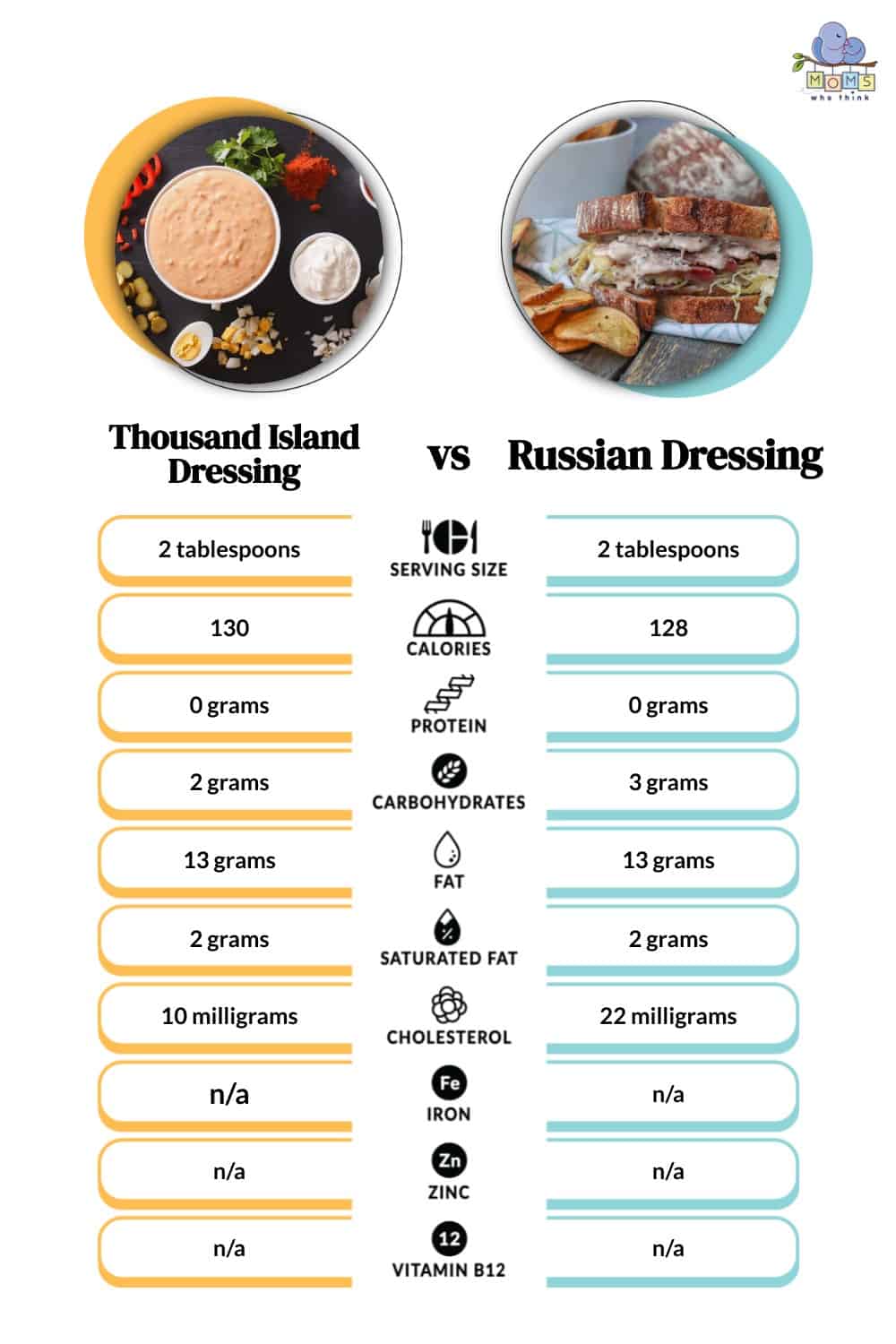 The health differences are marginal between Thousand Island dressing and Russian dressing since they essentially have the same ingredients. However, since Thousand Island dressing usually has hard-boiled eggs and sweet relish, it will also have slightly more fat and calories.
However, Russian dressing is not without flaws. It can have higher cholesterol and carbohydrates, which could be due to the horseradish.
What Dressing Should You Choose?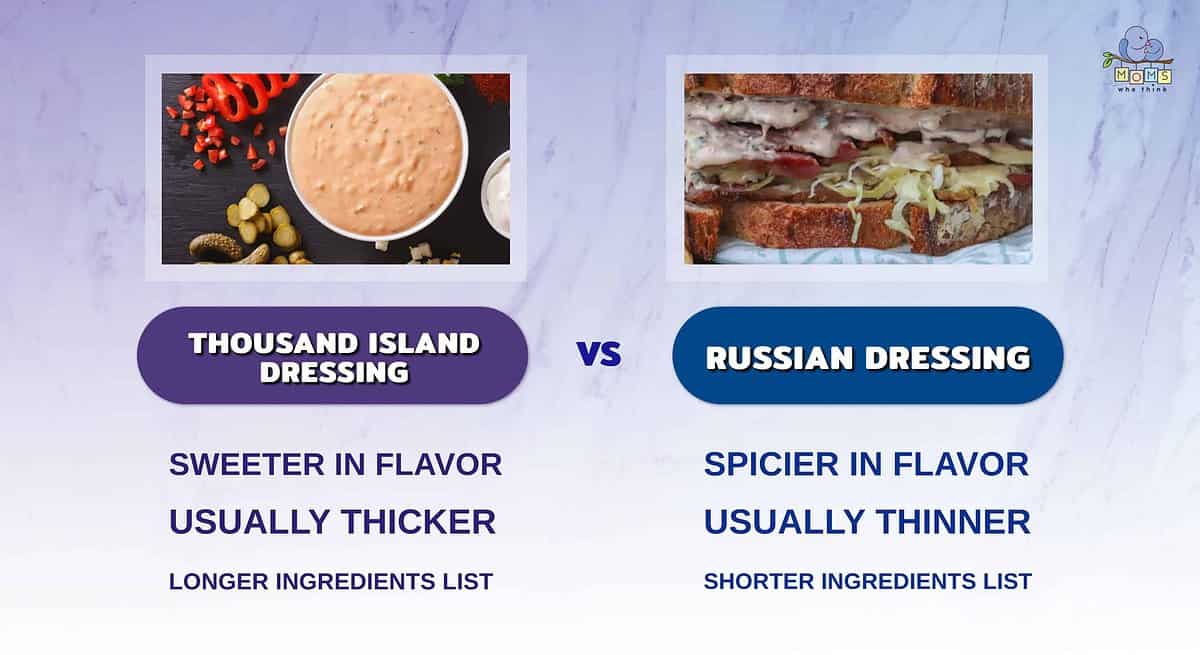 Due to their differences in ingredients, Thousand Island dressing is sweet, while Russian dressing is spicy.
Thousand Island dressing is typically thicker than Russian dressing.
Traditionally, Thousand Island dressing has more ingredients than Russian dressing.
Choosing between Thousand Island dressing and Russian dressing is a matter of taste. It depends on if you like something spicier or sweeter. It depends on what you're eating and what you like to use these dressings for.
Ultimately, there's no wrong choice on what to use. They offer similar nutrition. They can also be used for similar purposes. Trying both can give you a glimpse of what you prefer between these two delicious dressings.
Print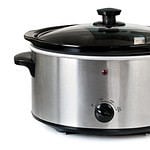 Crock Pot Russian Chicken
---
1

bottle Russian dressing (

16 oz

.)

1

envelope onion soup mix

1

jar apricot preserves (

10 oz

.)

4

pieces chicken, (

4

to

6

ounces each)
Seasoned salt and pepper to taste
---
Instructions
Combine dressing, preserves and onion soup mix in bowl and pour into a slow cooker/Crock Pot.
Sprinkle chicken with seasoned salt and pepper. Place chicken, skin side down, in slow cooker/Crock Pot.
Cook on LOW for 8 hours (HIGH 4 hours).