Banana Bread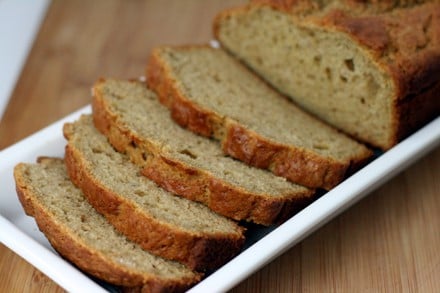 Ingredients:
2 eggs, beaten
⅓ cup buttermilk
½ cup vegetable oil
1 cup mashed bananas, very ripe (blackened peels)
1½ cups white sugar
1¾ cups all-purpose flour
1 teaspoon baking soda
½ teaspoon salt
½ cup chopped pecans (optional)
Directions:
1. Preheat oven to 325°F (165°C). Spray one 9x5 inch loaf pan with non-stick spray coating.
2. Blend together the eggs, buttermilk, oil and bananas.
3. Sift together the sugar, flour, baking soda and salt.
4. Add flour mixture to banana mixture and stir in pecans. Mix well.
5. Pour into prepared loaf pan and bake 1 hour and 20 minutes or until a cake tester inserted in the center comes out clean.
Not just entrees, these are complete meals that take 30 minutes from the kitchen to the table ... without sacrificing great taste!