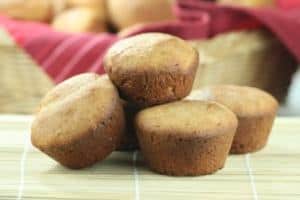 Refrigerator Bran Rolls
Ingredients:
½ cup shortening
6 Tablespoons granulated sugar
1 teaspoon salt
½ cup boiling water
½ cup bran
1 package dry or compressed yeast
½ cup lukewarm water
1 egg, beaten
About 3 – 3 ¼ cups sifted all purpose flour
Makes about 2 dozen
Directions:
1. Combine first 4 ingredients in large bowl. Stir in bran; cool to lukewarm.
2. Sprinkle yeast in lukewarm water; let stand 5 – 10 minutes until thoroughly dissolved. Stir up; add egg to bran.
3. Stir in enough flour to make soft dough, beat well. Cover with waxed paper and towel. Chill overnight.
4. Turn out on floured board, form into 2 inch balls. Place 1 in each cup of greased 2 ¼ inch muffin pans.
5. Cover with towel, let rise in warm place until double in bulk. Bake in hot oven of 425°F, 15 – 20 minutes or until done.