If you're cooking up a barbeque, sides are super important to making a delicious meal! And while you might already have your smoker out and ready, smoking your sides is a great way to make sure they're extra tasty. Here are 10 recipes you have to try for smoked side dishes at your next barbeque.
This smoked gouda dip is creamy and smokey as well as rich in flavor from its crispy bacon. It's great to eat with sourdough bread or even veggies and potato chips. Not only is it delicious, but it's super easy to make. Because the ingredients in this recipe are smoked, all you have to do is throw everything into a mixing bowl and refrigerate it until you're ready to serve.
Take the classic scalloped potato recipe and throw it out the window because these smoked scalloped potatoes are a show-stopper. With soft potatoes on the inside and a crunchy topping on the outside, these scalloped potatoes are a great comfort food and pair well with any smoked meat you're making for your barbeque. The key to this recipe is that you layer the cheese and sauce throughout the potatoes, that way, every bite is delicious.
If you don't love Brussels sprouts, this recipe will likely change your mind. With crispy bacon and the smoked flavor these get from being prepared in the smoker, you're bound to like them. Often, brussels sprouts are only seasoned with salt, pepper, and maybe a little garlic. These Brussels sprouts will get seasoned with a barbeque rub which makes them burst with flavor. Once all ingredients are combined, they're ready after 45 minutes in the smoker.
This award-winning smoked baked beans recipe was shared by the wife of a super famous pitmaster. That means these are the real deal! Although it's a simple recipe, what changes the game for these is added pineapple and jalapenos. It gives it a bright and sweet flavor with just a kick of spice. It's perfectly balanced. Once you make these, you'll never be able to have a barbeque without them again.
These smoked garlic potatoes are full of flavor. They get smothered in garlic, Italian seasonings, dill, and parmesan cheese. They also require little prep, so they are quick and easy to make. Using gemstone potatoes, you'll also get a colorful side dish with purple, red, and white potatoes. And if you really want to take these to the next level, when seasoning these potatoes, use a flavor-infused olive oil to take it over the top.
The key to making this delicious corn on the cob is the seasonings. You'll melt some butter and mix it together with garlic powder, parsley, salt, pepper, and smoked paprika. Putting the seasonings in the butter to brush on the corn will help get the flavor in all the nooks and crannies of the corn. And if you have it, using fresh garlic instead of garlic powder will really help the flavor burst through. Then, cook them in the smoker for an hour, and they're ready to go.
Deviled eggs are often a fan favorite, so these smoked deviled eggs will not last long at the table. What makes these deviled eggs stand out is apple cider vinegar, brown mustard, hot sauce, and bacon in the egg yolk mix, as well as the smoked egg whites. This is a super quick and easy recipe that takes little effort to pull together. You'll place peeled boiled eggs into the smoker to absorb the flavor for 30 minutes, and then it only takes 15 minutes to mix together the yolks and serve.
This smoked street corn recipe is popular on TikTok. Made with corn, cream cheese, cilantro, and paprika, it's like an elote but a smoked casserole. You can also choose to make this recipe with fresh or frozen corn.
These bacon-wrapped smoked potato kebobs are so much fun. Potatoes as a side dish are already great, then add bacon and a yummy cheesy cheddar sauce to make them extra special. This recipe only requires 15 minutes of prep and three hours of cooking time in the smoker.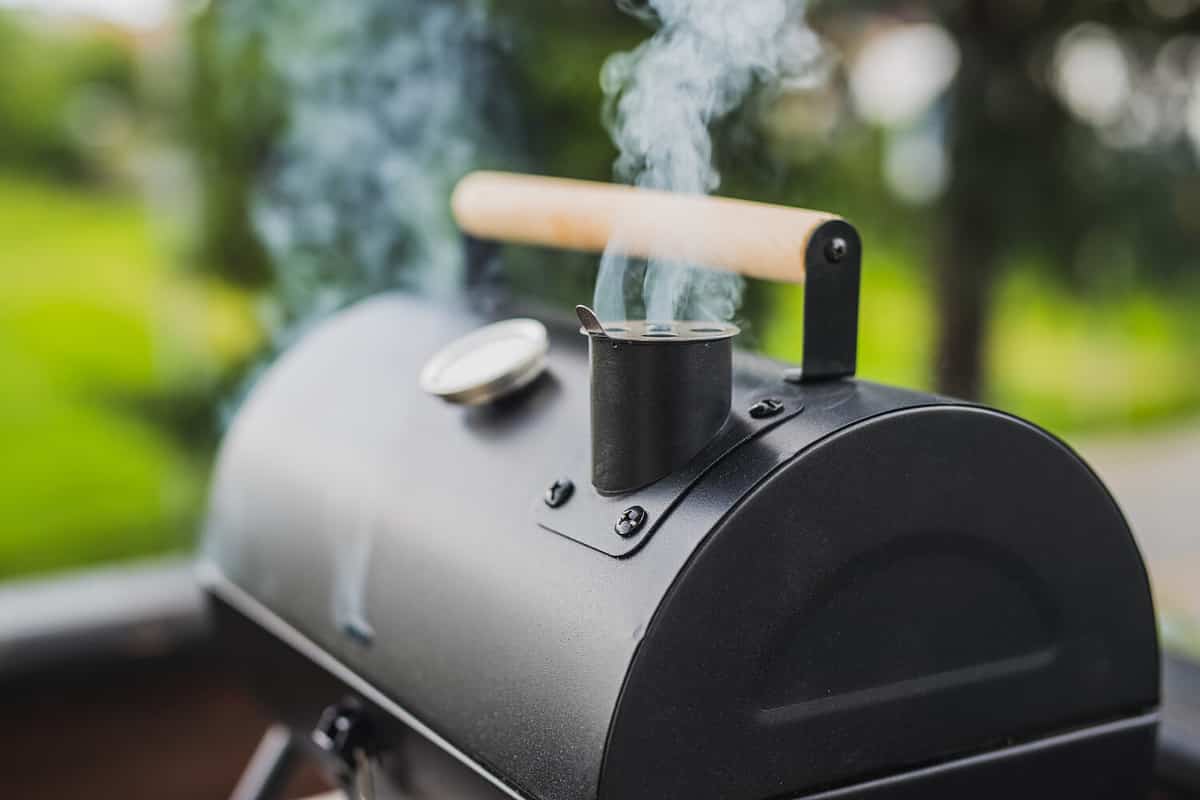 More Recipes
If you're looking for some more smoked recipes for your upcoming barbeque, check these out.
The image featured at the top of this post is ©VDB Photos/Shutterstock.com.