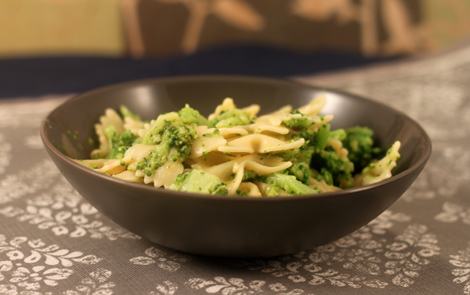 Broccoli and Bow Tie Pasta
Let's Get Ready for Baby!
Sign up for our monthly pregnancy email series, and you'll get regular updates on your baby's development, helpful timelines to get ready for their arrival, must-have baby needs and so much more! PLUS, you'll get instant access to the MomsWhoThink "Ultimate Guide to Baby Naming in 2022."
CLICK HERE
to get started!
Broccoli with bow ties can be used as a side dish or easily used as the main dish. When using this recipe for the main dish at dinner, just add chicken to give it heartiness.
Ingredients:
8 cups broccoli florets (from 4 heads)
1/2 lb farfalle pasta (bow tie)
2 Tablespoons unsalted butter
2 Tablespoons extra virgin olive oil
1 teaspoon minced fresh garlic
zest of 1 lemon
2 teaspoons kosher salt
1/2 teaspoon fresh ground black pepper
1 Tablespoon fresh lemon juice
1/4 cup pine nuts, toasted
freshly grated parmesan cheese (optional)
Directions:
1. Bring a large pot of salted water up to the boil, add broccoli florets, and cook for 3 minutes.
2. Remove broccoli with a large slotted spoon and place into a large serving bowl.
3. Making sure the water is still boiling, add pasta. Cook according to package directions (about 10 to 12 minutes).
4. Drain well and add cooked pasta to the broccoli.
5. While pasta is cooking, toast the pine nuts: place a small skillet over medium-low heat and add nuts to skillet; stir often. Set aside.
6. Heat the butter and oil in a small skillet over medium-low heat. Add both minced garlic and lemon zest and saute for one minute.
7. Remove skillet from burner and add the salt and pepper. Add the lemon juice.
8. Stir to combine then pour over the broccoli and pasta in the large bowl; toss.
9. Sprinkle toasted pine nuts and parmesan over dish, and serve.