Canadian bacon vs. ham: What's the healthier choice? Are there any noticeable differences? One of the major differences is where they come from on a pig. For example, Ham comes from the pig's back legs. Canadian bacon comes from the back of the pig.
You'll also notice that there are different ways to cook each meat. You can prepare them differently for breakfast and add them to other recipes. There's also an issue of nutrition. Canadian bacon and ham have nutritional differences that might influence your diet.
This guide looks at the core differences between Canadian bacon and ham. We look at the nutritional differences, their origin, and the better meat cut to eat. Ultimately, you'll better understand Canadian bacon and ham and how their differences may surprise you.
The 3 Differences Between Canadian Bacon and Ham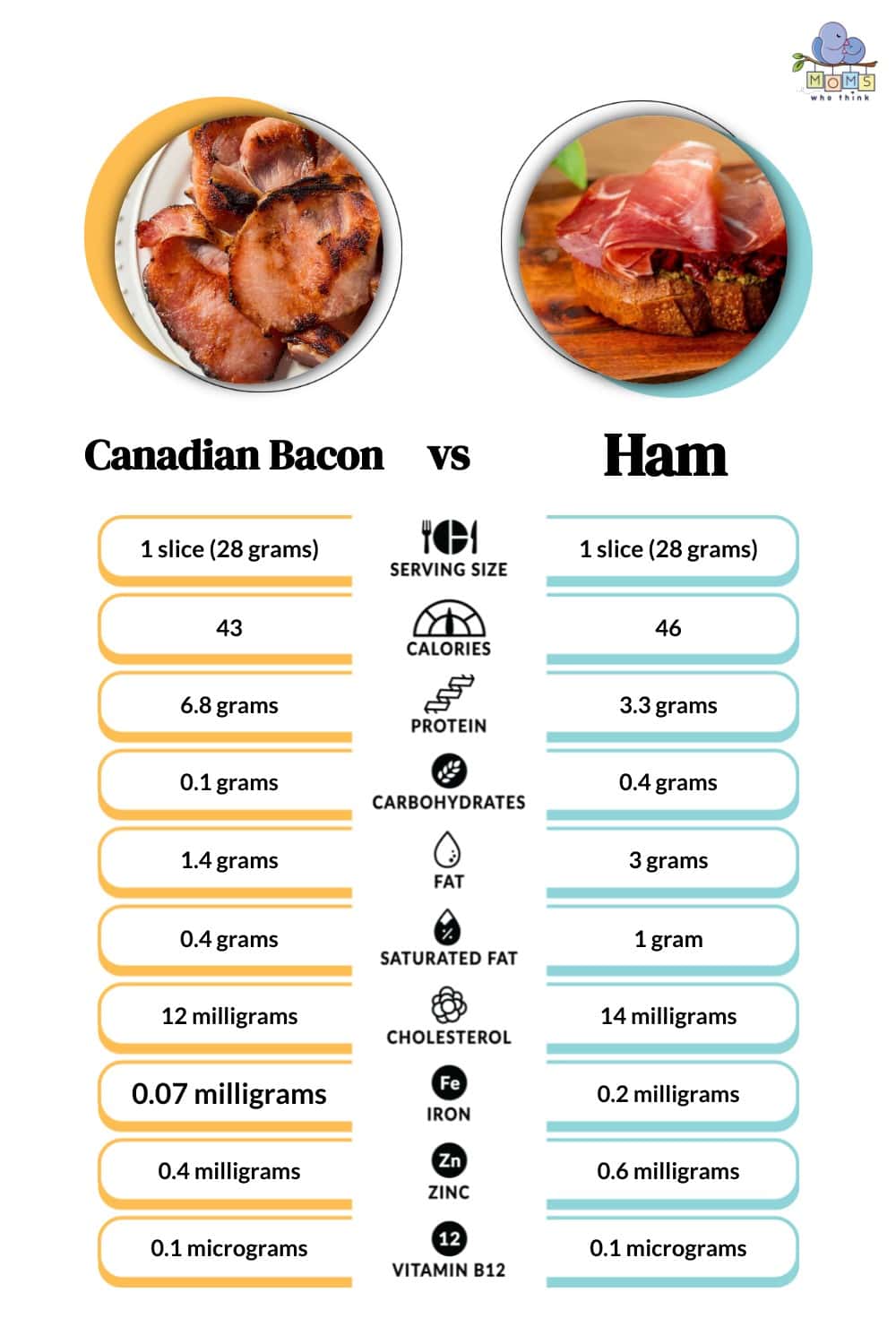 You may not think much about the difference between Canadian bacon and ham, but there's much more than you might think, especially regarding taste. There's also quite a difference in protein. For starters, we'll look at the history of each and how they are prepared.
The History of Canadian Bacon and Ham: What Are They?
Canadian bacon came about when there was a bacon shortage in England in the 1800s. As a result, England needed bacon to import bacon from Canada, which is how the name Canadian bacon was born. Over the years, Canadian bacon has become more prominent, eventually reaching the United States. However, the bacon isn't referred to as Canadian bacon in Canada. Instead, it's referred to as Peameal bacon.
Today, Canadian bacon can be found in grocery stores across the United States. However, in England, Canadian bacon isn't quite the same. The bacon people in England eat is typically a mix of Canadian and American bacon.
Pork legs or ham existed long before Canadian bacon. According to historians, the Chinese are often accredited for the people to record the process of making ham. Other historians credit the Gails. One thing that historians do is that ham has become more prominent throughout the years, especially during the Roman Empire.
Today, ham can be found in grocery stores across the globe. It's sold yearly and is often used for dinner on American holidays.
The Taste Difference Between Canadian Bacon and Ham
There are a lot of distinguishing features when it comes to Canadian bacon and ham. The biggest difference is probably in the taste. Canadian bacon is typically sweet and juicy. Additionally, Canadian bacon only has one flavor. You can buy only one kind of Canadian bacon at the store.
However, ham has more of a smoky flavor. Depending on the many flavors you can get, ham is also usually salty and mildly sweet. Here are the varieties of ham flavors you can purchase at the store.
Country ham
Smoked ham
Honey ham
Glazed ham
The Nutritional Value And Recipes Between Canadian Bacon and Ham
The nutritional difference between Canadian bacon and ham is marginal. Canadian bacon will typically have more protein and less cholesterol. Ham will tend to have more carbohydrates and more sodium.
However, the nutritional difference can also change depending on how you cook. If you deep fry, bake them, or even barbecue them with different seasonings, the health of each one could change. It also depends on whether you're looking for a specific nutritional value from each one. For instance, if you want or need more protein, it might be best to have Canadian bacon. However, ham might be your best choice if you're looking for more holiday recipes.
If you're wondering what to make either meat, here's a list of options that might be helpful.
Here are the different recipes you can make with Canadian bacon:
Canadian bacon and egg cups
Canadian bacon mushroom frittatas
Savory Canadian bacon pancakes
Chicken cordon bleu stromboli (mixed with Canadian bacon)
Breakfast skillet with potatoes & Canadian bacon
Here are the different recipes you can make with ham:
Print
Scalloped Potatoes with Ham
---
4 Tablespoons unsalted butter
1 large red onion, thinly sliced
4 white potatoes, peeled and thinly sliced
1 pound ham, cut into bite-size pieces
salt and pepper
1 cup milk
1/4 cup sour cream
8 oz. sharp cheddar cheese, grated
2 Tablespoons green onions
---
Instructions
1. Preheat oven to 350 degrees. Melt butter in a 10-inch skillet over medium heat.
2. Add onions and sauté until soft, about 4 minutes. Remove from heat.
3. Peel and thinly slice potatoes.
4. Place a layer of potato slices in the bottom of 4-qt. casserole dish.
5. Add about one-third of the butter onion mixture, then 4 oz. of ham. Sprinkle liberally with salt and pepper.
6. Continue to repeat this step for three additional layers with no onion butter mixture on top level, and sprinkle salt and pepper on each layer.
7. Mix the milk with the sour cream, stirring well. Pour evenly over entire dish. Place casserole in oven and bake for 1 hour.
8. Remove and add cheese to top of casserole and bake for additional 15 minutes or until cheese begins to brown.
9. Remove from oven and allow to "rest" at least 10 minutes before serving.
10. Sprinkle green onions on top of casserole and enjoy.
Honey ham with mashed potatoes
Ham casserole
Ham sandwiches
Mac n' cheese mixed with ham
Pasta and ham
What Should You Cook?
The part of the pig that these two products come from differs. Canadian bacon is cut from the back of the pig, while ham comes from the pig's back legs.
Canadian bacon is sweet and juicy, while ham has a smoky flavor.
Interestingly, a slice of Canadian bacon is higher in protein than a slice of ham. If you're looking to eat a lot of protein, grabbing some Canadian bacon from the store is a good idea.
Canadian bacon and ham are some of the most delicious kinds of meat you can eat. There's no wrong choice if you're trying to decide which is better for you. At the same time, Canadian bacon has more protein, which is great if you're looking for additional protein for workouts. Ham is also great for specialty dinners, especially around the holidays.
You'll ultimately discover that Canadian bacon and ham are unique and stand-alone. They both complement different kinds of meals. Whatever you choose, you'll discover that both are delicious.