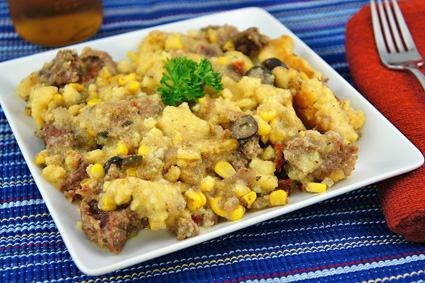 Crock Pot Pork Tamale Pie
Let's Get Ready for Baby!
Sign up for our monthly pregnancy email series, and you'll get regular updates on your baby's development, helpful timelines to get ready for their arrival, must-have baby needs and so much more! PLUS, you'll get instant access to the MomsWhoThink "Ultimate Guide to Baby Naming in 2022."
CLICK HERE
to get started!
Ingredients:
3 cups beef broth
2 cups yellow cornmeal
1 Tablespoon chopped fresh cilantro
1 pound pork sausage
1 pound stew meat cut into small cubes
2 medium onions, chopped
3/4 cup finely chopped celery
2 mild green chile peppers, seeded and chopped
3/4 cup chopped sun-dried tomatoes
2 cups frozen whole kernel corn
1 can (2 1/2 ounces) sliced ripe olives, drained
1/2 teaspoon salt
1/8 teaspoon pepper
Directions:
1. Bring beef broth to boil in medium saucepan. Stirring constantly, slowly add cornmeal. Simmer mixture 5 minutes, stirring often. Stir in cilantro.
2. Using a greased spatula, spread cornmeal mixture on bottom and about 2-3 inches up sides of crock pot.
3. In large bowl, combine the sausage, stew meat, onions, celery, chile peppers, sun-dried tomatoes, corn, sliced olives, salt and pepper. Mix well.
4. Carefully spoon into center of cornmeal-lined pot.
5. Cover and cook on low 7 to 8 hours. Garnish with ripe olives, if desired.