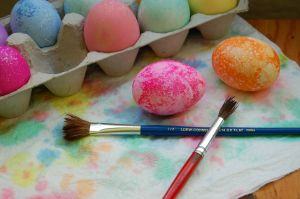 Getting Creative with Kitchen Supplies
Making crafts out of food supplies is a lot of fun.  By using items such as paper cups, paper napkins, or paper plates, you can turn ordinary products into something cool and colorful.  Crafts can be made out of the simplest things, and you don't get much simpler than paper.  Homemade crafts show off a child's creativity.  It is easy to buy something from the store, but when it is created by a child, it makes it all the more special.  Receiving a gift that was made by your child is touching and very much appreciated.  Crafts can keep kids busy and enlighten them in so many ways.
In order to give these wonderful creations away and show them off, let's get busy by making these cool items.
Flower pot hanging
This is a great gift for moms, aunts, teachers, or grandmothers.  The best part is that this lasts forever in comparison to flowers!  Here is what you need:
•    Large paper plate
•    Paper cup
•    Paint
•    Glue
•    String
•    Hole punch
•    Green tissue paper
First paint the paper plate.  Then cut the paper cup in half.  Your child can paint the cup too if he or she wishes.  Let these items dry for a while and then glue the cup onto the plate.  After that is finished drying, punch a hole at the top of the plate and put a string through it.  Tie a ribbon to create a loop that would fit over a doorknob.
Cut the green tissue paper into pieces that are 4"x4".  Tuck them into the cup to create the illusion of leaves.  Or if preferred, you can fold the tissue paper accordion-like to make them look like grass.
Leprechaun hat
To prepare for the next St. Patrick's holiday, here is an easy activity for a very festive hat.  What you will need are a small paper plate, a paper cup, paint, glue, and construction paper.
Paint the paper plate and outside of the paper cup green.  Put them aside to dry.  Once drying is finished, glue the cup upside down in the center of the plate's bottom.  Cut a piece of construction paper that is wide enough and will fit around the paper cup where it is glued to the plate.  Glue it to the cup.  Cutting out a small yellow buckle from construction paper is a fun option, too.
String phone
This activity has been around for a long time and is a child favorite.  In order to make a string phone, you will need the following supplies:
•    Paper cups (2)
•    A nail
•    Paper clips (2)
•    A piece of string (5-10 feet long)
Using the nail, first poke holes in the bottoms of the two cups.  Push the string through the hole of one of the cups and tie it to a paper clip in the inside.  Repeat this step with the second cup.  Now you are ready to chat!