Whenever given the option between French vanilla and vanilla, most people opt for French vanilla. The term French vanilla applies to how ice cream is prepared. French vanilla has a distinct custard yellow color because egg yolks are added when it is made, giving it that rich, yummy flavor. Meanwhile, vanilla does not contain eggs and is more of a white color. In this article, we will talk about French vanilla vs. vanilla: taste differences & when to use each flavor.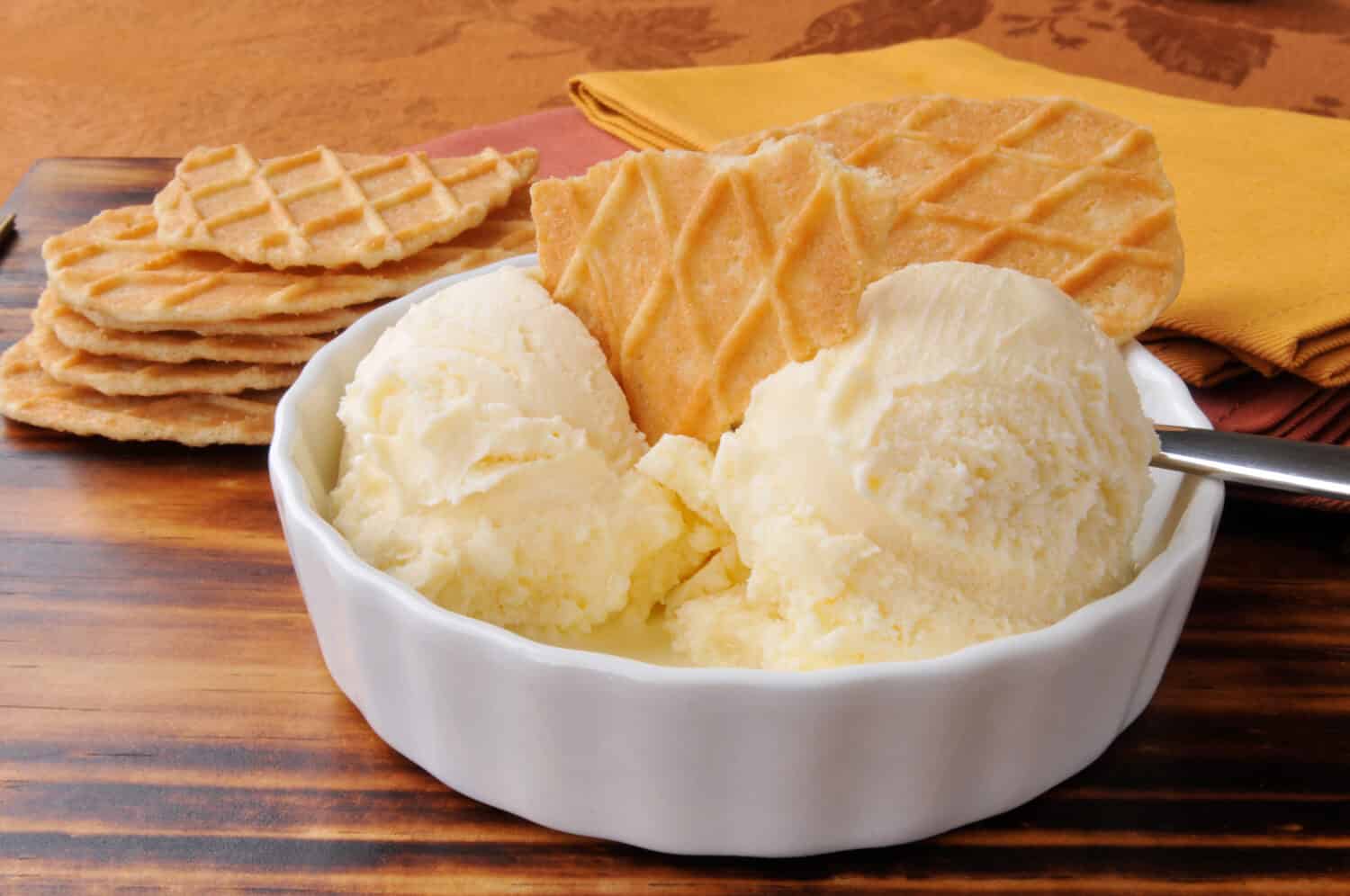 Discover the Origins of Vanilla
Vanilla is a spice that comes from the flat-leaved pods of the genus Vanilla orchids. To obtain the vanilla spice, the plant needs to be pollinated to produce fruit. A Belgian botanist named Charles Morren discovered this in 1837 and initiated the technique of artificially pollinating the vanilla plant. However, his method was not financially feasible when implemented in a commercial environment.
Furthermore, a 12-year-old slave named Edmond Albius discovered that the plant could be hand-pollinated in 1841. Hand pollination made it possible to grow the vanilla plant everywhere. Others were initially credited with the discovery; however, by the end of the 20th century, Edmond was finally recognized as the true founder. Growers need to inspect their vanilla plants daily for open flowers because the flower only lasts for one day, leaving a very small window for hand pollination to be effective.
Interestingly, two-thirds of the world's vanilla supply is produced by farms in Madagascar and Indonesia.
The seed capsule is referred to as the fruit; when left on the plant, it ripens and opens. Once it has dried, the phenolic compounds crystallize, resulting in the fruits' diamond-dusted appearance. This process allows it to eventually release its vanilla aroma. Dishes that have been prepared with natural vanilla can be identified by their black spots, the seed, and pod are used when cooking.
Love Their Taste Differences
Traditionally, the term French vanilla refers to a French method of making vanilla ice cream. French vanilla differs from plain vanilla with its yellow color and rich, creamy taste. This is because egg yolks are added to the French vanilla mixture when it is prepared. Adding egg yolks gives French vanilla a thicker consistency and a more luxurious and permissive taste. French vanilla is described as buttery, sweet, and with a dash of caramel. It has a smooth, yet velvety texture, making it perfect for desserts such as pastries, custards, and ice cream. Instead of adding sugar to your coffee, you could add a dollop of French vanilla flavoring for that slight extra sweetness. On the other hand, vanilla ice cream is described as sweet and creamy with a slight floral flavor. It is a versatile flavor that can be used in a wide range of sweet and savory dishes.
When To Use Each Flavor
French vanilla can be used in many culinary dishes. It is commonly used in desserts and can be added to cookies, pastries, and cakes. The smooth, velvety taste of French vanilla pairs well with coffee. Additionally, French vanilla is perfect to add to frozen treats like ice cream, smoothies, and frozen yogurt.
Vanilla, on the other hand, has a more subtle flavor. It is ideal for cakes, cookies, muffins, cocktails, pancakes, and French toast. It can also be used in milkshakes, hot chocolate, smoothies, and BBQ sauces.
7 Creative Ways to Use Vanilla
We can all agree that vanilla tastes great, but did you realize that it can be used in other ways too? Here are some alternative ways to use vanilla extract at home.
DIY body scrub: You can incorporate vanilla extract into a homemade body scrub. Simply mix a couple of drops with some salt or sugar. Then add some coconut oil to create a fragrant exfoliating scrub for the skin.
Natural air freshener: Mix a few drops with water and put it in a spray bottle. Your home will have a beautiful inviting scent.
Potpourri: Mix a few drops with some dried herbs, flowers, and spices. Then place it in a sachet or bowl and put it in your living room.
Scented candles: Add a few drops to melted wax before pouring the wax into molds. It also makes for a great gift idea.
Clean the microwave: Have a bad smell in the microwave? No problem, pour a little bit into a microwave-safe bowl, then heat it on high for one minute.
Bad odor in the fridge: Simply put a few drops on a cloth and wipe the inside of the fridge.
Hair care: For silky, shiny hair, add a few drops to any carrier oil. Leave it on your hair for 15-30 minutes, then shampoo it.
Bottom Line When Choosing Between French Vanilla vs. Vanilla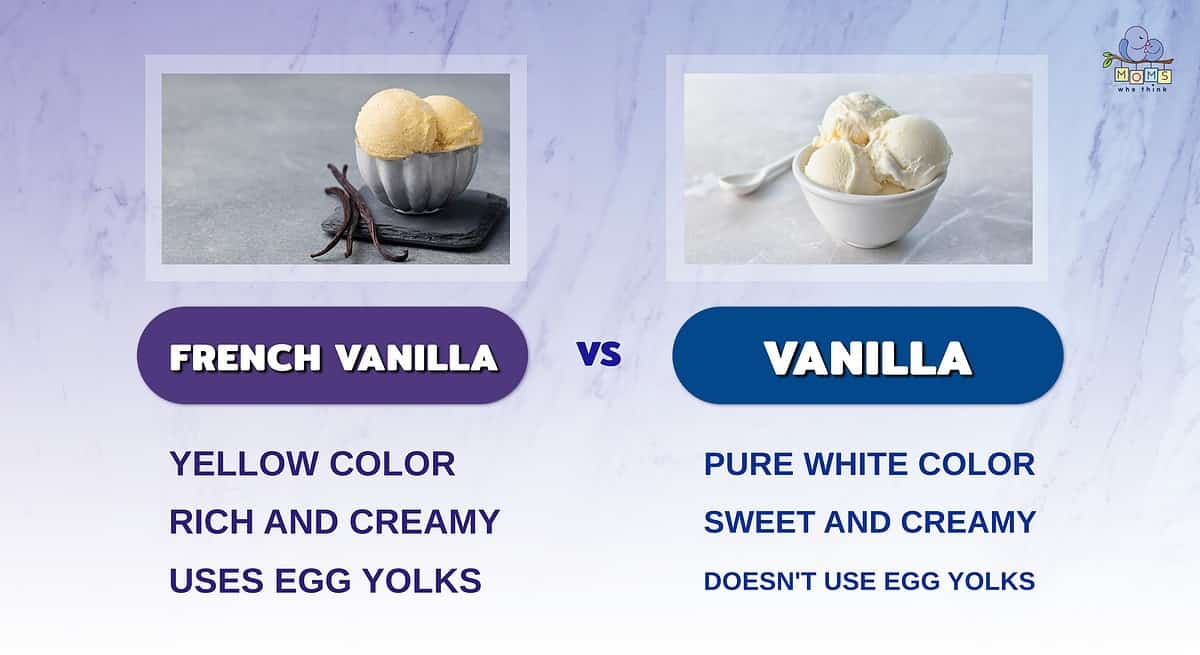 Bottom line French vanilla contains eggs, giving it that rich, creamy texture and flavor. Vanilla doesn't have eggs and is pure white. By understanding French vanilla vs. vanilla: taste differences & when to use each, consider the overall flavor you wish to achieve and have fun creating your next culinary dish or DIY scrub.
Print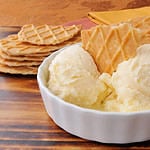 Homemade Ice Cream
---
Author:

Yield:

6

–

8

servings

1

x
1

cup

milk or half and half (Whole milk is your best bet)

2 tablespoons

of sugar

1/2 teaspoon

of vanilla or vanilla flavoring or cocoa
ice

1

container of salt

2

quarts

ice
2

1

–

quart

plastic bags (A Zip top type bag with a sealable top works best)

1

–

gallon

plastic bag (A Zip top type bag with a sealable top works best)
Measuring cups and spoons
---
Instructions
Mix the sugar, milk, vanilla, vanilla flavoring, or cocoa in a bowl, then put it in a quart-sized, zip-top bag. Be sure the bag is sealed well; double bagging is the best way to go to avoid spills and messes.
Take about 2 quarts of ice, crushed if you have it, and put it in the gallon-sized zip-top bag. The bag should be about halfway full of ice.
Add the salt to the gallon-sized bag. Most commercial ice cream makers use rock salt, which is easy to find in most grocery stores.
Place the SEALED quart-sized bag with the milk mixture into the gallon-sized bag. Be sure the bags are sealed! Don't empty the smaller bag into the larger one.
Gently massage the bags for about fifteen minutes. It should take about that long for the mixture to turn to ice cream. Use a towel or old shirt to hold the bags as you're massaging, they will become extremely cold and slippery.
Take out the smaller bag, open it up, and serve up your ice cream!
Related Articles