When we think of banana pudding, most of us think of a dessert we can make directly from a package. Just add milk and stir, right? But this banana pudding is much more than that. With a vanilla custard base and the addition of wafers and real bananas, this is a truly delicious treat you must make at least once in your lifetime.
The recipe we have here uses real bananas and a hint of vanilla to create the perfect taste that works well on its own or as a filling for banana cream pie. Another reason we love it is because it uses pure ingredients without the preservatives that can be found in store bought mixtures.
The recipe requires nine ripe bananas. Although you might not be eating this dessert for the health benefits it provides, eating the fruit can boost well-being in several ways.
Bananas are rich in potassium. Potassium helps maintain fluids in the body and regulates the movement of waste and nutrients in cells. It helps keep nerve cells responsive, aids muscle contraction, and maintains healthy blood pressure. It can also reduce the risk of kidney stones.
But bananas are not only rich in potassium. They also contain several other vitamins and minerals including B6, manganese, vitamin C, fiber, protein, magnesium, folate, riboflavin, niacin, vitamin A, and iron.
In addition to bananas, the recipe also contains milk, which is a great source of calcium and vitamin D, and eggs, which are another great source of protein.
What's more, bananas are in season year-round so there really is no bad time to eat them or make terrific recipes with them.
Homemade Banana Pudding
There are many benefits of making homemade banana pudding. Of course, the great taste and pure ingredients are a big part of why you will love making this dessert at home.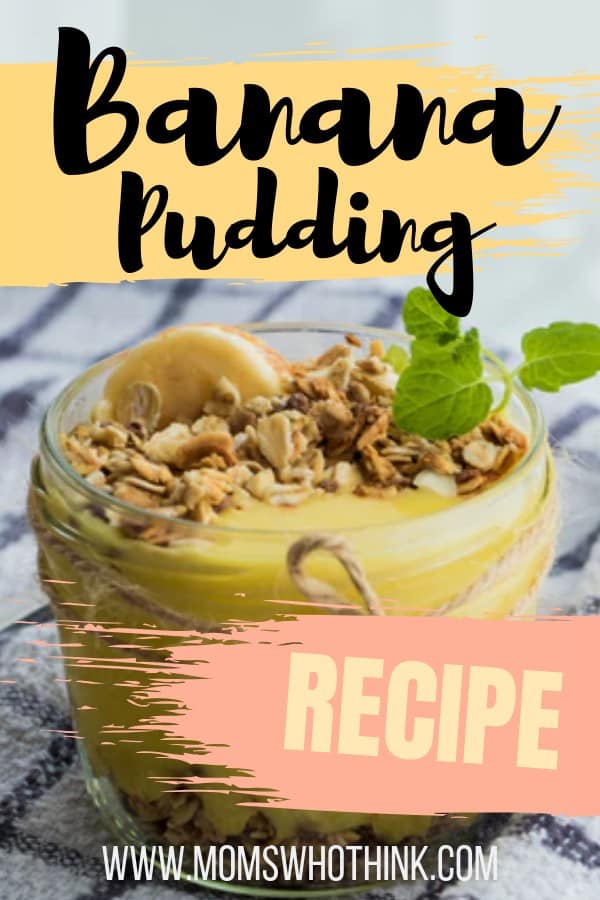 But more than that, it is a great dessert to make with family and friends. It is not too difficult to make and preparing it can be a lot of fun. It can be the perfect thing to make with the kids when they are home from school.
The homemade banana pudding we are referring to differs greatly from the store bought variety. When we think of store bought pudding, we think of the soft mixture that results from adding milk to a packaged powder.
Home made banana pudding, on the other hand, consists of layers of a sweet vanilla custard, some sort of cookies or wafers, and sliced bananas. It is then usually topped by some sort of whipped topping.
There are a few variations on banana pudding and home cooks will want to adapt the recipe so it is best suited to them. The pudding can be baked or refrigerated, although most home cooks prefer the refrigerated method. Some may also choose to make their own banana or vanilla pudding or buy a store bought version and use that instead of the custard.
Banana Pudding Ingredients
Although the wafers, custard and bananas will be the stars of the dish, there are other ingredients involved as well. These may vary according to the preferences of the chef, but here are some of the ingredients we use.
As mentioned earlier, eggs and milk are added to give the dish a creamy consistency. Cornstarch, sugar, and flour serve as a base for the mixture and vanilla is used to give the dessert a unique flavoring. Butter is added as well.
The layering of all these ingredients will cause the flavors to intermingle, making the dessert even more delicious.
Banana Pudding in Culture
No matter what ingredients you may use, it is important to realize that banana pudding is not something to be taken lightly. In America, both Georgia and Tennessee have their own banana pudding festivals.
The Tennessee festival is a two-day event to raise funds for victims of disaster in the area. Non-profits provide pudding samples that guests can try. The makers of the pudding guests prefer can engage in a cook off to find out who the true winner is.
The Georgia festival provides similar activities with funds going back into their community.
So, we can see that banana pudding has become a part of popular culture as a much loved dessert that has evolved over time. Much different than a pudding made from a packet, this is a treat that everyone should taste. Rich and decadent, it is a great dessert to serve at every occasion and at any time of year. Why not try whipping some up tonight?
If you enjoyed this recipe, make sure to check out our Marshmallow Fudge Recipe and our Easy French Toast Recipe.
Print
Banana Pudding Recipe
---
Author:

Total Time:

2 Hours, 20 Minutes.
Description
This recipe is made with plenty of real bananas and a hint of vanilla to create the perfect taste.
---
1 1/2 cups

sugar

1/2 cup

flour

1/4 cup

cornstarch

7 cups

milk

4

egg yolks, beaten

1/4 cup

butter, softened

2 teaspoons

vanilla extract

1

package (12-oz) vanilla wafers

9

ripe medium bananas, peeled & sliced
---
Instructions
Combine sugar, flour, and cornstarch in a medium mixing bowl. Mix well, and set aside.
Pour milk into a large saucepan; cook over medium heat until candy thermometer registers 160 degrees F.
Gradually stir one-fourth of hot milk into yolks; stir into reserved dry ingredients, and add to remaining hot milk.
Cook, stirring constantly, until mixture thickens and coats the spoon. Remove from heat, and stir in butter and vanilla.
Let cool to room temperature. Line bottom of a 13 x 9 x 2-inch baking dish with one-third of the vanilla wafers.
Arrange half of banana slices over wafers; top with half of cooled custard. Repeat layers, reserving one-third of wafers to crumble and sprinkle over custard.
Prep Time:

20 Minutes

Cook Time:

2 Hours

Category:

Dessert

Method:

Frozen

Cuisine:

American
Can I Make This Recipe With My Kids?
Cooking with kids is something every parent should do. Not only will it form lasting memories for all of you, but it will teach them important life skills that they'll need as adults. You may be wondering if this is a recipe you can make with your kids.
The answer is: it depends. This recipe isn't really suitable for younger children. Most of the steps in this recipe involve actions that younger children aren't able to or shouldn't do, like handling hot ingredients and using the stove. They may be able to initially help you mix ingredients together, but overall this recipe really isn't meant for young children to help you with. Give them something else to do if they really want to help. For example, they could read the recipe to you or help gather the ingredients out of the pantry or fridge.
If you have any older children, they can definitely help you with this recipe. They should be able to handle hot ingredients without hurting themselves or others, and can help you pour and mix ingredients. Make sure to monitor them while they help you cook. Even older children are prone to mistakes, especially if they're new to cooking.
Ultimately, have your kids help you with whatever tasks are appropriate for their age and capabilities. Your children may be frustrated over or disappointed with not being able to help you with certain parts of the recipe. Help them understand your reasoning. Telling them your reasoning will help them learn to think critically and about safety. Try to find a recipe to make in the future that your younger kids can help you with.