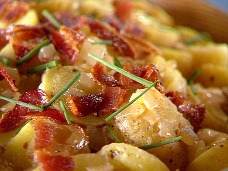 German Potato Salad Recipe
Let's Get Ready for Baby!
Sign up for our monthly pregnancy email series, and you'll get regular updates on your baby's development, helpful timelines to get ready for their arrival, must-have baby needs and so much more! PLUS, you'll get instant access to the MomsWhoThink "Ultimate Guide to Baby Naming in 2022."
CLICK HERE
to get started!
This German potato salad recipe is probably the most famous and favorite of all variations of potato salad. The main ingredient difference is the addition of the crispy bacon.
This recipe also calls for more vinegar than the traditional potato salad recipes, and really should be served warm. A side dish that's both sweet and tangy, it's great for the colder months, perhaps for an Oktoberfest of your own.
German Potato Salad
Ingredients:
1 pound bacon
2 medium onions, chopped
3/4 cup sugar
1 Tablespoon salt
2 teaspoons celery seed
1/2 teaspoon pepper
1 cup vinegar
1/2 cup water
12 cups potatoes, cooked and diced
parsley
Directions:
1. Cook bacon until crisp; drain (reserving 1/2 cup fat), and crumble.
2. Cook onion in fat until just tender. Blend in sugar, salt, celery seed, and pepper to taste. Add vinegar and water. Cook and stir until thickened and bubbly.
3. Add bacon and potatoes; heat thoroughly, tossing lightly so as not to break up the potato slices.
4. Garnish with parsley. Can be served warm or chilled. Serves 16.