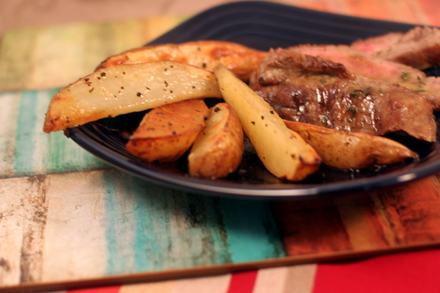 Greek Garlic Potatoes
The combination of lemon and garlic in Greek garlic potatoes makes this a truly unique dish. Serve instead of average mashed potatoes for a zesty addition to dinner.
Ingredients:
8 large potatoes, peeled, cut into large wedges (about 6-7 wedges per potato)
4 garlic cloves, minced
1/2 cup olive oil
1 cup water
1 Tablespoon oregano
juice of 1 lemon
sea salt
fresh coarse ground black pepper
Directions:
1. Preheat oven to 450 degrees F. Spray a shallow baking pan with cooking spray.
2. Place the garlic,and potatoesi nto baking pan.
3. Mix in a small bowl the olive oil, water, oregano and lemon juice.
4. Pour over garlic and potatoes.
5. Season generously with sea salt and black pepper. Toss all to combine well.
6. Bake for 40 minutes.
7. When a golden-brown crust has formed on the potatoes, stir to flip and season lightly with a bit more sea salt and pepper and a light sprinkling of oregano.
8. Add 1/2 cup more water if pan appears to be getting dry, and return to oven to brown other side of potatoes (about 40 minutes). Serves 8.