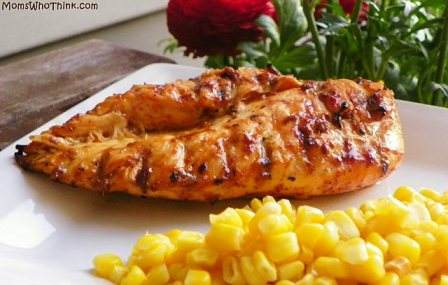 Honey Chicken Recipe
With the sweetness of honey and the spice of chili sauce, this honey chicken is the perfect blend of flavors.
Easy enough to make for any night of this week, its sure to become a family favorite.
Honey Chicken
Ingredients:
4 boneless, skinless split chicken breasts
1/3 cup chili sauce
3 Tablespoons honey
2 Tablespoons lemon juice
1 Tablespoon olive oil
1/2 teaspoon dried thyme
Directions:
1. Preheat grill or broiler.
2. In small bowl, whisk together chili sauce, honey, lemon juice, oil and thyme until blended.
3. Grill or broil chicken, turning occasionally and basting with chili mixture, 20 minutes or until meat thermometer inserted in center registers 170 degrees F.
If grilling, do not baste during the last 5 minutes of grilling.
Try one of our fan-favorite chicken recipes:
Click for more Chicken recipes