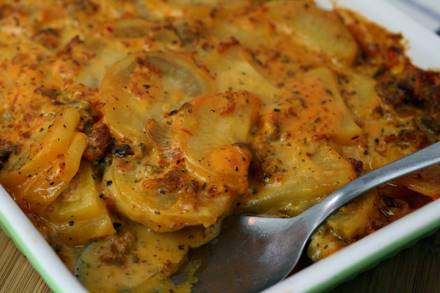 Italian Au Gratin Potatoes
Ingredients:
1 pound Italian Ground Sausage
16 ounces processed cheese, cubed
1 cup medium chunky salsa
1-1/2 teaspoons fennel seed, crushed
1 teaspoon garlic powder
1/4 teaspoon dried oregano
1/4 teaspoon dried basil
2 pounds potatoes, boiled, peeled and sliced
Directions:
1. Preheat oven to 350°F.
2. In a skillet, cook sausage until no longer pink; crumbling the sausage as it cooks. Drain and set aside.
3. Place cheese in a large microwaveable-safe bowl. Microwave on medium for 1 to 2 minutes or until melted, stirring occasionally.
4. Stir in sausage and salsa. Microwave on high for 2 minutes or until hot.
5. Add the fennel seed, garlic powder, oregano and basil. Carefully fold in potatoes.
6. Spoon mixture into a greased 13×9-inch baking dish.
7. Bake, uncovered, for 35 minutes or until hot and golden brown.