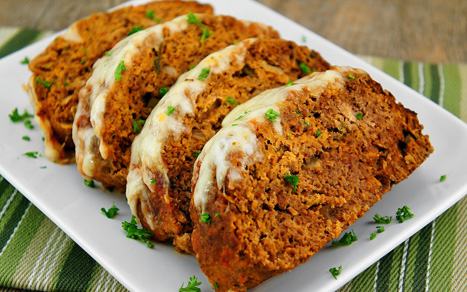 Mamma Mia Italian Meat Loaf
Ingredients:
8 ounces Italian-style tomato sauce, divided
1 egg, lightly beaten
1/2 cup chopped onion
1/2 cup chopped green bell pepper
1/3 cup seasoned dry bread crumbs
3 Tablespoons grated Parmesan cheese
2 teaspoons garlic powder
1/4 teaspoon black pepper
1 pound ground beef
1/2 pound ground pork
1 cup shredded Asiago cheese, about 6 ounces
Directions:
1. Reserve 1/3 cup tomato sauce; refrigerate. Combine remaining tomato sauce and egg in large bowl.
2. Stir in onion, bell pepper, bread crumbs, Parmesan cheese, garlic powder and black pepper.
3. Add ground beef and pork; mix well and shape into loaf.
4.  Carefully transfer meat loaf to slow cooker. Cover; cook on low 8 to 10 hours.
5. Spread meat loaf with reserved tomato sauce;  sprinkle with Asiago cheese.
6. Cover; cook 15 minutes or until cheese is melted.