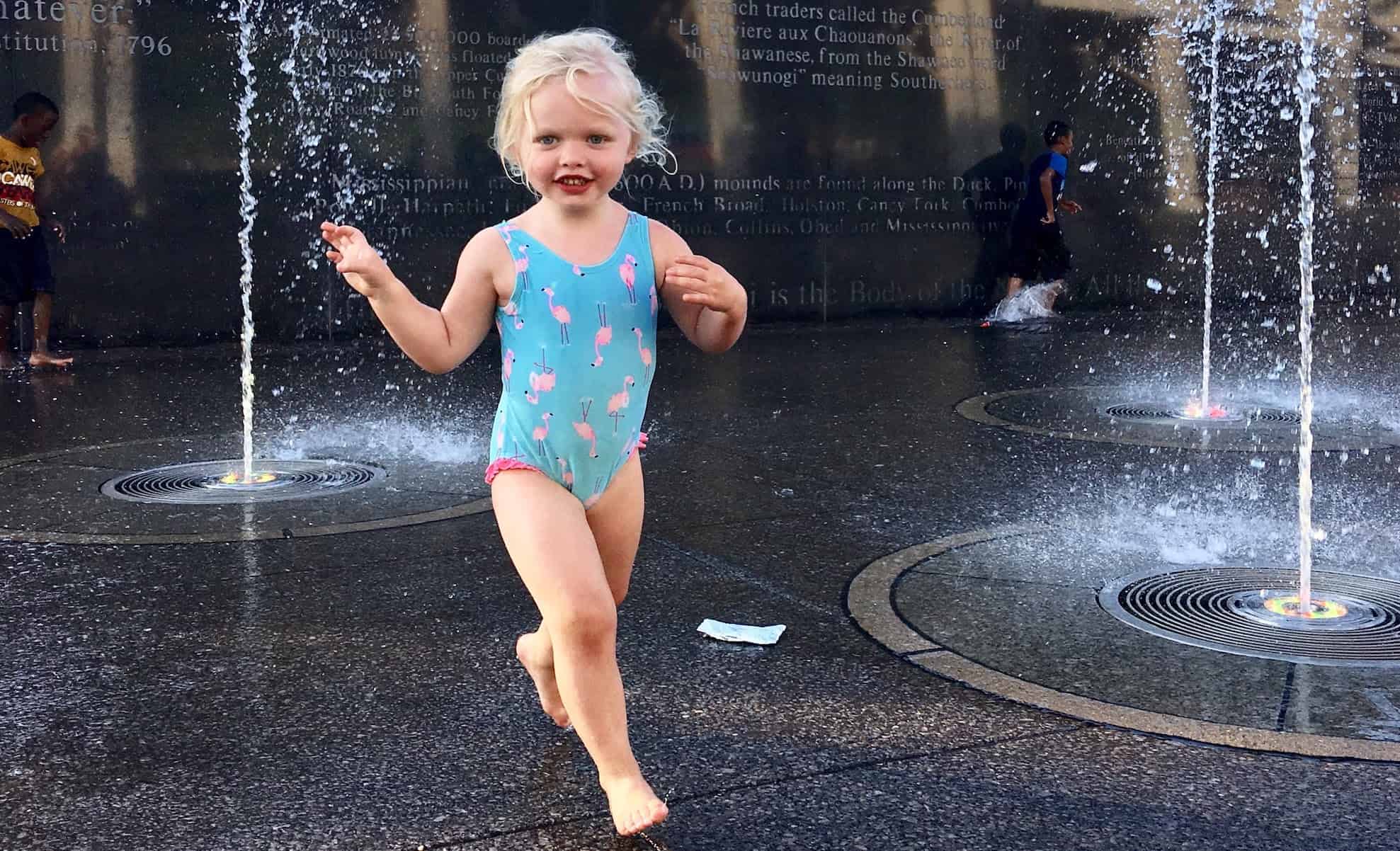 Middle Tennessee summer temps are brutal, which means Nashville family or visitor to Music City should have a place to cool off. And if you can layer in a bit of fun while you're at it, all the better! There are plenty of spraygrounds and splash pads in Nashville and the surrounding areas that provide a cool respite from the stifling summer heat and humidity. So whether you live in Nashville full-time or are simply planning to visit for summer vacations, these are the cool spots that will help you chill out!
Spraygrounds & Splash Pads in Nashville & Middle Tennessee
600 James Robertson Pkwy, Nashville, TN
At the top of the Bicentennial Capitol Mall State Park is a delightful splash pad for kids that offers fun with a side of history. The beautiful marble wall details keep players and dates that led to Nashville's founding, and a large number of sprayers go off intermittently to delight park visitors young and old. Parents can enjoy the shade of the train trestle while kids dance throughout the well-timed fountains. When the water fun is complete, head to the nearby Nashville Farmers Market for lunch and then explore the new Tennessee State Museum next door.
2400 Blakemore Ave., Nashville, TN
Hidden away in plain site is a colorful mosaic dragon that has captivated kids and adults alike for decades. Due to this gentle giant, Fannie Mae Dees Park is also more commonly called by locals "Dragon Park." A spacious lot across the street from Vanderbilt University's campus, the park offers myriad playground activities for kids of all ages and abilities. But during the summer months, perhaps the most beloved feature of this popular family park is the yellow giraffe, who when its button is pushed, generously offers a cooling mist to squealing recipients. Bring a lunch to enjoy under a picnic shelter, and plan to spend your afternoon at this much-adored local treasure of a park.
4285 Port Royal Rd, Spring Hill TN 37174
All ages and abilities can get wet at this delightful gated splash pad. Dodge the ground fountains or stand beneath giant, oversized mushroom sprayers. When you're ready to dry out, head to the nearby playground to get hot, and then back to the sprayground to cool off again!
390 Enon Springs Road East, Smyrna, TN
Let kids run wild in the safe confines of a gated sprayground. They'll enjoy running through water spewing from the ground, standing beneath giant water fountains, and generally burning off steam as they meander among the mist.
501 Park Street, Kingston Springs TN
A smaller splash pad than most of the others on this list, the L.L. Burns Park Splash Pad is delightful ni that it's a water option next to the Harpeth River. Spend a cooling off at the park's splash pad, ride bikes on the paved trails, and enjoy a picnic. This park offers a little bit of something for everyone.
1120 Hillsboro Road, Franklin, TN
One of the newest and most popular spraygrounds, the Franklin Splash Park in Williamson County is a favorite for those in Brentwood and Franklin. The complex features waterslides and misting tunnels as well as a variety of other spray features to keep kids cool.
105C College St., White House TN
Adventurous kids will LOVE the White House Splash Pad if for no other reason than the enormous pirate ship on which they can climb. Dodge sporadically spraying fountains, run through the misters, and then take a break and enjoy lunch at a picnic pavilion. Sounds like the perfect way to spend a hot summer day, huh?
Worthy of Mention
There are several other spraygrounds and splash pads in Nashville that are closed for repairs. So while they're not available for this summer, be sure to bookmark them for next year! These include: