Onion salt and onion powder are versatile ingredients that are used in restaurants and home kitchens to enhance your dish, but what is the difference? Onion salt vs. onion powder is both made from dehydrated onions. The difference between onion salt and onion powder is that onion powder contains 100% onion. On the other hand, onion salt contains both onion powder, salt, and an anti-caking agent which prevents it from clumping. Both ingredients can create a distinctive flavor in your dish. Let's take a deeper look at how we can utilize and store these two ingredients in our kitchen and help you to choose the right one for your next dish.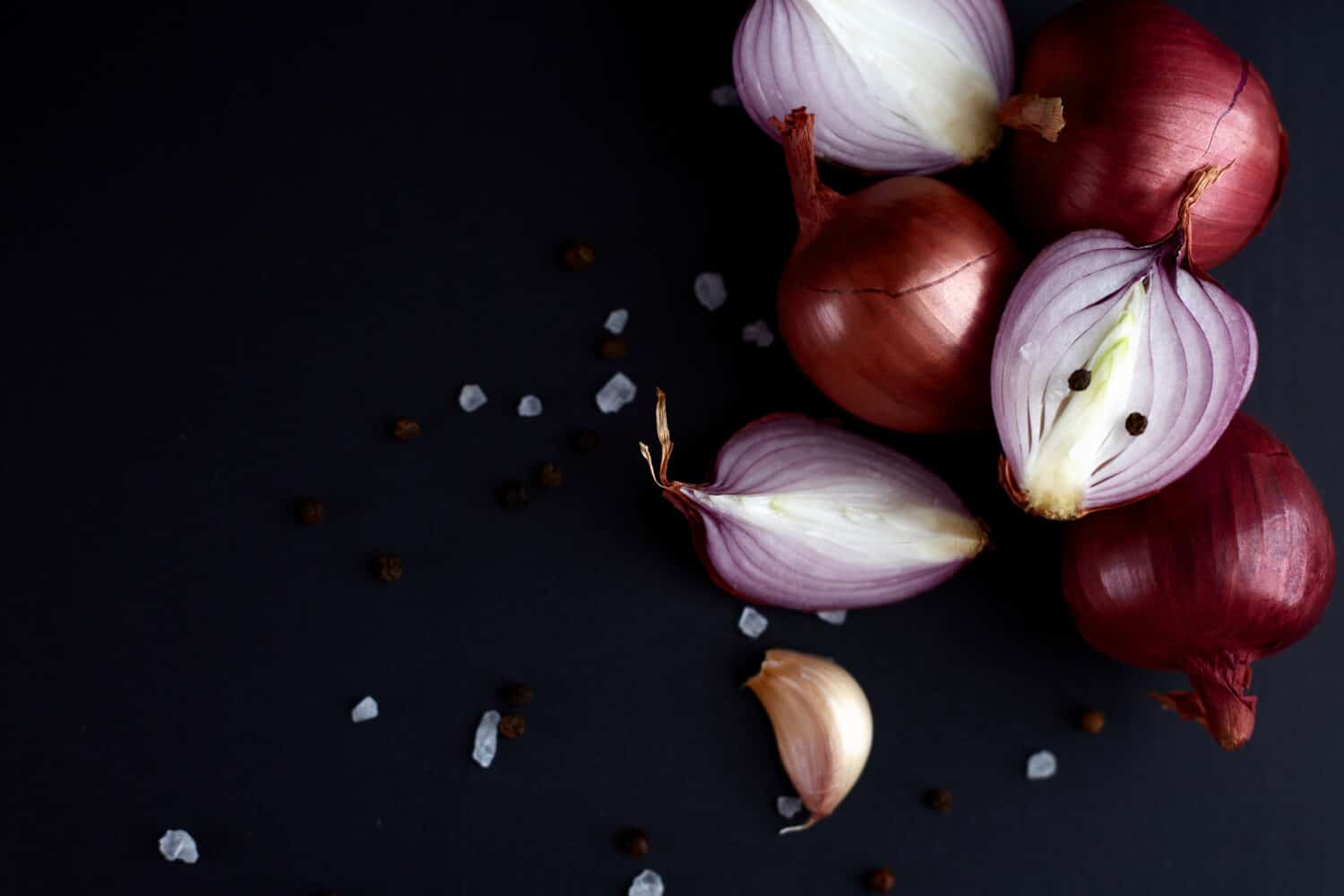 Onion Salt vs. Onion Powder: What is the Difference?
Both onion salt and onion powder are made up of ground dehydrated onions. Onion salt also contains sodium which is known as a food enhancer.
How can we preserve onions?
This might be a common mystery for many home chefs, it is easy to do, you can add table salt or granular salt. Whereas onion powder is 100% dehydrated onion. Both are used to enhance the flavor of many dishes, they are used in many soups and sauces, and different kinds of pasta, and are often used as a dry rub on meats.
The Origin of and History of Onion
Onions are known as one of the world's oldest crops, backdated to the Bronze Age between 3000 BC Ancient Egyptians used onions as part of mummy fiction. What does this mean? Let's explore further:
In Ancient Egyptian culture, onions were worshiped and referred to as a symbol of eternal life. They used to use them in preparing the remains of the dead. Even Pharaohs chose to be buried with them due to their significance. There are reports of mummies which had onions placed in their ears, eyes, and close to their bodies. It is also believed that Alexander the Great fed his armies onions as it would give them strength and courage. During the U.S. Civil War, Ulysses S. Grant sent a message to the War Department notifying them that he would not move his army without onions.
How to Make Onion Salt
Onions have gone rancid many times when we have bought them in large quantities. Let's take a look at some other options and ways to preserve onions while saving money and having fun in the kitchen.
To prepare onion salt all you need is a sharp knife then thinly slice up 2 cups of onions and combine with a ¾ cup of coarse salt and 2 tablespoons of cornstarch to prevent clumping. Then, put them in a dehydrator or air fryer for 15-20 minutes at 370°F. Once they are done you can use a food processor to blend them finer. After that, you can store it in an air-tight container until ready to use.
Ways to Regrow Onions From Scraps
Did you know that onions are one of the easiest vegetables to regrow? All you need to do is cut off the root end and place it in a glass of water, within 3 days its roots will grow and then you will have spring onions. The other alternative is to cut off the root and plant it in moist soil in a sunny area. Be sure to give it plenty of water.
Ways to Preserve and Store Onions
Onions require ventilation to avoid spoiling. It is best to never leave them in a sealed bag, rather store them at room temperature in punched paper bags, or an open basket. A good life hack is to hang them in a dark place in old pantyhoses. To do this place one onion in the toe then tie a knot and repeat the process. Finally, hang the pantyhose in a dark cupboard. You should avoid storing onions with potatoes and apples because onions let off ethylene gas, which accelerates ripening.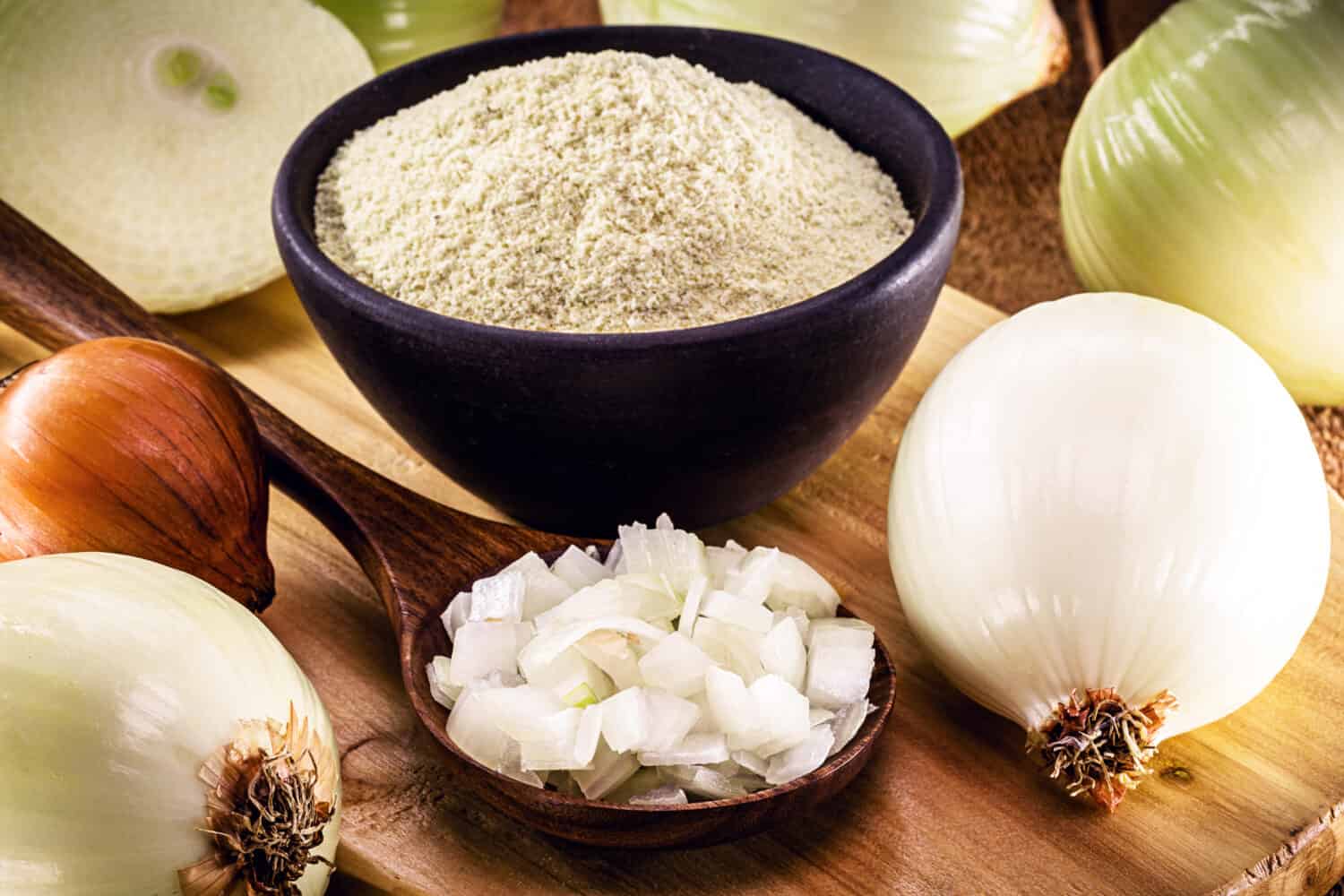 Health Benefits of Onion Powder and Onion Salt
There are many benefits when it comes to eating onions. Onions are powered with antiseptic, antibacterial, and antifungal properties and are beneficial to help wounds heal.
Onions contain flavonoids which are powerful medicinal compounds that can be found in a wide variety of plants, fruits, vegetables, and green leaves. These flavonoids are a natural anti-inflammatory and can help prevent cancer. Onions are also known for helping to treat colds, flu, and nasal congestion. Onions are a superb source of calcium which promotes bone health and reduces the risk of bone damage.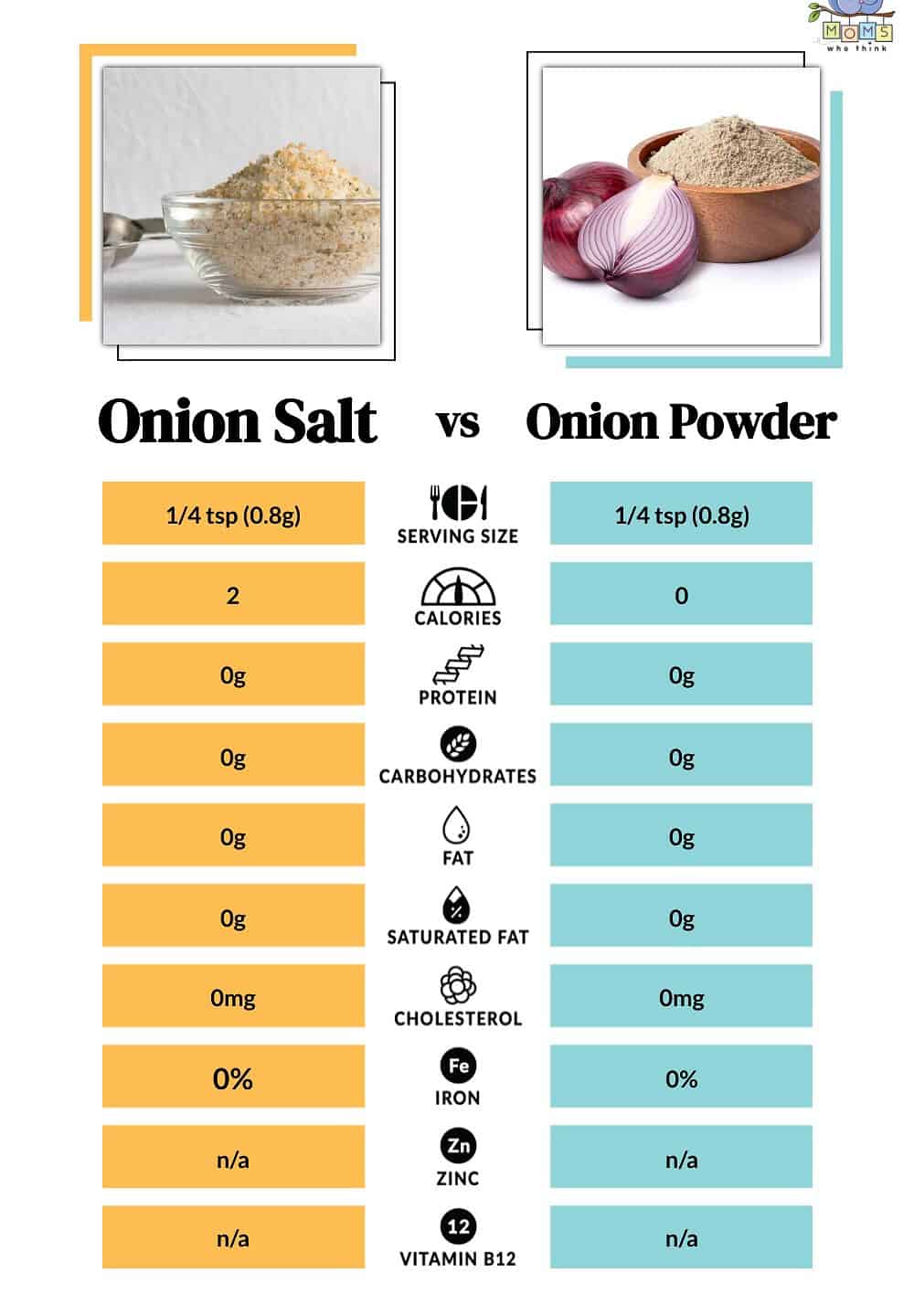 Conclusion
Onion powder is simpler to make than onion salt.
Onion salt contains a couple of calories, but this won't make any difference in the healthiness of a dish.
If you don't want any extra texture added to your food, use onion powder.
Both onion powder and onion salt improve culinary dishes by adding extra flavor and texture to your meals. Although, you should remember that onion salt contains salt, and salt contains sodium. If you are looking at decreasing your sodium intake it is best to avoid onion salt. On the other hand onion powder is a better choice to add to your dishes without adding the extra salt. If you are someone who prefers a crunch in your dish then we would suggest using onion salt.
By understanding the differences and benefits of these two ingredients, we hope this article has inspired you to prepare delicious meals for yourself and your loved ones. Consider using onion salt and onion powder next time you cook to transform your meals! Check out some of our delicious recipes below.
Onion Recipes
Print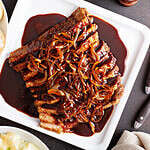 Braised Brisket and Onions with Onion Powder
---
1 tablespoon sweet paprika
2 teaspoons onion powder
Salt and pepper
1 teaspoon garlic powder
1/8 teaspoon cayenne pepper
1 5-pound flat-cut beef brisket, trimmed
1 tablespoon vegetable oil
3 onions, halved and sliced 1/2-inch thick
1 tablespoon brown sugar
1 tablespoon tomato paste
3 garlic cloves, minced
3 tablespoons all-purpose flour
1 cup low-sodium chicken broth
2 tablespoons plus 1 teaspoon red wine vinegar
3 fresh thyme sprigs
3 bay leaves
---
Instructions
1. Combine paprika, onion powder, 1 teaspoon salt, garlic powder, and cayenne in bowl. Using fork, prick brisket all over. Rub spice mixture over brisket, wrap tightly in plastic wrap, and refrigerate for 8 to 24 hours. Unwrap brisket and place in slow cooker.
2. Heat oil in 12-inch skillet over medium-high heat until shimmering. Add onions, sugar, tomato paste, and garlic and cook until onions are softened and lightly browned, 8 to 10 minutes. Stir in flour and cook for 1 minute. Slowly whisk in broth, scraping up any browned bits and smoothing out any lumps; transfer to slow cooker.
3. Stir 2 tablespoons vinegar, thyme sprigs, and bay leaves into slow cooker. Cover and cook until beef is tender, 9 to 11 hours on low or 5 to 7 hours on high.
4. Transfer brisket to cutting board, tent loosely with aluminum foil, and let rest for 20 minutes. Let braising liquid settle for 5 minutes, then remove fat from surface using large spoon. Discard thyme and bay leaves. Stir in remaining teaspoon vinegar and season with salt and pepper to taste.
5. Slice brisket ½-inch thick against grain and arrange on serving platter. Spoon 1 cup sauce over meat and serve with remaining sauce.