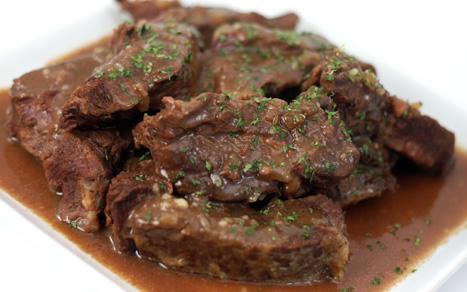 Onion Braised Short Ribs
Ingredients:
3 pounds beef chuck short ribs
2 1/2 cups water
1 envelope onion soup mix
1/2 cup catsup
3 Tablespoons firmly packed dark brown sugar
1/2 teaspoon ground ginger
1/4 cup water
1 Tablespoon all-purpose flour
1/2 teaspoon salt
1/4 teaspoon ground black pepper
Directions:
1. Arrange short ribs in crock pot.
2. Combine 2-1/2 cups water with onion soup mix, catsup, brown sugar, and ginger. Pour over the ribs.
3. Cook, covered, on low 8 to 10 hours or on high 4 to 6 hours.
4. Remove ribs from crock pot and place on a serving platter. Cover to keep warm.
5. Blend 1/4 cup water with flour, salt and black pepper. Stir into juices in crock pot.
6. Cook, covered, on high 15 minutes or until thickened. Pour this sauce over the ribs and serve.