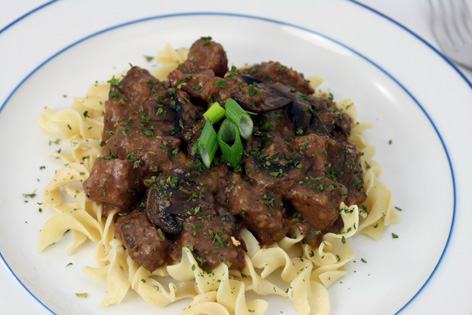 Beef Tips in Wine Sauce
Ingredients:
1/2 cup flour
1 teaspoon salt
1/8 teaspoon pepper
3 pounds beef sirloin tips
1 cup chopped green onions
1/2 pound fresh mushrooms, sliced
1 can condensed beef broth, (10 1/2 oz.)
1 teaspoon Worcestershire sauce
2 teaspoons tomato paste
1/4 cup dry red wine
3 Tablespoons flour
Directions:
1. Combine the flour with the salt and pepper. Toss beef cubes in mixture to coat thoroughly. Place in crockpot.
2. Place green onions and sliced mushrooms into a large bowl.
3. Add the beef broth, Worcestershire sauce and tomato paste. Mix well.
4. Pour sauce over beef tips in crock pot; stir well.
5. Cover and cook on LOW setting for 7 to 8 hours.
6. One hour before serving, turn to high setting.
7. Make a smooth paste of the red wine and 3 Tablespoons flour; stir into crockpot, mixing well.
8. Serve over buttered noodles sprinkled with parsley.