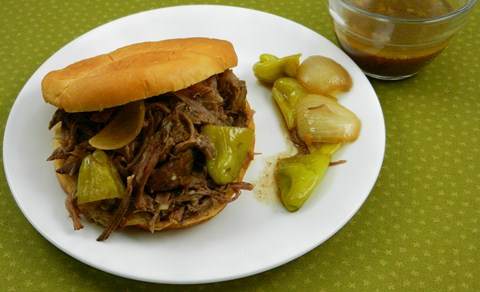 Italian Beef
Ingredients:
3 pound beef chuck roast
1 onion, quartered
1 teaspoon salt
1/2 teaspoon pepper
1 (14 ounce) can beef broth
1 package Good Seasons Italian salad dressing
1 envelope dry Au Jus mix
1/2 jar Pepperoncini Peppers and juice (from 16 oz jar)
Hamburger buns for serving
Directions:
1. Place meat and onion in crock pot.
2. Mix together salt, pepper, broth, salad dressing, and Au Jus mix in a medium bowl. Pour over meat.
3. Add peppers and juice.
4. Cover and cook on low for 6 to 7 hours.
5. Remove meat from crock pot and slice or shred.
6. Place meat, peppers, and onions on hamburger bun or slice of bread for open faced sandwiches.
7. Ladle juice over top.