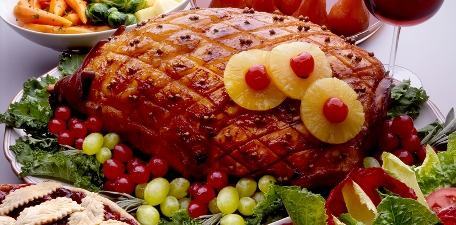 Pineapple and Brown Sugar Glazed Ham
Ingredients:
1 Tablespoon flour
1 (20 oz.) can crushed pineapple, with 3 Tablespoons of the juice set aside (drain the rest of juice)
1/2 Tablespoon cornstarch
1 large cooking bag for the oven
12 to 16 pound fully-cooked ham
1/2 cup dark brown sugar
1/4 teaspoon ground cinnamon
Directions:
1. Shake flour into the cooking bag. Place the bag in a large roasting pan at least 2 inches deep.
2. Lightly score the surface of ham in a diamond pattern. Place the ham into the cooking bag.
3. Combine pineapple, reserved pineapple juice, cornstarch, brown sugar, and ground cinnamon in saucepan; stir and cook over medium-low heat until cornstarch dissolves.
4. Bring to a boil. Simmer 1 minute. Pour sauce over the ham in bag Close the cooking bag.
5. Bake at 300 degrees F for 2-1/2 to 3 hours or until ham is fully heated through.