Preschool coloring pages will help your preschooler develop their fine motor skills, improve their hand-eye coordination, and start on the path to successful preschool learning. Plus, they'll have fun doing it! These coloring pages are free, so print out as many as you want!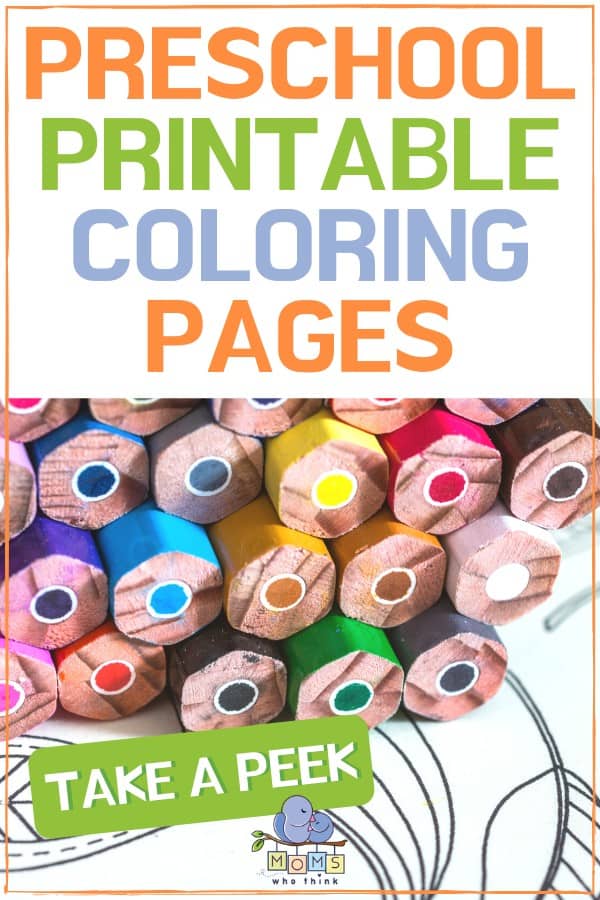 The links below will help you easily find the preschool coloring pages that you are looking for. Your preschooler will have fun while coloring in the pages, but the skills and love of learning that they gain using the crayons or watercolors will make you proud in the long term.
Get your child coloring in no time at all with one of the free preschool coloring pages below.
Directions to print out our preschool coloring pages:
1. Click the preschool coloring page you want to print.
2. Select File >> Print in your browser.
3. Select the number of coloring pages you want to print. We recommend printing multiple copies, as young children may make mistakes or may want to color the same picture multiple times.
4. Enjoy! Don't forget to bookmark this page for the next time you need to print a coloring page for your preschooler.
How to Get Your Preschooler Interested in Coloring
Your preschooler might instantly latch on to coloring, but if they don't, we've got some tips here to help them get interested. Coloring will teach your preschooler important skills, so it's important to at least try to get them to do it. They'll also likely have to do it as part of school assignments in the future, so getting them used to it now is a good idea.
Start with pictures of things they like. Does your preschooler love dogs? Flowers? The color yellow? Find what objects your child likes, and give them coloring pages depicting those things. If your preschooler seems to favor a color, give them crayons in that color and encourage them to use them on a coloring page. You'll be more likely to stimulate your child's interest by giving them something they already like.
Approach them when they're well-rested and full. If you try to introduce coloring to your child when they're tired or hungry, you're less likely to get a good response. If you want your preschooler to be more likely to accept coloring as a fun activity, it's important you introduce them to it when they're in a good mood, full, and well-rested.
Don't force them to color. Even though coloring can help your child develop important skills, it's important to never force them to color. Forcing your preschooler to color will make them see it as a chore, which in turn will make them dislike it. If you want your child to develop a love of coloring, you need to allow them to come to it at their own pace. There's no need to panic if your child never wants to color; there are other ways that they can develop their fine motor skills, knowledge of color, and hand-eye coordination. They will have to do it in school eventually, but there are always going to be things they need to do in school that they don't want to do.
Check Out This News Article on Coloring for Kids
These coloring pages are a great way for your preschooler to spend an afternoon. Once they've colored all of these pages to their heart's content, you might want to check out these coloring apps that Lifewire highlighted in a January 2023 article.
Some of these apps are better suited for older children, but a good number of them will work with preschoolers. Some of the apps have lots of designs for children to color, while others are free-draw apps that allow children to make their own creations. Apps with pre-included designs can help your child continue to learn colors, while free-draw apps encourage their imagination and creativity.
If you plan on letting your preschooler use any of these apps, make sure that you supervise them. Preschoolers aren't old enough to properly understand internet safety. Only allow them access to a tablet or phone for the games and coloring apps that they use. In addition, make sure your child spends time doing something other than playing on a tablet or phone each day. Diversity is good for every child, and too much screen time isn't good for one so young.