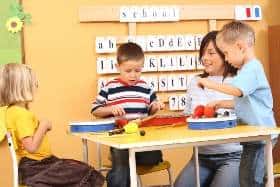 Preschool Lesson Plans
If you are trying to teach your preschool child how to grow educationally and emotionally, you need to pay attention to solid preschool lesson plans. A preschool lesson plan allows you to ensure that the subject you want them to learn is actually being taught. Lesson plans are very effective in providing you with a framework and objective for your lessons. 
Preschool lesson plans should have a singular objective. What kind of objective? Well, for the objective, you need to decide what it is the preschool students need to learn. There are some very obvious things that they need to learn. On the academic side, they should try to learn their ABC's. They also should know how to count their basic numbers and know the names of the colors. It's also important for preschool students to learn the shapes and how to recognize differences. On the social side, preschool children should learn how to interact with other children in social acceptable ways. This means learning to share and having good manners.
Of course, just like you can't put together a lesson plan to teach several math topics at once, you can't teach several of these objectives at once. That's why you focus on the one topic you want your preschool student to learn. With that objective in mind, you need to come up with activities or games that support the objective you are teaching.
The typical preschool lesson plans have three major components. First you introduce the topic and objective. Next you want to have the students to practice the objective. Finally, you want them to produce it on their own. If you are teaching them the ABC's, then your lesson might consist of showing flash cards for each letter and identifying them. Next you might have students take turns trying to identify the letters. Finally you might end with the students singing the ABC song.  A preschool lesson should be a focused plan of action to teach the objective in a clear, concise, but rewarding and varied way.