In order to foster both educational and emotional growth in preschool children, there are several different recommended preschool activities you can do with your child. Reading, singing, and puzzles are all great activities for your child. Your child will have a lot of fun and experience real educational and emotional growth. Let's take a look at some great preschool activities.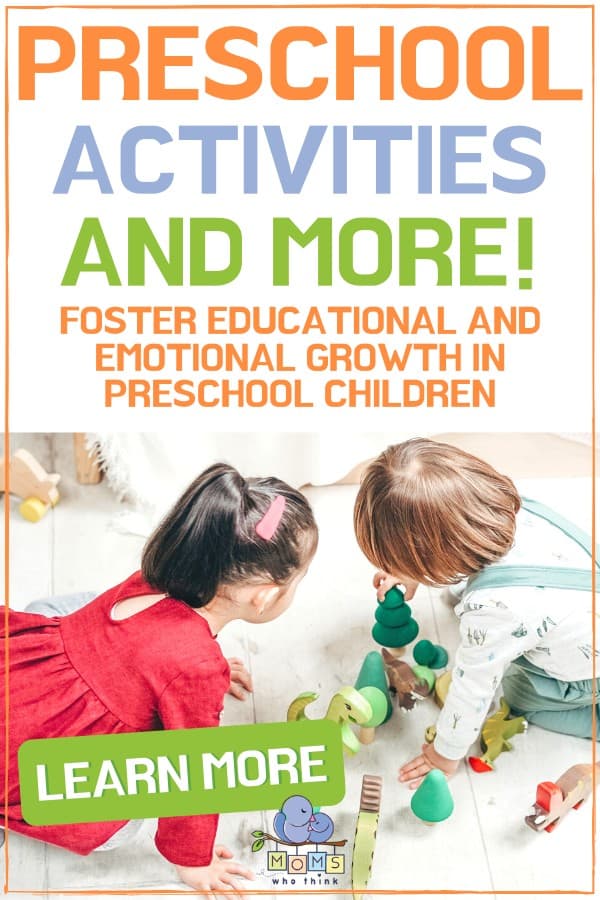 Activities to Do With Your Preschooler
Reading to your child is one of the best preschool activities you can do. Your public library has a large selection of children's books. Books allow your child's mind to be opened to new ideas. It also develops an interest in reading and can help your child become an early reader. You can choose a time everyday to read to your children. Another great idea is to check out the times that your public library will have a librarian that reads books to a group of preschool children. It's a great chance for your children to interact with other children.
Teaching your child songs is another great way to enrich their emotional and educational wellbeing. Of course, there are popular educational preschool songs like the ABC song and the number song, but you can be creative. Try learning songs from videos geared toward preschoolers. Sing the song with them and teach them all of the words to the song. It will help your child improve their vocabulary and understanding.
Puzzles are a great way to help your child understand shapes and sizes and how they fit into the world around them. Puzzles are good for all ages. It's a good idea to start with simple puzzles so that they can complete the puzzles without getting discouraged. This is an activity you should do alongside your preschool child so that you both can bond. Don't help too much; as your child finishes puzzles, opt for slightly more difficult ones the next time.
These preschool activities will help your child grow and be enriched. Make sure you have fun with your child when you do thee activities. These times are sure to become fond memories as you both grow older.
These are just a few additional ideas for activities to do with your preschooler:
Blow bubbles!
Try to make bubbles that soar the highest, or are the biggest, or travel the farthest. Bubble blowing is one of those activities that's sure to bring out smiles at any age! Let your child help you make this bubble blowing recipe, it's easy and very cheap to make.
Bubble Soap Recipe
Directions:
Combine the following ingredients:
2 cups Dawn dishwashing detergent
6 cups water
A little less than 1 cup Karo light corn syrup
Shake gently and let settle for four hours.
Store covered in refrigerator to extend suds shelf life.
Allow to warm before using. Costs about $1.50 per gallon.
Bubble Tips for the best bubble blowing experience:
1. If foam develops, scrape off with a piece of thin cardboard.
2. Keep suds clean from grass and dirt.
3. Bubbles are best on humid days.
4. Keep the bubble solution out of direct sun.
Homemade Playdough
Playdough is fun, sparks creativity, provides hours of fun, and improves your child's motor skills.
Finger Painting
Finger painting is a great preschool activity. Children love the messiness of it all and it's very easy to make.
Homemade Finger Paint
Ingredients:
1 cup flour
1 cup water
2 teaspoons salt
Food coloring
1. Mix all ingredients to the consistency of thick gravy.
2. Add food coloring as desired. Small margarine containers work well for the individual colors.
Face Painting
Have a ball creating designs on faces, arms, and hands with this easy to make, washable face paint.
Ingredients:
1 teaspoon cornstarch
1/2 teaspoon water
1/2 teaspoon cold cream
2 drops food coloring of your choice
1. Mix all ingredients in small plastic mixing bowl and mix until completely smooth.
Tin Can Stilts
Having a little one get tall in an instant is always a favorite with them! These tin can stilts are easy for children to balance and fun for pretend play.
Directions:
1. Take two large coffee cans. Punch two holes near the unopened end of each can.
2. Thread plastic clothesline through the holes and tie the ends together.
3. Pull up on the strings as you walk on your tin can stilts to help with balance.
Toothpick and Pea Construction Zone
Directions:
Soak dried peas in water or use canned peas and create "buildings" by sticking the toothpicks into peas.
Set the building aside until peas dry. As peas dry, they will shrink and make the creation sturdy.
Make Macaroni Jewelry
Macaroni jewelry is easy to make for smaller hands. Kids love to play jewelry designer with this fun craft idea!
Items needed:
Large elbow macaroni
Yarn
Food coloring
Directions:
1. Dip large macaroni into food colors for a few seconds. Lay macaroni on paper towel until dry.
2. Cut yarn long enough for necklace or bracelet. Wrap end of yarn with tape.
3. String macaroni. Tie the yarn ends together.
Create Sewing Cards
Sewing cards are a great way for preschoolers to get practice with their motor skills. These use everyday items and turn them into something special that your preschooler made all by themselves.
Items needed:
Lightweight cardboard – from new shirts, cereal boxes, poster board
Colored paper or colorful magazine pictures
Yarn or colored shoelaces
Directions:
1. Cut pieces of cardboard into six inch squares.
2. Cover them with colored paper or pictures.
3. Punch holes about an inch apart around the edges.
4. Show the children how to lace in and out of the holes with the yarn or shoelaces.
Be A Dinosaur
Choose a book about dinosaurs and read it to your child. When the story is over, make Dinosaur food and talk about the different types of dinosaurs in the story.
Dinosaur Food
Directions Step 1:
Place the following ingredients into a medium saucepan :
2 cups Pterodactyl toenails, crushed (sugar)
1/2 cup swamp water (evaporated milk)
1 stick Iguana fat (butter)
Cook 1 minute at a rolling boil, stirring constantly. Remove from heat.
Directions Step 2:
Mix all the following ingredients in a bowl:
3 cups bones (oats)
1 cup dried grass (coconut)
5 teaspoons dirt (cocoa)
1/2 teaspoon dirty water (vanilla)
Add Parts 1 and 2 together. Stir, drop by spoonful onto waxed paper. Cool and eat. Don't let the dinosaurs eat all the food!
Make Stone Soup
Read the story Stone Soup with your preschooler and let them make their own stone soup. Preschool activities that are tied in with books give them a love of reading along with a fun activity. Everyone can chop or measure something, teaching them about measurements.
Stone Soup Recipe
Ingredients:
3 clean stones, washed thoroughly
3 stalks celery
2 large carrots
2 medium onions
2 medium potatoes
3 medium tomatoes
1/2 teaspoon basil, thyme, marjoram
1 bay leaf
1/2 cup parsley
1 1/2 Tablespoons salt
1/2 teaspoon pepper
1/2 cup rice
Directions:
1. Place all ingredients into a large crock pot. Cover with water.
2. Cook 2 to 3 hours on high. Remove bay leaf before serving.
Feed the Birds
Feeding the birds is a great way to introduce children to the world of wild birds. These fun to make bird feeders are perfect for smaller hands, as the ingredients become similar to playdough when forming.
Homemade Bird Feeders
Ingredients:
2 cups shortening
2 cups peanut butter
5 cups bird seed
Netting from onion bags
Directions:
1. Mix all ingredients together. Shape into balls.
2. Wrap each ball in netting from onion bags, and secure with a plastic twist. This recipe makes about 12 feeders.
Egg Carton Spiders
For the bug lover in your house, these silly spiders will have them giggling.
Items Needed:
Egg cartons cut into individual cups
Pencil
Eight 3 inch pieces of pipe cleaners
Directions:
1. Decorate cup to make it look like a spider face. Use crayons or markers; adhesive stickers; glue on cereal; raisins, nuts. Hats can be made with cotton balls, marshmallows or string.
2. Using the tip of a pencil, poke 8 holes around the bottom of the cup. To make the spiders legs, insert pipe cleaners or twist ties into holes.
Tips for Having a Fun Time With Your Preschooler
If you want your preschooler to get the most out of these activities, it's important that they have fun! A preschooler who is having fun will be more cooperative, and will gain more out of the experience. Follow these tips to have a fun time together.
Do each activity when your preschooler is well-rested and full. A tired or hungry preschooler is a cranky preschooler! Your child won't have a lot of fun if they don't feel well. Do these activities after they've risen from a nap and after a meal. If your child seems tired or cranky when you're thinking of starting one of these activities, wait and do it a different time.
Don't force your child to do something they don't want to do. If you force your child to do one of these activities, they'll be more likely to see it as a chore instead of as a fun thing to do. Every child is different; some children may love all of the activities we suggest, while others may only like some of them. Listen to your child. If they aren't interested in an activity you suggest, find something else to do.
Be patient. If you want your preschooler to help you with these activities, you need to be patient. Your child is experiencing many of these for the first time. If they make mistakes, explain to them how to do it the right way. Don't get mad. Your child will learn better when they feel calm and happy. If you start pushing them or getting angry at them over their mistakes, they'll quickly go from happy to sad and frustrated.
Switch it up. If you're always doing the same type of activity with your child, they'll eventually grow bored. Make sure you change up what you're doing every now and again. Of course, if your child wants to continue with a certain activity, listen to them. Ultimately, remaining flexible with what you do with your child is best. Let their interests guide you, and move on to something else if they've grown bored of whatever you're doing.
Preschool Activities in the News
Every now and again, you may come across a story in the news that pertains to preschool activities. This is especially true in the summer and winter, when entertaining your preschooler can become a challenge! On May 18, 2023, Care published an article outlining 12 science activities to do with a preschooler.
All of these activities are great to do with your kids, but we want to note a couple of highlights. One very simple activity is to grab some vegetable oil and water and put them in separate containers. Have your preschooler try to mix them! Of course, we as adults know that they won't mix. But, your preschooler doesn't yet know that! This is a simple and fun lesson to teach them.
Another great science activity is to start teaching your preschooler about static electricity. You can do this with a balloon; you probably can recall doing something similar as a child. Have your child rub the balloon on their head, and see what happens when they lift it up! You can begin to get your child to understand electricity by explaining negative and positive charges, and how opposites attract.
If you're curious about other science activities you can do with your child, check out Care's article. We also encourage you to check out these fire safety crafts and these nature crafts! Once you're done doing all of these crafts and activities with your children, we encourage you to come back to MomsWhoThink and check out our other articles on preschool fun and learning.