Imagine having a warm golden slice of toast with your choice of a fruit spread. Will you choose preserves or jam? Is there a difference between preserves vs. jam? Or does it just boil down to taste preferences? Does it really matter? The short answer is YES! Why? Because whether you're a breakfast aficionado or a lover of all things that taste fruity – once you understand the differences you can make better choices on how to use them in the kitchen. In fact – in this article, you're going to learn 3 things that set them apart! Are you ready?
What are the main ingredients of Preserves and Jam?
Both have 3 main ingredients: fruit, pectin and sugar. One of these is the star of the show! Before diving into the star of the show… let's first learn about their differences.
Key Difference #1 – All About Texture
Preserves
These come in jars that are chock full of fruit – in whole or chunks. So when you spread the preserves you can see the pieces of fruit. And when you bite into preserves, they are juicy because of their chewy texture. The burst of juiciness feels like a dance on your taste buds!
Jams
On the other hand, jam has a velvety feel to it. This is because of the way it is cooked which gives it a smoother, easily spreadable texture.
Bottom line: Preserves are large chunks of fruit that usually retain their original shape. And as far as jams – they have a more uniform smoother texture.
Now let's move on to the second key difference between preserves vs. jam.
Key difference #2 – Cooking Process
There's a 2-dimensional difference between preserves vs. jam. The unique differences between preserves and jam during the cooking process lie in the preparation of the fruit and the resulting texture of the final product. For example…
Fruit Preparation:
Depending on the size of the fruit for preserves – it's usually left in larger pieces or even whole. So there's not a lot of chopping to do.
On the other hand with jam – the fruit is typically crushed, finely chopped, or pureed before cooking. Why? Because this helps break down the fruit into smaller pieces and creates a smoother consistency when it's spread.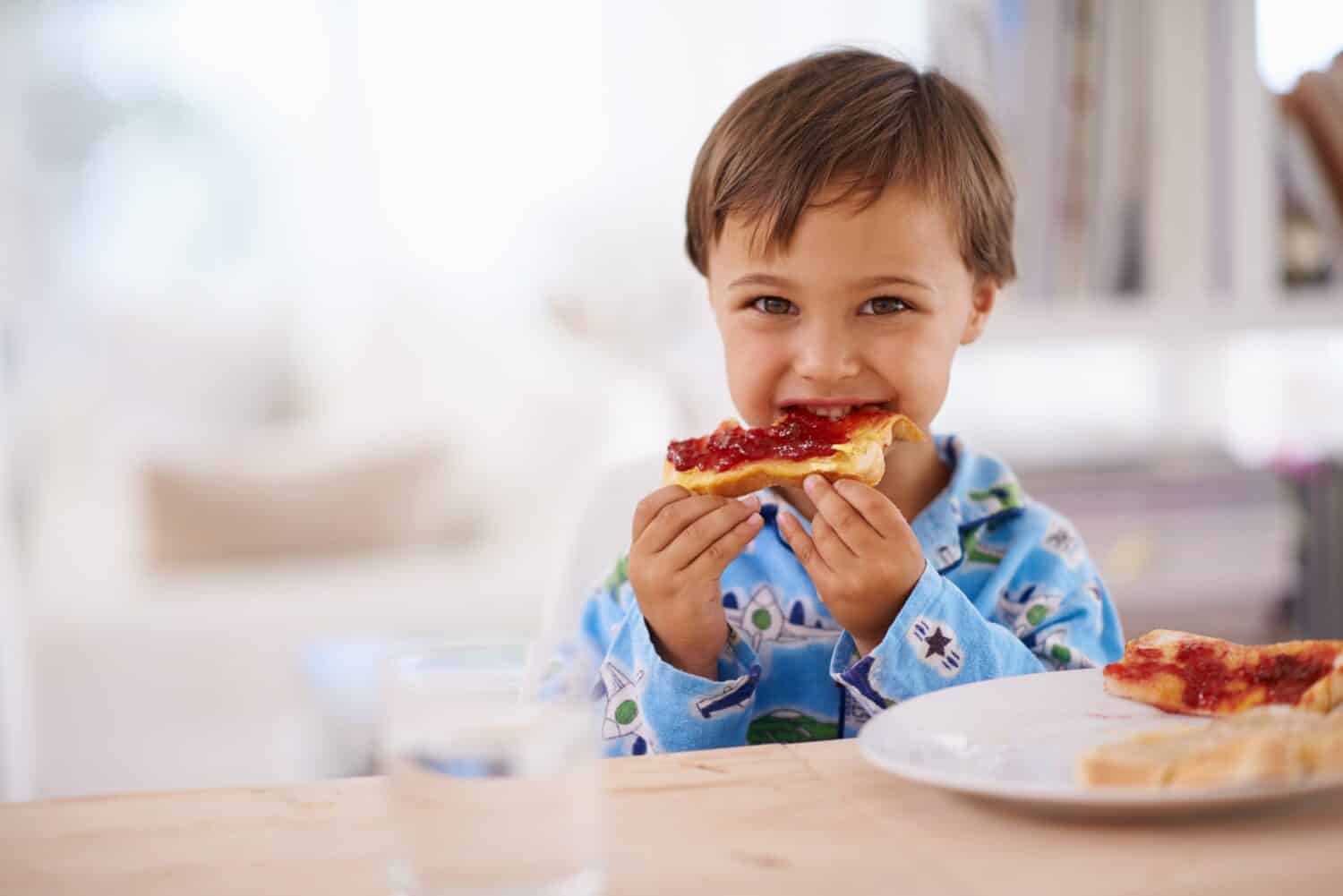 Cooking Time:
Preserves usually takes a little longer to cook than jam. Why? Because the larger fruit pieces in preserves need more time to soften and release their juices. Plus they have a thicker texture.
On the contrary, jam has smaller fruit pieces so they can break down faster during the cooking process.
Bottom line: The cooking process plays a huge role in the texture and look of preserves and jam. Preserves take a longer time to cook because of their big pieces resulting in a chunkier texture. Meanwhile, jam has a shorter cooking time due to the finely chopped fruit pieces. This creates a smooth and spreadable consistency.
And now for the final key difference…
Key difference #3 – Pectin: The Star Ingredient
This is what gives preserves and jam their gel consistency to make the perfect texture! For instance:
Preserves tap into their natural pectin to thicken its spread. So they don't require a lot of extra pectin. Picture whole strawberries or juicy cherries holding their shape while mixed with sugar during the cooking process. The pectin thickens slow and steady.
On the other hand – for jam – it needs a little extra pectin to help the smaller pieces of fruit come together and thicken into a velvety and spreadable feel.
Bottom line: Think of pectin like the unsung hero that gives each spread its special touch. Preserves is less processed since they can produce quite a bit of their own pectin. This gives them a chunky texture. And for jam – it needs a little extra pectin to spread smoothly.
Which is higher in sugar?
Both preserves and jams are words the Food and Drug Administration (FDA) uses interchangeably. Why? Because in order to be classified as preserves or jam, each needs to have at least 55 percent sugar and 45 percent fruit.
Bottom line: Since both require the same minimum amount to be classified as preserves or jam, read the labels to know the sugar content.
11 Creative Ways to Use Preserves or Jam
Morning Starter: Try preserves or jam on toast, bagels, or English muffins as a yummy and fruity topping! Or if you mix them into yogurt or oatmeal to add a natural fruit-flavored sweetness.
Sweet tooth: Use preserves or jam as a filling for cakes, cupcakes, and even thumbprint cookies! It gives these desserts a burst of flavor and a fruity twist too!
And if you're an ice cream lover – then try a drizzle or two of either over ice cream, sorbet, or frozen yogurt for an instant fruity topping. Yum!
Charcuterie Boards: To balance the flavors, serve preserves or jam alongside cheese on your charcuterie board. For example, fig preserves pair deliciously well with blue cheese. Another idea for an elegant appetizer is to pair apricot jam with Brie.
Have a drink: A tablespoon of preserves or jam blended into smoothies or milkshakes is a great way to add a sweet fruity flavor. You can even toss some spinach and ground flaxseed into your smoothie for a nutritional boost too!
Get creative with your cocktails or mocktails and mix a spoonful of preserves or jam with spirits, soda water, and citrus. Don't deny it until you try it! It's a gamechanger!
Soak it up: The next time you cook try preserves or jam as a glaze for roasted meats, poultry, or vegetables to add a sweet and tangy finish.
You can also blend them with vinegar, oil, and herbs to create a flavorful marinade for grilling or baking too!
It's a wrap: Spread preserves or jam on sandwiches or wraps to add a touch of sweetness. For example, add raspberry preserves or a pear jam for a ham and Swiss cheese wrap. On the other hand if you want to make a gourmet grilled cheese panini, try spreading preserves or jam inside the sandwich before grilling – YUM!
Take a dip: If you're in the mood for a creative flair to the usual soy sauce for dips – you're going to love this idea! Mix preserves or jam with soy sauce or mustard to create a unique dipping sauce for spring rolls, dumplings, or chicken tenders.
Note: Soy sauce can be high in sodium so opt for a low-sodium soy sauce.
Stuff it: Use preserves or jam as a filling for pastries such as turnovers, Danish pastries, or croissants. Both offer a burst of flavor in every tasty bite of the flaky pastries!
Delicious dressings: Impress your family with a tasty twist to salad dressing by blending preserves or jam with olive oil, vinegar, and seasonings to create a deliciously fruity vinaigrette for salads.
Finger lickin' sauce: The next time you grill meats or veggies, mix preserves or jam along with ketchup, vinegar, and spices to create a unique barbecue sauce that'll leave your family wanting more!
Fruity topper: Try preserves or jam instead of traditional syrup on your pancakes or waffles. And if you really want to get your taste buds dancing and enhance the flavor – add a little cream cheese or mascarpone.
Bottom line: Whether you choose preserves or jam – you've got endless possibilities to take your taste buds to the next level! So get creative and experiment with different combinations to discover how preserves and jams can elevate a wide range of dishes and culinary creations.
In Conclusion
So there you have it! Now you know the key differences between preserves vs. jam to make an informed decision for your loved ones. Preserves boast a more chunky texture with a visually stunning spread. Whereas jam has a smoother, more spreadable feel to it. Either way, the next time you're faced with the age-old preserves vs. jam dilemma, let your taste buds guide you towards a spread that's not just food but a tasty experience you won't soon forget!
Print
Raspberry Thyme Chicken Recipe
---
Author:

Total Time:

25 minutes

Yield:

8

to

10

servings

1

x
Description
Aside from the raspberry, another thing that gives this recipe its unique flavor is the addition of balsamic vinegar.
---
1/2

cup

chopped red onion

2 teaspoons

canola oil

1 1/2 teaspoons

minced fresh thyme

1/2 teaspoon

salt, divided

4

boneless, skinless chicken breast halves (about

1

pound)

1/3

cup

seedless raspberry preserves

2 tablespoons

balsamic vinegar
---
Instructions
In a nonstick skillet, sauté the onion in oil until tender.
Sprinkle thyme and ¼ teaspoon salt over chicken; add to skillet. Cook for 5 minutes on each side or until juices run clear. Remove chicken and keep warm.
Add the preserves, vinegar, ⅛ teaspoon pepper, and remaining salt to skillet. Cook and stir over medium-low heat until preserves are melted and sauce is heated through. Spoon onto a serving platter; top with chicken.
Prep Time:

10 Minutes

Cook Time:

15 Minutes

Category:

Main Course

Method:

Sauteing

Cuisine:

American
Keywords: raspberry balsamic chicken, raspberry chicken recipe