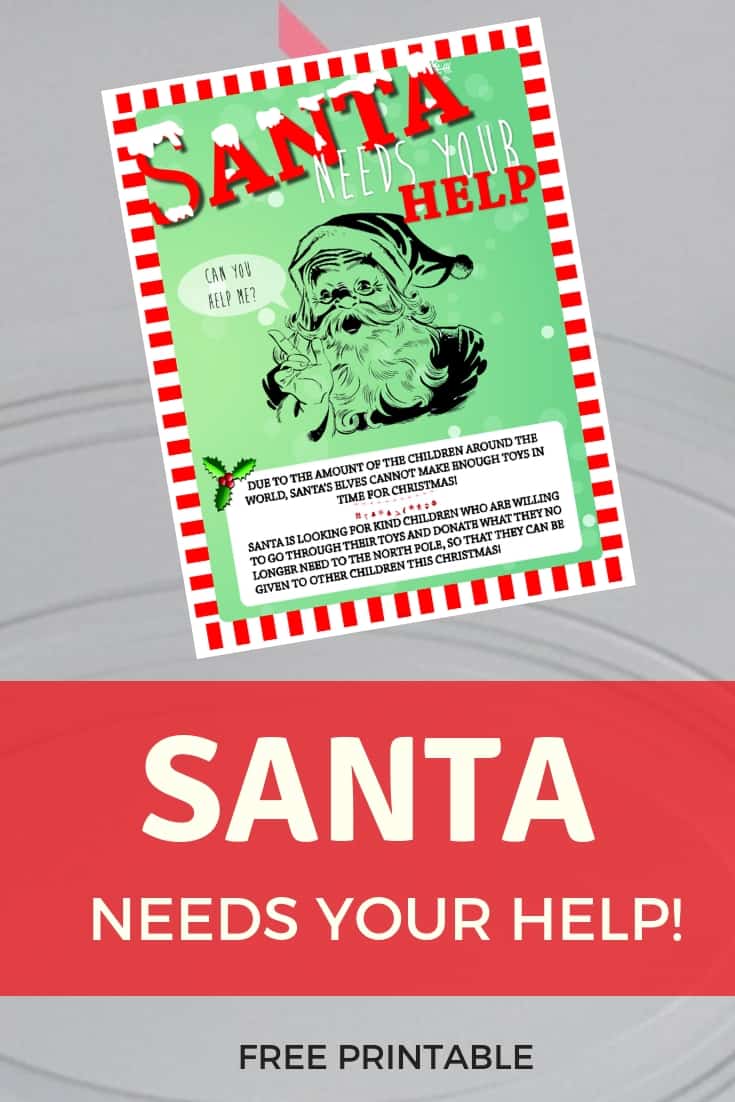 This Santa Claus letter is a unique way to bring the spirit of Christmas into your home, by encouraging your children to be "helpful" and kind. My kids love to participate in these kinds of activities. My husband creatively came up with this Santa Claus letter idea the other day. He is a bit of a minimalist and doesn't like new things coming into our home without old ones going out. This Santa Claus letter is his creative way of motivating our kids to go through their toys and donate what they don't play with anymore. We also like to get them excited about the true spirit of Christmas.
This Santa Claus letter is the perfect way to do it! Get the free printable below and let me know how you ended up using it!
The purpose of the Santa Claus Letter
The Santa Claus Letter starts out by saying "Santa needs your help!" and goes on to say, "Due to the amount of children around the world, Santa's elves cannot make enough toys in time for Christmas! Santa is looking for kind children who are willing to go through their toys and donate what they no longer need to the North Pole, so that they can be given to other children this Christmas!"
What kid wouldn't want to participate?! Everyone wants to help Santa Claus!
This free mailed letter from Santa can be taped to your front door, or you can sneak it into your mail box after the mailman has arrived. Make sure and address it from the North Pole!
Related: If you are looking for blank Santa Claus Letters, see the following links:
Santa Letter (a very cute, blank "Dear Santa" letter and envelope)
Letter From Santa This Santa Claus letter is a fun "questionnaire" that Santa sends your child and they fill out and send back to them. The idea is to encourage your children to share things about themselves rather than just write a list of demands or wishes. This also makes a fun keepsake to remember what your child's interests were each year.
You can also place a sticky note on your Santa Claus letter with instructions to your children on where to put their toys. Maybe Santa wants them to put them in the back of your car (so you can sneak them to Good Will). The front porch or under the Christmas tree are other great ideas.
Free mailed letter from Santa (Print the Santa Claus Letter Below)
To print your free mailed letter from Santa, click here, or on the Santa Claus Letter image below:
I love seeing Christmas magic in action. Post pictures of your family using the Santa Claus Letter! Make sure and tag @mothersniche on Instagram so I can see all the fun ways the Santa Claus Letter is used!
Have a Merry Christmas!