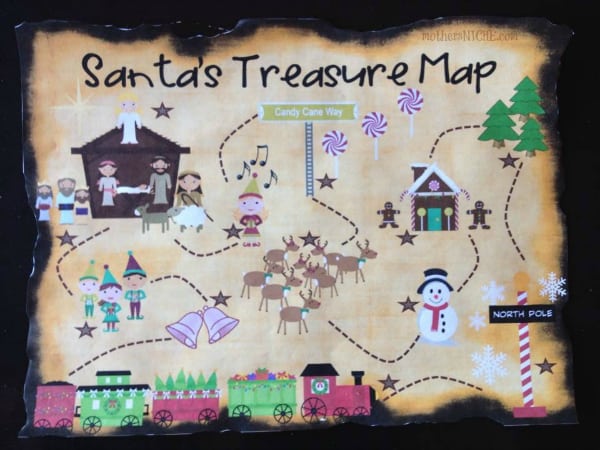 Who's ready for a treasure hunt?! I am beyond excited for this post. I spend HOURS on it, but it was really fun to create!
But before I continue..check out this cuteness that happened next to me on the couch:
What a great support group I have! They tried to hold strong and wait up for me, but the fatigue won out!
Santa's Christmas Treasure Hunt
You can do the treasure hunt a variety of different ways: As a countdown to Christmas (12 days of Christmas for Kids), all in one day, or at random. You can also have a fun prize at the very end, or provide a fun treat or activity with each clue. If you choose to use the Treasure Hunt as a countdown to Christmas, I would include a fun treat or activity everyday to help fuel the magic and excitement!
Here are a few ideas for each of the areas on the map:
Gingerbread Village.  This one is easy. The activity to go along with this clue could be gingerbread cookies, building gingerbread houses, or using play dough on these gingerbread play dough mats.
North Pole. For this one, the clue could lead the kids to the freezer for a fun treat, or the activity could involve insta-snow, making your own snow globe, or even making igloos out of sugar cubes! There are also a lot of ideas on Pinterest for a North Pole Breakfast.
Manger Scene: Personally, this is the clue I would use the day before Christmas because I like to start setting the mood for the true meaning of Christmas. For this one the treasure could be a Little People Nativity Set, or as simple as Nativity sticker scenes. You could also make Gingerbread Nativity scenes. Pinterest has a lot of ideas for those too!
Frosty The Snowman. For an activity for this section of the map, you could simply enjoy a family snow day. Make snowmen, go sledding, etc. For the treasure, you could provide a snowman kit or snow art, a Snow block or Snowball maker, or if you don't have snow where you live, you can make shaved ice or snowman shaped sugar cookies!
Polar Express. If you live in Utah, you can take your kids on the actual North Pole Express train, or you can just provide the movie or read the book 🙂 Or you can let them play with a train set. Or make a gingerbread train. The options are endless.
Fa La La La La. For the place on the map with the girl singing, I have the following clue: "'The Best Way to Spread Christmas Cheer is Singing Loud For All to Hear' CLUE: Where is there music playing?"  And then wherever I typically play my Christmas music (Ipod, TV, etc.) is where the treasure would be. For this one we will either watch the movie ELF, or have a dance party, or karaoke. Any other genius ideas for music?
"Oh Christmas Tree." For this section of the map, the treasure will be found under the Christmas tree. The activity could be growing your own Christmas Tree, making ornaments, making Christmas tree cones, or anything else Christmas tree-related (they don't even have to be related, I just think it's fun to do it that way).
Candy Cane Lane. You don't really need me to provide any ideas for this section of the map. Just type "candy cane" into Pinterest and you will find plenty of ideas 🙂 For me, I will probably provide candy cane kisses as the treasure for this one. They are a family favorite. If you enjoy candy cane kisses, try making candy cane hot cocoa with them!
Santa's Reindeer. This one would be fun for giving a fun Reindeer Christmas book, or providing your kid with reindeer antlers. Or even better, as mentioned in my post on fun Christmas Traditions, you could save this clue for one of the last days before Christmas and make Magic Reindeer Dust!
I don't think you need anymore of my ideas, I think you get the general idea 🙂 I'd love to hear what you come up with!
Santa's Treasure Map Printable
Click on the picture to pull up the treasure map pdf. And here are the blank treasure map clues.
Here's your printable map along with some blank treasure map clues to write your own clues on! If you'd rather use the ones I came up with, you can find them in my Etsy shop. Almost all of my printables on my blog are completely free, but I charge a small amount for this one to try to make up for all the hours I spent making them. I purposely priced it really cheap at $2.99 so most everyone can afford them! If you are hard-up this Christmas and don't have time to make your clues, send me a message and I will send them to you.
Here's an example of a few of the clues (I generalized them so that they can be found in almost all homes. As long as you have a Christmas tree, beds, a freezer, a front or back door, etc.).
THANK YOU EVERYONE! I'd love to hear about your kid's experience with Santa's Treasure Hunt!!!
Here are some further instructions:
If you want to do it all in one day: Each clue will lead to the next paper clue, and a prize can be found at the end.
If you want to do it as a count down (12 days of Christmas, etc.): Leave a clue in the same place every morning (under the tree, next to your Elf on the Shelf, etc.). Instead of the clue leading them to the next clue, it will lead them to a prize, activity, or treat. Then they will wait until the next day for the next clue.
If you are doing this on Christmas morning, the clues could also lead to their stocking where a coupon from Santa is waiting for them!
photo credits: KB35 via photopin cc and amazon.com