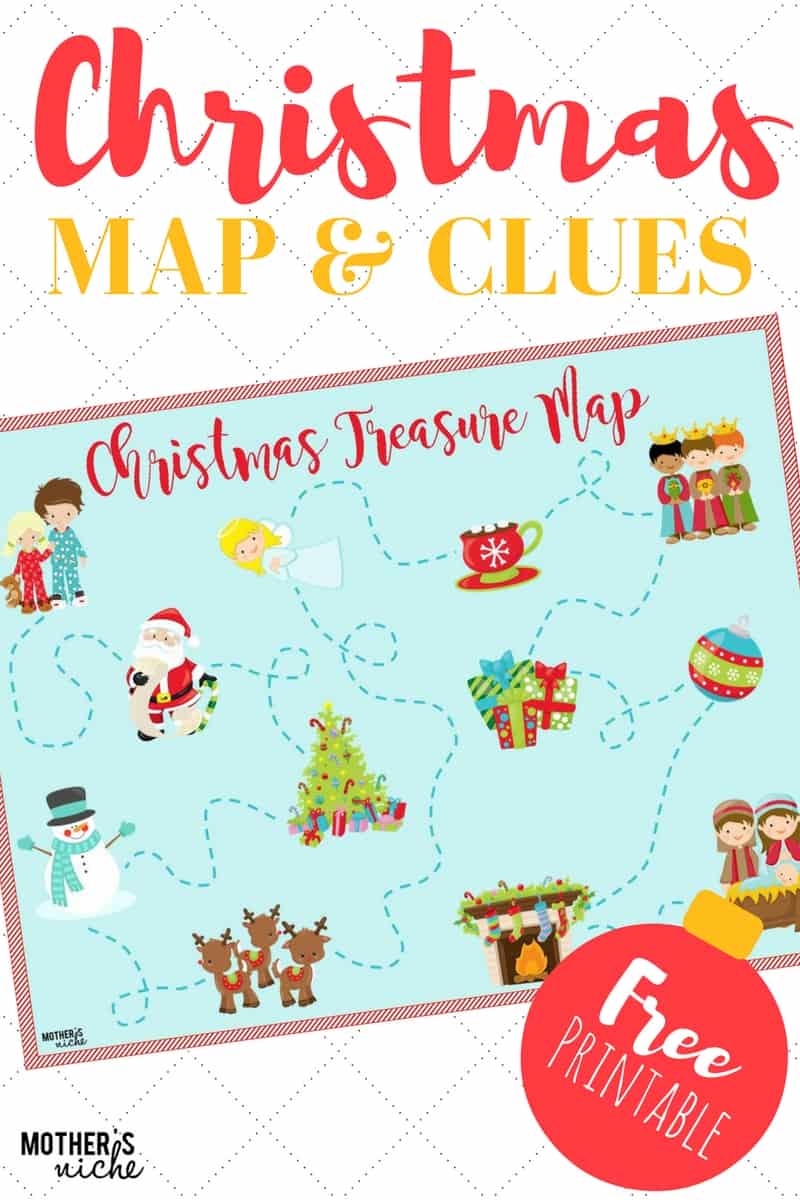 Let's Get Ready for Baby!
Sign up for our monthly pregnancy email series, and you'll get regular updates on your baby's development, helpful timelines to get ready for their arrival, must-have baby needs and so much more! PLUS, you'll get instant access to the MomsWhoThink "Ultimate Guide to Baby Naming in 2022."
CLICK HERE
to get started!
This fun Christmas Treasure Map can be used in a variety of ways. You can do it just for fun each day leading up to Christmas (and use the activity ideas below), or you can even use it on Christmas morning to lead to kids to the tree or to find a particular gift.
I personally believe that giving memories is 100% better than giving things at Christmas. My kids will remember their trip that we booked through Get Away Today to DISNEYLAND (and other vacations we have taken them on) for the rest of their life. It's also great because instead of becoming disinterested in their Christmas gift after opening it, the excitement only builds until you leave on your trip!
But however you decide to use it, here's a fun Christmas Map Printable for Free!
There is nothing like going on a Treasure Hunt!  This Christmas, create lasting memories with this CHRISTMAS TREASURE MAP. Each of the pictures represents a fun family activity!  It will be something that the kids can't get enough of!  You will find FREE PRINTABLES for the TREASURE MAP, CLUES and an ACTIVITY LIST at the end of the post! Be sure to PIN this one!
Print our the TREASURE MAP, CLUES and an ACTIVITY LIST . Post the Map on the fridge or somewhere the kids can see it. Then each day read a clue starting with number one. You can do one a day or a few it's up to you.  There are 12 total clues and activities so you could do it as a 12 days of Christmas. Each night I let one of the kids open a tiny wrapped present with the clue for the day in it.  I use the small jewelry gift boxes from the dollar store and number them. They read the clue then rush to the area where the clue leads.  There they find the supplies for the activity.  The activity list is for the parents.  If you are like me you forget what the Clue was that you wrapped. So you can have a cheat sheet with the clues and activities.  This will allow you to gather supplies ahead of time.  You're welcome!  I hope you have a lot of fun!
ACTIVITY IDEAS

1.  Make a Christmas countdown chain. Get in your pajamas and stay up late and watch a Christmas movie. CLUE: Where do we sit to relax? On the couch have a Christmas movie, popcorn and blankets waiting. You can also cut strips of paper and tape to make a Christmas countdown chain.
2.  Write your letters to Santa and visit a mall Santa. CLUE: Where do we keep all the art supplies? Have pencils and Santa letter and envelopes ready. Mail them off then go visit a mall Santa.
3.  Set up, cut down or pick out your tree. Put on song Christmas music and Decorate the tree. CLUE: Where do we hang ornaments? Have your box of ornaments set out for your tree. Set up or pick out your tree together and decorate it to some favorite Christmas songs.
4.  Play in the snow and build a snowman.  CLUE: Where do you sit when we go for a drive? On their seat have their coats and equipment to drive in the snow. Don't forget some coal (rocks) and a carrot for your snowman.
5.  Family game night. Tons of fun games on Pinterest.  CLUE: Where do we eat dinner? Have a stack of games and puzzles to play for your family game night.
6.  Sing Christmas carols, sing Karaoke, or lip sync to your favorite holiday tunes. Where do we play music? By your piano or radio have a list of Christmas songs and Christmas decorated microphone (Kitchen stirring spoons make perfect microphones too)
7.  Make Hot Chocolate. Check out our best homemade hot chocolate recipe! Try new flavors and add ins. CLUE: Where do we keep our food? In the pantry have the hot cocoa, foam cups, spoons and add ins there. It is so fun to try new flavors.
8.  Take gifts or treats around to your friends and neighbors. CLUE: Where do we find our coats? Have supplies to wrap and decorate simple gifts. Grab your coats and take them around to friends and neighbors.
9.  Buy and wrap gifts for each other. Sneak around the store to make sure you are not seen. CLUE: Where do you brush your teeth? Have a bucket and your car keys. Put strips of paper in the bucket with names of people in the family and draw out names to see who you will buy a gift for.
10.  Make ornaments or creative ways to decorate your home. You can look up some easy, DIY ornaments on Pinterest. CLUE: Where do you find our family picture? Have a box of supplies to get the creative juices flowing.
11.  Snuggle up by the fire. Hang up stockings and read "The Night Before Christmas" CLUE: Where do we keep books? Have a special bedtime story and snugly blankets waiting for them.
12.  Read or Act out the Story of Jesus' birth. CLUE: Where do you sleep? Have a bible and sheets, robes, pillowcases, animal costumes on one of the kids beds.
***TIP: If you decide to give your kids a vacation this year, check with Get Away Today to see what specials they are running. I now refuse to use anyone else. We have been to Disney 3 times (as well as two other destinations) using Get Away Today and they are the best to work with and they can usually beat any other price you find. You can also use "MOTHERSNICHE" for an extra $10 of your vacation package.
♥♥♥♥ DOWNLOAD THE FREE PRINTABLES HERE ♥♥♥♥
 ↓↓↓↓↓↓↓↓↓↓↓↓    DON'T FORGET TO PIN THIS FOR LATER    ↓↓↓↓↓↓↓↓↓↓↓↓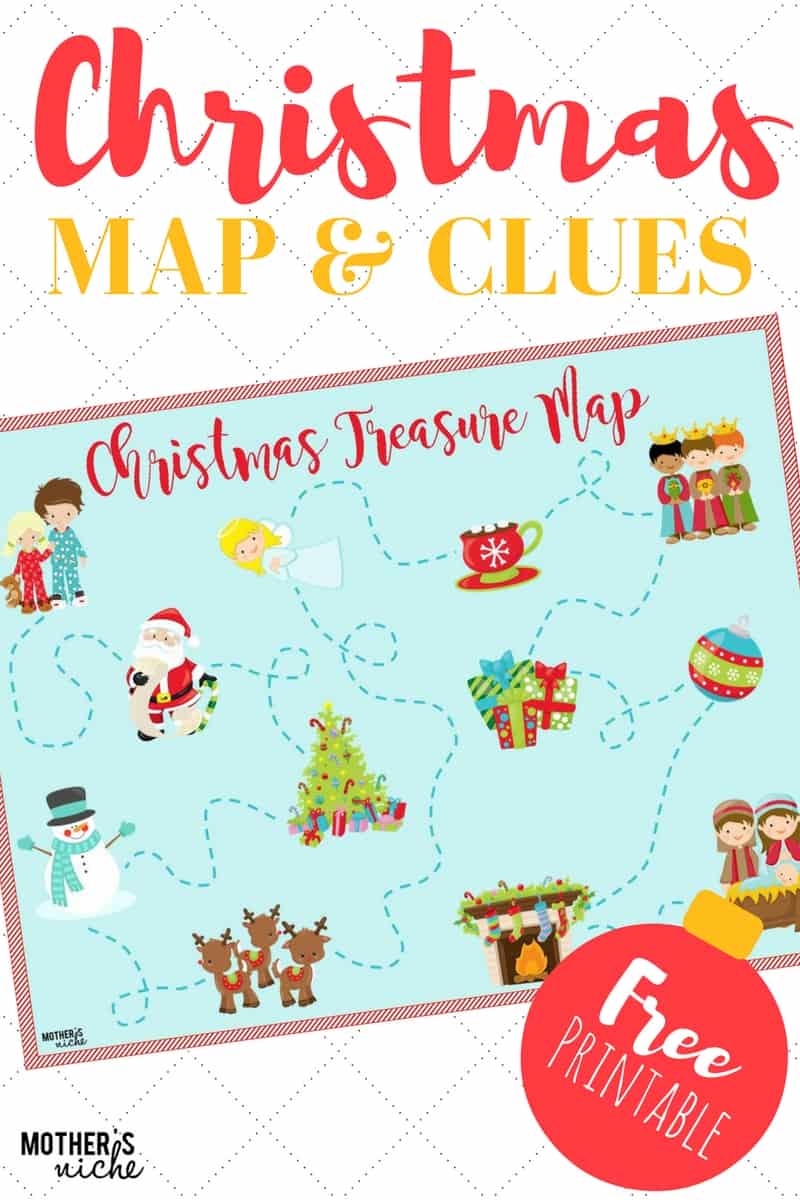 I hope you have fun with this Christmas Treasure Map. I would love to hear how your treasure hunt went!
What are some of YOUR other Christmas traditions?!?