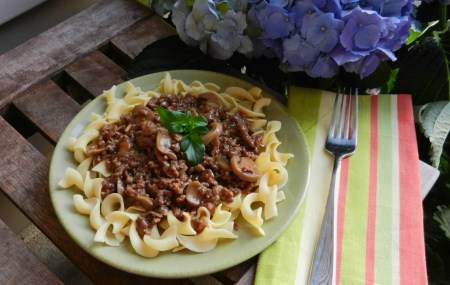 Savory Beef and Noodles
Ingredients:
1 pound ground beef
1 can (10½ ounces) condensed French onion soup
½ cup beef gravy
1 can (4 ounces) mushroom stems and pieces, drained
1 Tablespoon flour
1 Tablespoon water
Hot cooked egg noodles
Directions:
1. In a large skillet, cook beef over medium heat until no longer pink, drain.
2. Stir in the soup, gravy and mushrooms. Bring to a boil.
3. Reduce heat, cover and simmer for 5 minutes.
4. In a small bowl, combine flour and water until smooth. Stir into beef mixture.
5. Bring to a boil, cook and stir for 2 minutes or until thickened.
6. Serve over hot cooked noodles. Makes 4 servings.
You might also like: