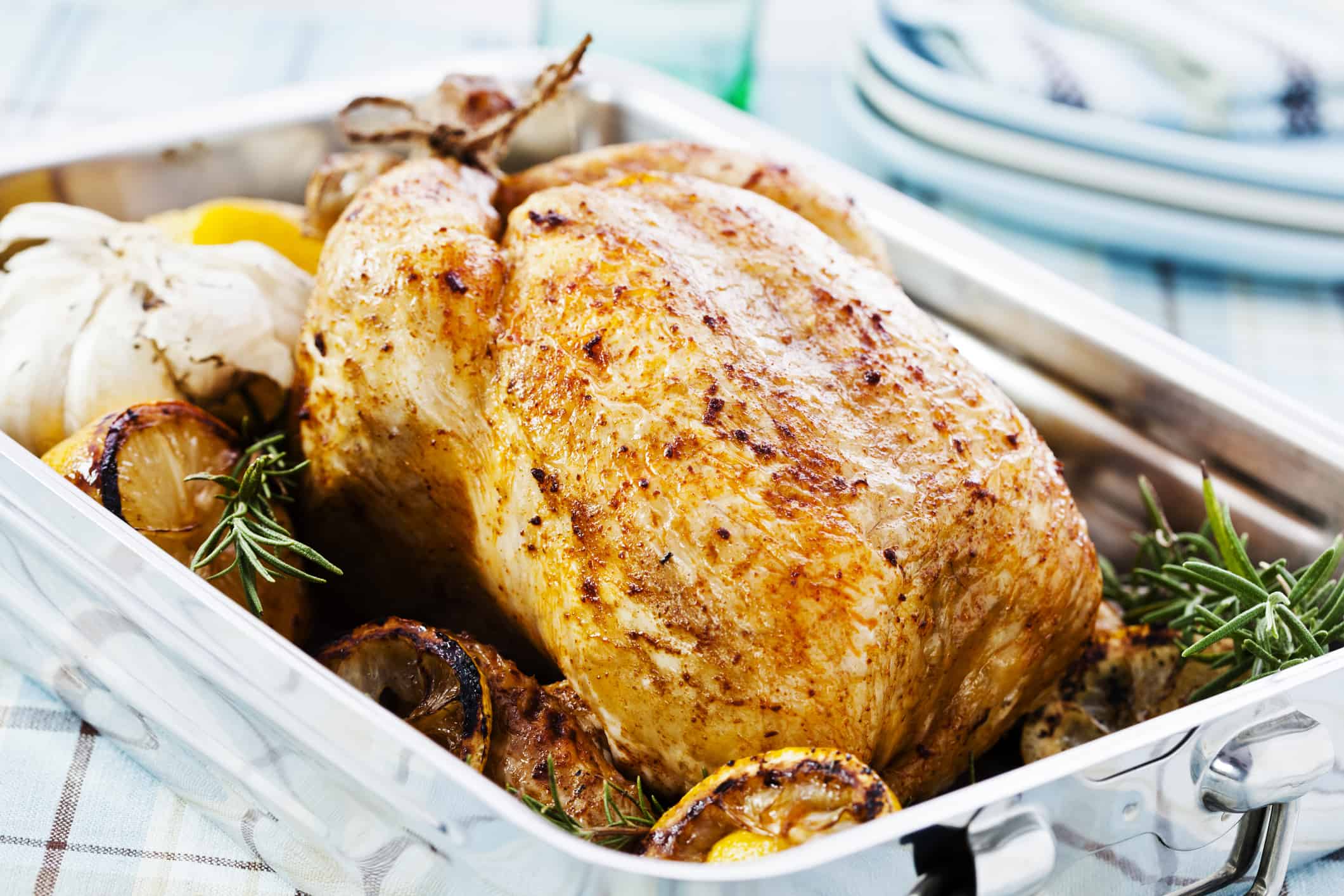 [addtoany]

The week with activities, jobs, and school, Sunday is the one time we can all be together. I usually set aside a little bit of extra time to make a really special meal.
Sunday roast chicken is one of the meals that's really amazing to make for my family. It's savory and tasty. Even though this meal takes some extra time to cook, most of that is just time in the oven. You can enjoy time with your family while it bakes in the oven, then you'll have a hearty meal on the table that everyone will love.
Sunday Roasted Chicken
A perfectly seasoned chicken is one of the kinds of meals that appeals to just about everyone. Whether you're having company over for dinner or just want a cozy meal with your kids, this is a crowd pleaser. It's similar to one of the rotisserie chickens you can buy pre-cooked at the grocery store. But this version is better because it's fresher, makes your whole house smell delicious, and you know how it was prepared.
Sunday roasted chicken is ideal for that specific day of the week because it caps off the weekend with some much-needed time together. But it also sends off your family into a new week full of a hearty and healthy meal and lots of good family memories.
Of course, you'll need some side dishes to serve with this roasted chicken, too. Some good choices include mashed or roasted potatoes, green beans, or another vegetable like carrots with thyme or basil. Dinner rolls are always a welcome choice, too. But if your kids are like mine, you'll have to limit the rolls or else they'll fill up on them before the main course makes it to the table!
Oven Roasted Chicken
One of the best things about this recipe is the fact that it's so easy to make. It tastes like it's much more complicated than it really is, which is thanks to all the seasonings it includes and the long cook time.
I didn't start out knowing how to cook and the first recipes I learned tended to be really easy, like "recipes for dummies." I could boil water and that was about it, so we had a lot of spaghetti in the early years! Once I wanted to branch out, I started looking for recipes that were still fairly easy to make but packed a lot of flavor into the dish.
Oven roasted chicken is so easy to make that I wish I would have found the recipe as a new wife. This recipe tastes like you spent hours in the kitchen—only you know how simple it actually is.
You can make this recipe taste even fresher by squeezing fresh lemons in place of using the lemon juice. You can even serve the chicken with a garnish of lemon slices or half of a lemon.
The beautiful thing about this recipe is that it's so open to being customized according to your individual tastes. If you want to make it with a southwestern theme, you could use lime instead of lemon, and spices like cumin and chili pepper.
You can also do so much with the leftovers—if you're lucky enough to have any, that is! Leftover roast chicken is perfect in sandwiches, tacos, or enchiladas.
This recipe will be a classic that you'll want to keep in your repertoire for years to come. It's easy and delicious, perfect for a Sunday dinner or any night.
If you enjoyed this recipe, make sure to check out our Ramen Noodle Salad Recipe and our Beef Pot Roast Recipe.
Print
Sunday Roast Chicken Recipe
---
Author:

Total Time:

120 Minutes
Description
Sunday roast chicken is one of the meals that's really amazing to make for my family. It's savory and tasty. Even though this meal takes some extra time to cook, most of that is just time in the oven.
---
1

whole broiler-fryer chicken

3 Tablespoons

vinegar

2 Tablespoons

olive oil

1 Tablespoon

butter

1 Tablespoon

lemon juice

1 teaspoon

seasoned salt

½ teaspoon

thyme

½ teaspoon

basil

1

clove garlic, minced

12 ounces

fresh mushrooms
---
Instructions
In a small saucepan, mix together the vinegar, olive oil, butter, lemon juice, seasoned salt, thyme, basil, and garlic. Place over medium high heat and bring to a boil, stirring.
Remove from heat, dip mushrooms in sauce and set aside.
Dip whole chicken in sauce, turning to coat well.
Place chicken on a rack in roasting pan, breast side down.
Roast in 375 degree F oven, basting with sauce every 20 minutes, until chicken is brown and fork can be inserted with ease (about 1 ¼ to 1 ½ hours).
Add the mushrooms to the pan during the last 20 minutes of roasting time.
Prep Time:

30 Minutes

Cook Time:

90 Minutes

Category:

Main Course

Method:

Baking

Cuisine:

American
Keywords: sunday roasted chicken, oven roasted chicken