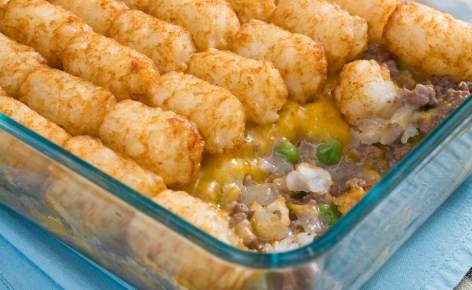 Tater Tot Casserole Recipe
Do you have a picky eater in your home? Our tater tot casserole recipe is a quick and easy meal, perfect for those fussy little eaters and some bigger ones too. Kids love this hearty, cheesy dinner made from a few easy ingredients.
Tater tots are made from potato that has been grated and deep fried. Tater tots can fall under many labels and the term is a registered trademark of Ore-Ida, but today it is used as a generic term to describe these potato snacks that are cylindrical in shape and feature a crisp exterior and a soft inside.
The product was first created in 1953 when the people at Ore-Ida were trying to decide what to do with leftover slivers of cut up potatoes. They chopped up the slivers, added flour and seasonings and pushed the mash through holes. Then they sliced off pieces of the extruding mixture.
Tater tots were first introduced to stores in 1956 and were very low in price…so low in fact that many were wary of buying the product. When the company raised the price, it became a family favorite especially popular with children.
They have gone on to become popular around the world with similar recipes sprouting up in various countries.
Today, Tater Tots are so popular they even have their own day! That's right, February 2nd is National Tater Tot Day!
Tater Tots are often served as a side dish but in this meal, they are front and center. Here we add ground beef, cheese, cream of mushroom soup and green beans but casseroles can be made in several varieties including Bacon Cheeseburger Tater Tot Casserole, Mexican Tater Tot Casserole, Breakfast Tater Tot Casserole and more.
Tater Tot Day may fall on Feb. 2 but don't limit yourself to eating this only on Groundhog's Day. It's a hearty family dinner for any night of the week. And because it's guaranteed to please even your fussiest eater, it's a dish your entire family is sure to love!

Ingredients:
1 pound ground beef
1 teaspoon minced garlic
1/2 teaspoon onion powder
1 teaspoon salt
1/2 teaspoon pepper
1 (15 ounce) can peas or green beans, drained
2 (10 1/4 ounce) cans cream of mushroom soup
1 cup shredded cheddar cheese
1 (16 ounce) package tater tots
Directions:
1. Preheat oven to 350 degrees.
2. In a large skillet over high heat, brown the ground beef and drain fat.
3. Stir in garlic, onion powder, salt, pepper, peas (or green beans), and condensed cream of mushroom soup. Stir well to combine all ingredients.
4. Pour the mixture into a medium-sized casserole dish. Sprinkle shredded cheddar cheese evenly over beef mixture.
5. Top mixture with tater tots.
6. Bake in oven for 30-40 minutes, until tater tots are crispy.