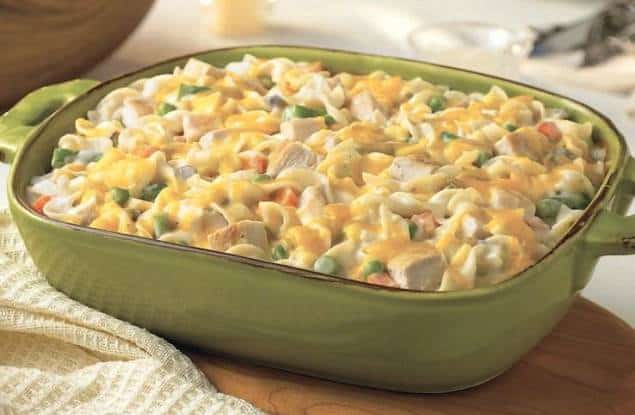 Hearty Chicken and Noodle Casserole
Ingredients:
10-3/4 ounces (1 can) condensed cream of mushroom soup
1/2 cup whole milk
1 cup frozen mixed vegetables
2 cups cubed cooked chicken
2 cups medium egg noodles, cooked and drained
1/4 cup grated Parmesan cheese
1/2 teaspoon ground black pepper
1/2 cup shredded Cheddar cheese
Directions:
1. Heat the oven to 400°F.
 
2. Stir the soup, milk, vegetables, chicken, noodles, Parmesan cheese and black pepper in a 1-1/2-quart casserole.
3. Bake for 25 minutes or until the chicken mixture is hot and bubbling. Stir, then top with the cheese.L
4. Let stand until the cheese is melted. Serves 4.