Score with Football Chili 8 Ways
It's the start of football season and that means great food for sharing. Chili is to football like hot dogs are to baseball, but a million times better. It's versatile, a star on it's own or a belly filling addition to another dish.
Grab your chili fixins' and get ready to make some of the best game day food you'll taste all season.
Hot Tamale Chili Dip
When you want a great dip, why not combine it with your chili?
Chili Dip Recipe
Belly Busting Chili Cheese Fries
For a hearty dinner, you can't be the one plate chili cheese fries. All the best tastes in one spot.
Chili Cheese Fries Recipe
Kid Pleasing Chili Mac
Macaroni stretches your chili into a full meal, this one is a kid pleaser.
Chili Mac Recipe
The Classic Chili Dog
Sports means hot dogs, and football means chili. Combine the two for the perfect game day food that you can easily sit in front of a tv to eat.
Classic Chili Dog Recipe
Crock Pot Game Day Chili
This chili is served up on a bed of Fritos, the perfect crunchy accompaniment to meat and beans.
Crock Pot Chili Recipe
Baked Chili with Cornbread Crust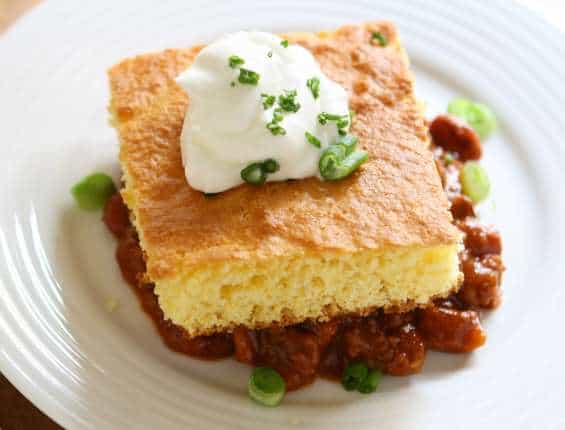 Some folks need cornbread with their chili, this recipe combines both in one easy casserole.
Baked Chili with Cornbread
Blue Ribbon Cookoff Chili
For traditional chili in a bowl, check out our chili recipes. Ranging from the Blue Ribbon Chili to Tarantula Jack's favorite recipe, there's a bowl of chili for every taste.
Best Chili Recipe