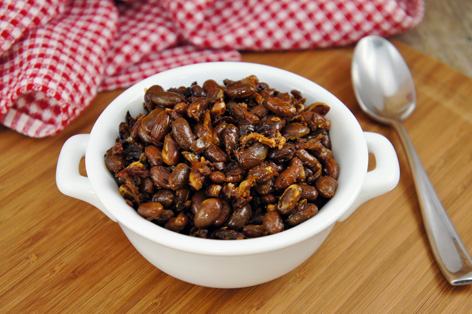 Hearty Boston Baked Beans with Slabs of Bacon
Let's Get Ready for Baby!
Sign up for our monthly pregnancy email series, and you'll get regular updates on your baby's development, helpful timelines to get ready for their arrival, must-have baby needs and so much more! PLUS, you'll get instant access to the MomsWhoThink "Ultimate Guide to Baby Naming in 2022."
CLICK HERE
to get started!
Ingredients:
2 pounds small dry white beans
12 cups water
olive oil
1 pound thick-sliced homestyle bacon, each slice cut into thirds
1 cup molasses
3/4 cup finely chopped onions
3/4 cup packed dark brown sugar
2 Tablespoons dry mustard
2 teaspoons salt
Directions:
1. Soak beans in water in uncovered crock pot overnight (or a minimum of 8 hours).
2. After soaking, cover; cook on low for  3 hours. Drain liquid, reserving 1 cup. Remove beans; set aside.
3. Heat olive oil in skillet over medium heat until hot. Add bacon. Cook and stir 4 to 6 minutes to render fat.
4. Remove bacon pieces with slotted spoon and drain on paper towels. Transfer bacon to the crock pot.
5. Add reserved 1 cup cooking liquid from the beans, then add the beans and remaining ingredients; stir well to combine and form a smooth sauce.
6.  Cover; cook on low 10 to 12 hours or on high 6 to 8 hours.