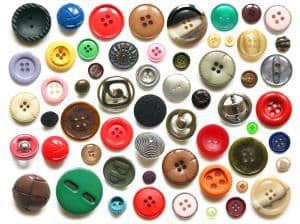 Getting Crafty with Old Clothes Part Two
Let's Get Ready for Baby!
Sign up for our monthly pregnancy email series, and you'll get regular updates on your baby's development, helpful timelines to get ready for their arrival, must-have baby needs and so much more! PLUS, you'll get instant access to the MomsWhoThink "Ultimate Guide to Baby Naming in 2022."
CLICK HERE
to get started!
Random items lie around the house with no real use.  When things get overused or worn out, they tend to be disposed of or left in a corner somewhere.  Reusing old or random things is a great way to not let things go to complete waste.  Teaching your child about reusing and recycling things is a great lesson to learn.
Go around the house and collect random items with your old child, such as buttons.  Go through the bedrooms and find some mismatched socks.  If your child has outgrown his or her clothes, it would be a great idea to save them for some arts and crafts before throwing them out or giving them away.  Reusing and recycling things teaches children how to conserve and not be wasteful.  There are so many different types of materials in the world that can be transformed into something else.  Saving items to reuse also means saving the planet.
Once you and your child have collected those random and reusable items, try out some of these wonderful craft activities.  Some may be a little harder than others, and some may require a lot of time.  Regardless, all of the activities are fun and teach kids the importance of using things wisely and creatively.
The following craft activities are great suggestions that you can do with your child.
Button flower brooches
Brooches can add style to any outfit.  Here is what you will need:
•    Two green pipe cleaners
•    Five buttons
•    12 inches of ribbon, ¾ wide
•    ¾ inch pin back
•    Scissors
•    Ruler
•    Needle nose pliers
•    Glue gun
•    Glue sticks
First cut the pipe cleaners into 4" strips.  Slip a stem through the hole in a button going from the back and then to the front.  At the back, twist the stem tightly using the needle nose pliers.  Gather the pipe cleaners together and wrap them with the last pipe cleaner.  Trim the ends.
Bend the flowers to make the bouquet flat.  Pull some of the pipe cleaners to create varying lengths.  Trim the bottom of the stem and tie a ribbon into a bow at the center.  Glue the pin back to the back of your beautiful, button bouquet!
Button Skee-Ball
A fun mini version of the game.  These are the materials that you'll need:
•    Two inch wide poster boards (28, 21, 17 and eight inches long)
•    Double sided tape
•    Black pen
•    Felt
•    One large button
•    Ten small buttons
First take each poster board and secure the seams with double-sided tape.  Write point values on each one with your black pen.  Assemble the poster boards into rings as it is in Skee-Ball with smaller rings inside the larger ones.  Cut out a piece of felt and use it as a launch pad.  Use the large button to launch the ten smaller buttons.  Have fun!