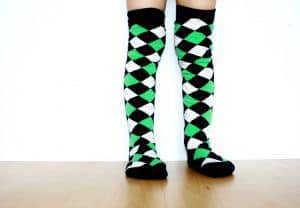 Craft Ideas Using Buttons, Old Socks, or Old Clothes
Arts and crafts are fun because they can be created out of so many things.  Items found around the house, such as buttons, socks, or clothes can be creatively put together to make something unique and fun.  Children can really show off their artistic skills by getting involved with arts and crafts.
Craft activities always involve a little bit of patience.  Instructions need to be followed and the proper materials should all be handy.  These activities are great for children because they really encourage them to learn new things while also learning how to pay attention to detail.
Here are some great activities:
Button earrings
For a cute pair of earrings, here is what you will need:
•    A pair of matching buttons
•    Jewelry glue
•    Flat earring backs
Smoother and flatter buttons works better for this activity.  All you need to do is apply glue to the back of the buttons and then place against the earring backs.  Simple, easy and stylish!
Fun sweatshirt
Got an old sweatshirt that needs a touch of cute style?  Apply some buttons!  The only other materials that you will need are thread, needles and scissors.
Lay your old sweatshirt flat.  Then get your designer skills going by creating a pattern with the buttons.  Sew them into place and you're done!
Sock puppets
For some reason, we always lose socks in the laundry.  The black hole at the bottom of our washers and dryers always seem to win in this battle.  What we are left with are random socks that go around solo and therefore can be useless if it doesn't match with any other loose socks.
Sock puppets are easy and fun.  All it takes is a loose sock, a child's arm and some creative decorating.  Use a black permanent marker or googly eyes so that your puppet can see.  Glue on cutout pieces of construction paper or felt for ears.  Depending on how much time or how elaborate your child would like to decorate, the many things that you can with sock puppets is limitless.
Tank top beach bag
Save one of your child's old tank tops to make a bag for warm days at the beach.  Here is what you need:
•    Tank top
•    Some trim
•    One yard of cord
•    Appliqués
•    Fabric glue
•    Scissors
•    Safety pin
Cut open about 1" of the hem of the tank top.  Attach the safety pin to the end of the cord and push through opening into the hem.  Work the cord and pin around the bottom until you reach the opening of the hem again.  Remove the safety pin once you see both ends of the cord sticking out.
Using the end of the cord, pull up from the bottom of the tank top and gather until it is as tight as you can get it.  Double knot and tie the ends together.  Trim the ends and push up the knot inside of the hem.  Glue an appliqué to the bottom of the bag.  Then decorate your beach bag as much as you want!